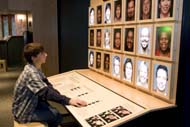 Daily activities for kids and the family are abound in Long Island! Whether you want to spend the day with your children at a zoo, a museum, or just outdoors, we've got it all here. Want to see what's going on next weekend or when you have those few days off? Check out the NY Metro Parents'
calendar
!
Candy Craft Days - Sugarbeez Candy Store
Through February 28, 2014 - Huntington Station
Come be creative with candy. Build a chocolate house and decorate it for the holidays. Make a pretzel pizza or some pucker powder art. Special crafts every month. Sugarbeez supplies the candy and the space - you just need your imagination. Great for all ages. Check the website for open sessions or call to schedule your own private craft session.
Jump for Joy - Floral Park Public Library
February 28, 2014 - Floral Park
Children (ages 18 mo. - 4 years) with their caregivers enjoy music, movement, and fun filled activities.
Community Connections - Long Island Children's Museum
February 28, 2014 - Garden City
Every day, people in the community are helping to make our lives easier. Join us each week as we explore the lives and daily routines of a different community helper. Children will build on their vocabulary as they are introduced to job specific words through songs and activities. Each class will include a hands-on, themed activity to reinforce information shared during class.
'Whooo' Loves You? - Long Island Children's Museum
February 28, 2014 - Garden City
At this special arts and crafts program, participants can hatch a little owl friend to send their loving wishes and show them they give a "hoot."
Art Gallery - Herb Block - Mineola Public Library
Through February 28, 2014 - Mineola
In conjunction with the Herb Block Foundation, the library will present an exhibit featuring the best of Herb Block's Presidential cartoons during the month of February.
Kids MusicRound Demo Class - Small World Connect
February 28, 2014 - Manhasset
Kids MusicRound is coming to Manhasset. They've been super-enriching young minds through music play since 1999. Call Kids MusicRound at 347-604-6004 to reserve a place in one of their upcoming FREE demo class days.
Parenting Issues - Friedberg JCC
February 28, 2014 - Oceanside
Being a parent is complicated. There are no easy answers but…you're not alone!Come chat with Karen Horowitz, Director of the Parenting Resource Network, to discuss the many issues that come up including: • Strategies for Effective Discipline • Raising Emotionally Healthy Kids • Parenting with Confidence • Healthy Eating Habits • Sleep Issues If you think of parenting as a journey, then it sometimes helps to stop and ask directions!
Boston Brass Band Concert - Adelphi University Performing Arts Center
February 28, 2014 - Garden City
For over 25 years, Boston Brass has been entertaining audiences with a variety of musical genres and lively performances. The group's repertoire includes classical arrangements, to burning jazz standards and the best of the original brass quintet repertoire. The event will take place at 7:30 p.m. on Friday, February 28 in the Adelphi University Performing Arts Center (AUPAC) Concert Hall, 1 South Avenue, Garden City, NY. Founded by a group of Boston University students in 1986, Boston Brass now performs at more than 100 events each year including concerts, educational venues and jazz festivals. They have performed in 49 states and 30 countries and have conducted master classes around the world including sessions and residencies at the Eastman School of Music, The Juilliard School, Shepherd School of Music at Rice University, Peabody Conservatory of Music, University of North Texas, Royal Academy of Music in London, Yong Siew Toh Conservatory at the National University of Singapore and Mahidol University in Bangkok. Members have worked with such renowned artists as Frank Sinatra, Jr., Tony Bennett, Mannheim Steamroller, Josh Groban, Michael Bublé, Johnny Mathis, Andrea Bocelli, Ricky Martin's band and Gloria Estefan. Boston Brass has been featured on a number of shows including The CBS Early Show, National Public Radio's Performance Today and The Great American Brass Band Festival. They have also recorded several diverse albums including Ya Gotta Try, featuring music from Horace Silver, Chick Corea and Dizzy Gillespie, produced by legendary jazz recording genius Rudy van Gelder and Within Earshot, featuring classical works by Shostakovich, Ginastera, Dvo?ák, Liszt and others. Their latest album, Latin Nights, features a collection of some of the greatest classical and jazz works by Latin composers and performers and features the legendary drummer Steve Gadd, the beautiful voice of Talita Real, percussion and guitar. Since 2006, Boston Brass has served as Artist/Educational Ambassadors for XO Professional Brass Instruments. They have also been featured educators and performers at the Mid-West Band and Orchestra Clinic, World Association for Symphonic Bands and Ensembles, Music Educators National Conference events, American Bandmaster Association Conference, The American Band College and the Texas Bandmasters Association Convention. The group has helped raise more than $100,000 for VH1's Save the Music program, giving musical instruments to schools in need. For its 25th anniversary, Boston Brass and was celebrated with the "25 Fanfares Project," wherein 25 fanfares were premiered by composers from all over the country. In the 2010/2011 season, Boston Brass collaborated with the famous Imani Winds in a program entitled "Sketches of Spain," featuring the music of Miles Davis and Gil Evans. In 2012/2013, the band began touring their "Notes from the Balcony" program with the Enso String Quartet. The program features music based on "Romeo and Juliet."
LEARN TO DRAW with ART TEACHER AMY- Children 7-10 - First United Methodist Church
February 28, 2014 - Amityville
Step-by-step, your child can learn to draw animals, landscapes, people and masterworks while they experiment with chalk and oil pastels, watercolors and markers.
Hello, Dolly! - BayWay Arts Center
February 28, 2014 - East Islip
This musical comedy is full of memorable songs including Put On Your Sunday Clothes, Ribbons Down My Back, Before the Parade Passes By, Hello, Dolly, It Only Takes a Moment and So Long, Dearie. Take a whirlwind race around New York at the turn of the twentieth century, and follow the adventures of America's most beloved matchmaker.
Tying the Knot - Cold Spring Harbor Fish Hatchery & Aquarium
Through February 28, 2014 - Cold Spring Harbor
Practice tying fishing and boating knots at hands-on learning stations throughout the Hatchery. February 1- February 28, 2014.
FREE Frozen Themed Dance Party & Parents Night Out - Kings Park Dance Center
February 28, 2014 - Kings Park
Drop Your Kids Off For A FREE Frozen Themed Dance Party & Parent's Night Out. Everyone Will Enjoy Music, Dancing, Games, Crafts & More. Contact The Studio To Reserve A Spot Or For More Information.
Mending Fences - Studio Theatre
February 28, 2014 - Lindenhurst
This is a sparkling comedy with wit and humanity. What happens when a son, estranged for 13 years, returns to his gruff and uncommunicative father's farm. In Norm Foster's deft hands, histories are revealed, vulnerabilities laid bare, and laughter is always close at hand. This is a refined piece of theatre that tugs heartstrings while tickling funny bones, but rises above sentimentality to tell an compelling story.
Poetry reading by Scott Chaskey - Peconic Community School
February 28, 2014 - Aquebogue
The North Fork Education Initiative announces the first in their four annual community events, Discover. This family-friendly afternoon will feature Poet/Farmer/Educator Scott Chaskey who will share his poetry and discuss his recently published work, Seedtime: On the History, Husbandry, Politics and Promise of Seeds with our community.
2014 Student Exhibition-Elementary and Middle Schools - Parrish Art Museum
Through March 02, 2014 - Water Mill
Art by elementary and middle school aged children will be on display from February 1-March 2, 2014.
2014 Student Exhibition-Elementary and Middle Schools - Parrish Art Museum
Through March 02, 2014 - Water Mill
Nearly 300 works of art by students from dozens of elementary, middle and high schools from Brookhaven to East Hampton will be on display at the museum in this thrilling annual exhibition, an explosion of youthful exuberance, limitless imagination, and boundless creativity. February 1-March 2, 2014.
Puppet Show - The Long Island Puppet Theater
Through March 02, 2014 - Hicksville
"Sirena, The Little Mermaid: It's A Whole New World!" is an original musical marionette puppet show with a surprise ending! After the show, the kids and parents get to rock out on the dance floor. The show runs through March 2.
Exhibit: Artist Kasmira Mohanty - Riverhead Town Hall Gallery
Through March 04, 2014 - Riverhead
The featured artisst, from Farmingville,will be exhibiting paintings created in classical and digital media. Although the majority of her work may be heavily affected by digitalization, Kasmira maintains a balance and enjoys working with traditional mediums as well. Some of her favorite mediums include ink, watercolor, acrylic, printmaking, photography, and spray paint. When the mood strikes or a project requires it, she scans hand-rendered elements into the computer and experiments with combining traditional and digital components. December 3, 2013-March 4, 2013.
Learn and Play - Suffolk County Farm and Education Center
Through March 27, 2014 - Yaphank
Interactive educational workshops for children ages 15 months - 4 years old and their parent or caregiver. Each session is designed with hands-on activities, stories, songs, crafts, and a wagon ride to visit the animals. Call for information. January 6 - March 27th.
Hot Off the Press--an Exhibition of 21st Century Prints - Art League of Long Island
Through March 30, 2014 - Dix Hills
The Jeanie Tengelsen Gallery at the Art League of Long Island presents an exhibition of 40 prints by 20 contemporary artists from Universal Limited Art Editions (ULAE), the esteemed fine art print publisher located in Bay Shore, Long Island. The exhibition displays intaglio etchings––some hand painted, mezzotints, traditional lithographs and pigmented inkjet prints, as well as three dimensional intaglio constructions and three dimensional lithographs and silkscreens. Feb 23-March 30, 2014.
Flight of the Butterflies in 3D - NY Hall of Science
Through April 11, 2014 - Corona
Join millions of real butterflies on an amazing journey to a remote and secret hideaway. Weighing less than a penny, the monarch butterfly makes one of the longest migrations on Earth. Follow the monarchs' perilous journey to the remote mountain peaks of Mexico in this 3D film. For the first time ever, witness the transformation from caterpillar to butterfly, inside a chrysalis, thanks to advanced MRI and micro CT scans. The award-winning production team, including Oscar-winner Peter Parks, followed the year-long migration cycle of the monarch butterflies, from Canada, through the United States to remote 10,000-foot-high peaks in the Sierra Madre Mountains of Mexico. The film has won numerous awards including the 2013 Grand Teton Award in the category of Best Immersive 3D/Large Format at the Jackson Hole Wildlife Film Festival and awards at the 2013 Giant Screen Industry Awards, including Best Film, Best Cinematography, Best Film for Lifelong Learning, and Best Educational Program.
Spirit and Identity: Melanesian Works from the Hofstra University Museum Collections - Hofstra University Museum, David Filderman Gallery
Through May 12, 2014 - Hempstead
Curated by collections manager Kristy L. Caratzola, this exhibition showcases an extraordinary aspect of the HUM collections for the first time. The original exhibit offers a range of ethnographic artworks and objects created by members of the distinct regional communities of Irian Jaya, Papua New Guinea, New Britain, Vanuatu, and the Kiriwina Islands located in the South Pacific. The selected works center upon ancestral figures, ceremonial masks, warrior shields, and ritualized practical objects crafted from natural materials sourced from sacred sites within the territory of each individual culture. The exhibit also includes sophisticated wooden sculptures carved and painted by revered artists, which serve to express complex ideological beliefs through stylized human and animal forms complemented with colorful, abstracted geometric designs. The vital connection between humans and ancestral spirits and their active role in providing guidance and protection is an essential concept shared among many Oceanic cultures and is a defining characteristic of Melanesian art.
College Students Can Blow Off Some Steam at Bounce! at Discounted Rates Every Week - Bounce! Trampoline Sports
Through May 28, 2014 - Syosset
Bounce! Trampoline Sports hosts Wild Wednesdays every week from 7–9pm for college students. The special event night offers college students a chance to have some fun and reduce their homework stress at discounted rates. College students only need to show their ID and they will pay just $10.00 for the first hour and $5.00 for the second hour. Admission includes trampoline dodgeball, slam dunk basketball, open jump time and foam pit jumping as well as volleyball (not on the trampolines).
Outdoor Sculpture Biennial - Adelphi University
Through May 31, 2014 - Garden City
See the work of 10 skilled sculptors located throughout the scenic 75-acre arboretum on the Garden City campus. This outdoor installation showcases the talents of Miggy Buck (NY), John Clement (NY), Maria Hall (NY), Ed Haugevik (NY), William King (NY), Anti Liu (NY), Johnny Poux (NY), Kim Radochia (MA), Christopher Saucedo (NY), and Hans Van de Bovenkamp (NY). Works of art encompass use of various materials-steel, bronze, aluminum, concrete and reflective mirrors. These man-made creations are transposed into poetic visual narrations. The exhibition runs through May 31, 2014.
Open House - Crestwood Country Day Camp & School Open House
Through June 15, 2014 - Melville
Come and see what Crestwood has to offer children ages 2-15 for summer camp and school. Tour the 15 acres, meet the directors, and have your kids play on the playgrounds. Saturdays and Sundays, February 1-June 15, 2014.
Saturday Respite - Theresa Academy of Performing Arts
Through June 21, 2014 - Lido Beach
Saturday Respite program runs each Saturday and students have a snack and participate three of the following activities: yoga, dance, drama, drumming, art, cooking, or music. Students range in age and work with a 1-on-1 volunteer to guide and support the student. Students with special needs and typically developing students are welcome. Please RSVP at [email protected]
Kidtastic Kids Social Experience - Kidtastic Kids
Through June 30, 2014 - Farmingville
The Kidtastic Kids Social Experience is designed for children with special needs, social needs, or children who are having a hard time making friends. Programs are broken down by each child's needs and individuality. Call or check the website for more information. Jan 1-June 2014.
Create Dance Center - Zumba Fitness
Through June 30, 2014 - Amityville
A great calorie-burning, Latin-inspired, cardiovascular work-out. Work out at your own intensity-perfect for beginners.Tuesdays, January 7-June 30.
Special Needs Classes - Create Dance Center
Through June 30, 2014 - Amityville
Classes focus on social interaction, following directions, imitation skills, gross motor movement and dance techniques. Small classes with extra support. All taught by a NY State Certified Special Education teacher. For more information call or e-mail at [email protected] Classes: Wednesdays (8 and under), Thursdays (13 and older), Fridays (8 and older and 5 and under), Saturdays (8 and older). January 2-June 30, 2014.
Moving Forward-Creating A Vision Workshop - Life Coaching For Women
Through July 31, 2014 - Bellmore
Gather your girlfriends together or come by yourself, for this fun and interactive workshop that will leave you feeling motivated and empowered to create the life that you want. There are reasons why most women find it difficult to move forward towards a goal. During this workshop you will become aware of exactly what it is that's holding you back, and see what you can do to make changes in order for you to move forward. Creating a clear vision as to what you want allows you to keep your focus and achieve your goal. Refreshments will be served. Conducted in Bellmore office or host a party at home. Contact for more details. 631-988-4001 [email protected]/www.donnaleakeclc.com
Affirmation Cards Workshop - Life Coaching For Women
Through July 31, 2014 - Bellmore
Enjoy light refreshments as you are creating your very own unique affirmation cards. What is an affirmation? Affirmations are personal, short, powerful words or statements that create a shift in the way you think. Affirmations are uplifting and encouraging! They create a change on any negative perceptions you have. The more you affirm what you like and want for yourself, the more your mind is going to accept it. As your thoughts begin to change, your vision begins to change, and your actions begin to change. Get ready for positive changes to happen. Gather your girlfriends or come alone for this ongoing workshop. Contact [email protected]
Creating a Vision Board Workshop - Life Coaching For Women
Through July 31, 2014 - Bellmore
Interior designers use a similar board to create visions of what they want a certain room to look and feel like. Today, more and more women are creating vision boards for the exact same reasons, except for their own lives! A vision board helps you create your life by having a vision of what YOU WANT in front of you every single day! They are fun, powerful tools, and the more you add to your board, the more likely you are to make it all happen! The sky is the limit. Call or contact [email protected], or visit the website.
Sculpture Art Caper and Exploration Activity - Hofstra University Museum, Emily Lowe Gallery
Through September 30, 2014 - Hempstead
Adults and children can explore the outdoor sculpture collection on Hofstra's beautiful campus with activity-filled animal, shapes or people-themed HUM Sculpture Exploration Backpacks or by solving an Art Caper mystery in which they unravel the clues found in the sculpture collection. Activity materials may be picked up at the Emily Lowe Gallery during museum hours (see website for current hours).
Bethpage Federal Credit Union Global Explorer - Hofstra University Museum, Emily Lowe Gallery
Through September 30, 2014 - Hempstead
Children ages 6 and up and their families can explore and discover the beauty of the world's cultures using activity-filled backpacks that enhance experiences with authentic objects from the Hofstra University Museum's collections. While exploring specific works displayed in the David Filderman Gallery, children create their own keepsake artworks inspired by the art and cultures they discover. Families may pick up the backpacks at the Emily Lowe Gallery during museum hours (see website for current hours).
Penguin Encounter - Long Island Aquarium & Exhibition Center
Through December 31, 2015 - Riverhead
Imagine a close-up meeting with an African penguin – a 45-minute interactive experience where children ages 5 and up and adults go behind the scenes and learn how animal experts care for these playful birds. You'll see the inner workings of the Penguin Pavilion exhibit,learn how staff cares for the exhibit's residents and enter the Penguin Preschool to meet the penguins. Reserve your spot at [email protected]