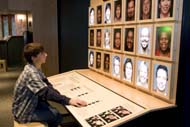 Daily activities for kids and the family are abound in Long Island! Whether you want to spend the day with your children at a zoo, a museum, or just outdoors, we've got it all here. Want to see what's going on next weekend or when you have those few days off? Check out the NY Metro Parents'
calendar
!
COPE Suicide Survivors Support Group - Elias Hicks Historical Home
July 09, 2013 - Jericho
COPE, a grief and healing organization dedicated to supporting parents and families living with the loss of a child, holds monthly support groups meetings for parents and siblings who have lost a child or sibling to suicide. If you are interested in attending or for more information, please call Executive Director Karen Flyer at 516-484-4993.
Storytime - Barnes and Noble -Carle Place
July 09, 2013 - Carle Place
Join in for a fun story time. Kids will read books and do a related activity.
Book Club - Pottery Barn Kids
July 09, 2013 - Garden City
Encourage your little one's love of reading by joining the weekly story time. Receive a Book Club Passport at your first story time and a special gift after attending five.
Oyster Bay Cruise Nights - Downtown Oyster Bay
July 09, 2013 - Oyster Bay
Come out and see some of the finest cars on Long Island. From radical to rat-rods, Duesenbergs to Ducatis, car and motorcycle enthusiasts are invited to bring their precious rides out for public viewing. Downtown restaurants and stores will be open, so come on up to Oyster Bay for a terrific time. FREE to walk in, $5 to show car. Live Music. 50/50 Drawing.
Mad Science - Mineral Mania Workshop - Island Trees Public Library
July 09, 2013 - Island Trees
Recreate the process of rock formation and learn to identify and classify rocks and minerals. Experience the thrill of panning for gems. The gems you find, you can take home for further study and identification.
Mad Science - Slime Time Workshop - Rockville Centre Public Library
July 09, 2013 - Rockville Centre
Ooze into a gooey hour of sliming around! Create slime using the Mad Science recipe, and then enter the Slime Olympics! Take home your own concoction of "Mad Science Slime."
Mad Science - Dinosaurs Workshops - The Bryant Library
July 09, 2013 - Roslyn
Examine real fossil casts and explore the differences in the teeth of herbivores and carnivores. Students will participate in a mini dinosaur excavation and make a cast of a "Mad Science dinosaur tooth" to take home.
Kids Zumbatomic - The Dance Treatment
July 09, 2013 - Garden City Park
Zumbatomic is a fun dance/fitness program uniquely designed to introduce children to international music and culture and to build a positive self-image through a healthy lifestyle. The class will include demonstrations of several hand-made musical instruments from around the world. Zumbatomic is similar to the adult Zumba program, using Latin and International music and fitness in the choreography. The songs, games and dance steps are age-appropriate for the children and encourage enthusiastic participation. The goal is to assist in the development of team work, respect, confidence and responsibility, while learning coordination, discipline, memory and creativity. Please wear comfortable clothing and flat-soled sneakers that allow movement, (not running shoes) and bring water.
Story Time & Mommy Time - Parents R Talking
July 09, 2013 - Mineola
This interactive program encourages responsible and interactive listening and thinking skills. It is also a time for adults to socialize. In the span of 45 mins, up to 2 stories will be (actively) read with props, to encourage appropriate interaction by the children. After the stories adult and child will have a chance to play and interact. Moms are encouraged to bring along snacks for their children and themselves. Registration required.
Festive Fireworks Badge - Long Island Children's Museum
July 09, 2013 - Garden City
Fireworks produce sparks of many colors, especially red, orange, yellow, green, blue and even silver! We use fireworks to celebrate special occasions like the 4th of July. Join in and create your own fireworks ribbon badge. Use cupcake liners, colorful ribbons and stickers to decorate this fun celebration token.
Puppetkabob presents "The Snowflake Man" - Long Island Children's Museum
July 09, 2013 - Garden City
This magical production is inspired by Wilson "Snowflake" Bentley, the self-educated farmer and scientist who attracted world attention when he became the first person to photograph a single snow crystal. "The Snowflake Man" swings audiences into historic 1920s through creative storytelling, intricately designed Czech-style marionettes, and a striking pop-up book of water color scenery. This award-winning show combines art, science, and a little known piece of American history to magical effect!
Pop-up Puppet Theater Workshop - Long Island Children's Museum
July 09, 2013 - Garden City
Join Puppetkabob after the performance where children will color and assemble a specially designed Pop-up Puppet Theater. This project will transport children back in time to tell the story of "Snowflake" Bentley, pioneer of snowflake photography! This project is inspired by the show "The Snowflake Man", which combines pop-up book art with Czech-style marionette, now showing in the LICM Theater.
Monkey Monkey Music - Southold Free Library
July 09, 2013 - Southold
Monkey Monkey Music with Meredith LaVande performs with their special brand of musical magic. Monkey Monkey Music is known by millions of families who have seen her videos on more than 100 PBS member stations nationwide.
Breakfast with the Princess - The Castle at Westhampton
July 09, 2013 - Westhampton
Enjoy breakfast with the Princess at The Castle. Fresh baked bagels, fresh fruit as well as organic coffee, tea or orange juice all followed by a round of games with the Princess. Tickets must be purchased in advance for children as well as adults. Gratuity not included. Maximum limit of 6 tickets per group. No refunds.
Tiny Tots: Nature Discoveries --Tiny Turtles - Connetquot River State Park
July 09, 2013 - Oakdale
Children ages 3-5 and their parents explore the natural world through short walks, activities and crafts. Reservations required by calling 631-581-1072.
Scientist for a Day - Cold Spring Harbor Whaling Museum
Through July 12, 2013 - Cold Spring Harbor
Explore the different fields of science and conduct experiments as if you were a marine biologist, volcanologist geologist, paleontologist and a speleologist. For ages Ages 4-7. Ages 9-11 are crew leaders.
Medieval Science Week - Long Island Science Center
Through July 13, 2013 - Riverhead
Learn about the scientific technology, engineering capabilities, and scientific beliefs of the period. Participate in activities and crafts to take home.
Mr. M's Movies - Rockville Centre Public Library
Through July 19, 2013 - Rockville Centre
Come out and see Quartet. PG-13, 98 mins. At a home for retired musicians, the annual concert to celebrate Verdi's birthday is disrupted by the arrival of Jean, an eternal diva and the former wife of one of the residents.
Legends in Concert - Gateway Playhouse
Through July 20, 2013 - Bellport
This Vegas-style crowd pleaser features Neil Diamond, Liza Minnelli, Elvis Presley, Barbra Streisand, Tina Turner and Stevie Wonder.
We Hold These Truths-The Great Art Caper - Hofstra University Museum - Emily Lowe Gallery
Through July 26, 2013 - Hempstead
Pick up Great Art Caper materials while in the Emily Lowe Gallery to enjoy self-guided super-sleuthing. Search for hidden clues in the works in the exhibit We Hold These Truths and use the clues to complete a message. Please check the museum's website for summer hours. This program runs through July 26.
Tunes For Tots - T&M Unique-Bow Tique
Through July 29, 2013 - Franklin Square
Tunes for Tots is a new program developed by two licensed teachers for infants ages 5 months to 1 year as a Mommy and Me program. The purpose is to develop rhythm, rhyme and song for babies. Classes are held on Monday mornings. Space is very limited. Please call Ms. Pat for details and to reserve a spot.
The Walter & Joan Hobbs Art Gallery: Artists' Shows and Receptions - Mineola Public Library
Through July 31, 2013 - Mineola
Join the library's staff downstairs in the Walter & Joan Hobbs Art Gallery. Each month, a different artists' work will be on display for public viewing. The featured artist for July is Stephen Zimic, a photographer who uses high dynamic range photography (HDR) to capture scenic beauty. Come in to view nature, captured at its very best.
Nature Nicks Animal Adventure! - Long Island Game Farm
Through July 31, 2013 - Manorville
"Nature" Nick Jacinto is one of the most well-known animal handlers in the New York tri-state area. He and his animals have appeared on numerous TV shows and public events throughout the area. His TV credits include The Martha Stewart Show, The Wendy Williams Show, Petkeeping with Marc Morrone, and Good Morning America. Nick completed his undergraduate degrees in Early Childhood Education, Special Education, and Speech Communications at St. Joseph's College in Patchogue, NY. In addition to being a certified teacher, he is also one of the few animal handlers in New York State who currently holds six permits from New York State Department of Environmental Conservation which allow him to showcase many rare and unusual exotic animals. The animals used in Nature Nick's programs are either former zoo animals who were injured and could not be placed back on exhibit or confiscated exotic pets. His shows are fast-paced, originally scripted and interspersed with his own brand of humor. Each show features 10-12 animals from all corners of the world including, but not limited to, kangaroos, monkeys, alligators, gigantic snakes, owls and falcons. July 1-July 31, 2013.
Dance, Art, Yoga, Music Classes - Theresa Academy of Performing Arts
Through August 14, 2013 - Lido Beach
Summer classes at TAPA! Dance, Yoga, Art, Music. Each class meets once a week for a 6-week period. Explore the arts after camp/summer school.
Mounted Cowboy Shooting Match - Old Bethpage Village Restoration- Fairgrounds
Through August 24, 2013 - Old Bethpage
Step back into the late 1800s and watch history come alive as cowboys saddle up and engage in a shooting match. Experience the excitement of the Old West and witness a fast action event in which cowboys with single action revolvers are scored on accuracy and time.
Life After Divorce For Women - Life Coaching for Women
Through August 30, 2013 - Bellmore
Sign up for a free one-hour life coaching session on life after divorce. Who are you now? What positive things have you learned about yourself? What does your future look like? What goals have you set? Learn techniques on how to move forward and enjoy life with the New You! Visit the website, call, or email [email protected]
Summer Camp - FastracKids / JEI
Through August 30, 2013 - Bellmore
Summer Camp for children ages 5-13 providing academic as well as fun physical activities. Full or half day programs are available and bus service. Working together with All American Gymnastics, LI Champion Tae Kwon Do, and World of Sports.
The Puppet Project - Long Island Children's Museum
Through August 30, 2013 - Garden City
Puppets have been crafted for thousands of years and used for storytelling around the world. Join in the fun as you design and engineer your own stick and rod puppet. Use exciting materials to build your own character as you learn how to create and operate your new creation. Develop your puppets character and learn how to perform for family and friends. This program runs through August 30.
Israel at 65 - Jewish Discovery Museum @ SYJCC
Through August 31, 2013 - Commack
This hands-on exhibit allows families to learn about Jewish life, history, values, traditions and heroes, as well as Israel and the Hebrew language. The interactive displays are designed to transform visitors into participants, offering adults and children a unique opportunity to discover the wonders of Jewish heritage. Through August 31, 2013.
Autism Spectrum Parent Support Group - Family and Children's Association
Through September 01, 2013 - Mineola
Family Center's Spectrum Support Group offers caregivers mutual support by providing opportunities to meet with others also raising children who are dually diagnosed. To be eligible the child must have a primary Mental Health diagnosis and a secondary Spectrum diagnosis. Groups are facilitated by Parent Advocates, each having their own unique experience raising a child under the Spectrum. While caregivers attend group, respite can be provided to children ages 5-17. To receive respite, an intake is required. This ensures staff is familiar with the child, making caregiver's participation more relaxing. Meetings are held the first and third Monday of each month, except holidays. RSVP Miriam at 516-485-5914 xtn 2223 no later than seven days prior to the meeting date.
Living History Tours: It's 1932 - Vanderbilt Museum
Through September 02, 2013 - Centerport
It's the summer of 1932 and William K. Vanderbilt II has just circumnavigated the globe in his new 264-foot yacht, Alva. He's purchased a mummy in Cairo and brought it back to display in his museum -- coinciding with the opening of Boris Karloff's latest horror movie, The Mummy. The famous fashion designer Coco Chanel is coming to New York to open a show of her first jewelry designs, and is a guest of the Vanderbilts at their Eagle's Nest estate on the Long Island Gold Coast. Also on the guest list is Elsa Maxwell, the notorious gossip columnist, an intimate friend of the Vanderbilt women. For more than a decade, Living History tours of the Vanderbilt Mansion have given summer visitors a kind of time-machine trip to the 1930s. Museum staff member-actors, in costume and in character as household servants and famous guests, take visitors through the sprawling 24-room, Spanish-Revival waterfront mansion and regale them with stories about the family, its guests and its adventures. Saturdays and Sundays through September 2, 2013.
Pirate Snorkel Adventure - Long Island Aquarium & Exhibition Center
Through September 02, 2013 - Riverhead
Locate missing treasure while experiencing the beauty and magic of tropical snorkeling. While searching, be sure to see how many different types of fish you can identify. The aquarium is stocked with plenty, including fish from all around the world. And when you're done, walk away with some booty of your own – a $2.00 arcade card good at the Family Fun Center. Contact [email protected] June 30-September 2, 2013.
Friendship Bracelet and Lanyard Making Class - The Lanyard Ladies
Through October 03, 2013 - East Rockaway
Looking for a fun after-school or weekend activity? Does your child want to learn how to make friendship and lanyard bracelets? Kids can make as many bracelets as they want. Each child will also receive a special gift. 15% sibling discount. Please call to reserve your space. You can also book a private play-date(10 or more children needed). Call for more information.
Alex Katz: Selections from the Whitney Museum of American Art - Nassau County Museum of Art
Through October 13, 2013 - Roslyn Harbor
Alex Katz (b.1927) is one of the most important American artists alive today. The exhibition includes landscapes and collages from early in Katz?s career and continues through the 1960s and beyond with his hallmark paintings ? enormous, brilliantly-colored portraits of his family and friends. The exhibition draws on the Whitney?s large holdings and is augmented with works from NCMA?s own permanent collection and some on loan from other art institutions. The exhibition runs through October 13.
'Discovery' Wetlands Cruise - Boatworks Marina
Through October 30, 2013 - Stony Brook
Learn the importance and fragility of a wetlands ecosystem, enjoy the sweeping panorama of a salt marsh moraine and be amazed at the untouched beauty of Long Island's North Shore this summer aboard the "Discovery" Wetlands Cruise 90-minute sightseeing tours aboard a 27-passenger pontoon boat. A naturalist is on board to guide passengers through this experience embracing ecology, geology and history. The cruise also includes information on how Native Americans first settled here, views of a long sand pit with the historic Gamecock Cottage at its tip, the serpentine creek, tidal flow, grasses and various species of water fowl and other wildlife in the wetlands. Seating is first come, first served. For additional information or to make a reservation, call the museum or go online. Cruises run through October 30, 2013.
Atlantis Explorer Tour Boat - Long Island Aquarium & Exhibition Center
Through October 31, 2013 - Riverhead
Add extra aquatic adventure to your visit with an interactive cruise aboard the Atlantis Explorer Tour Boat. Over the course of your trip, you and your family participate in hands-on exploration, including trap pulls, horseshoe crab encounters, and a stroll along a remote beach.
Alex Katz: What About Style? - Nassau County Museum of Art
Through October 31, 2013 - Roslyn Harbor
For more than 50 years, painter Alex Katz has resisted trends in modern art to pioneer and refine his own style of flat, elegant, and realistic figure painting. What About Style? offers an uncluttered view of this American maverick. Filmmaker and art critic Heinz Peter Schwerfel captures the elusive Katz working in his Maine studio and his Soho flat, laboring over a 32-foot painting called The Black Brook. Interviews, archival footage, images of his subjects, and a virtual tour of 20 Katz paintings are combined to convey his unique style of art. No reservations. First come, first seated. The exhibition runs through October 31.
Behind-the-Scenes Tours - Long Island Aquarium & Exhibition Center
Through December 31, 2013 - Riverhead
Go behind the scenes at the aquarium and see firsthand all that's involved in creating a home for the aquatic residents, including helping to feed the clownfish.
Sculpture Mystery: The Great Art Caper - Hofstra University Museum
Through January 01, 2014 - Hempstead
Uncover clues to help solve a mystery in the outdoor sculpture collection. Pick up your caper kit at Emily Lowe Gallery, have fun while discovering more about these works, and at the end of the caper return to Emily Lowe Gallery for a prize. For everyone ages 4-9 and their grown-up companions all year-round. The program runs through January 1, 2014.
Sculpture Exploration Backpack - Hofstra University Museum
Through January 01, 2014 - Hempstead
Kids and their grown up companions can stop in at the Hofstra University Museum's Emily Lowe Gallery, and pick up a backpack. At the end of your tour, return the backpack and each child will receive a small gift from the Museum. The program runs through January 1, 2014.
Outdoor Sculpture Biennial - Adelphi University
Through May 31, 2014 - Garden City
See the work of 10 skilled sculptors located throughout the scenic 75-acre arboretum on the Garden City campus. This outdoor installation showcases the talents of Miggy Buck (NY), John Clement (NY), Maria Hall (NY), Ed Haugevik (NY), William King (NY), Anti Liu (NY), Johnny Poux (NY), Kim Radochia (MA), Christopher Saucedo (NY), and Hans Van de Bovenkamp (NY). Works of art encompass use of various materials-steel, bronze, aluminum, concrete and reflective mirrors. These man-made creations are transposed into poetic visual narrations. The exhibition runs through May 31, 2014.
Penguin Encounter - Long Island Aquarium & Exhibition Center
Through December 31, 2015 - Riverhead
Imagine a close-up meeting with an African penguin – a 45-minute interactive experience where children ages 5 and up and adults go behind the scenes and learn how animal experts care for these playful birds. You'll see the inner workings of the Penguin Pavilion exhibit,learn how staff cares for the exhibit's residents and enter the Penguin Preschool to meet the penguins. Reserve your spot at [email protected]