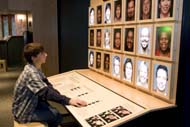 Daily activities for kids and the family are abound in Long Island! Whether you want to spend the day with your children at a zoo, a museum, or just outdoors, we've got it all here. Want to see what's going on next weekend or when you have those few days off? Check out the NY Metro Parents'
calendar
!
PreSchool Stroytime - Haverstraw King's Daughters Public Library
March 12, 2013 - Garnerville
Children ages 3-5 can come in for stories, songs, puppets, and more. Pre-registration is required. Tuesdays through May 14.
Navigating the transitions for special education students - Center for Community Adjustment
March 12, 2013 - Wantagh
Learn how to prepare your child for success as she/he transitions from middle school to high school and beyond high school to post-secondary education, employment and independent living options. Meet with disability service representatives, colleges and more in the exhibit area, and attend a series of relevant workshops presented by experts in the field.
Language Immersion at LICM-Korean - Long Island Children's Museum
March 12, 2013 - Garden City
Children's language skills develop rapidly, absorbing everything they hear. Why not introduce another language to your child while they are young and receptive to new things? Explore basic themes in Korean in a fun and relaxed atmosphere. Workshops are drop in and do not require advance sign up. The series will explore a different theme each week (numbers, fruits, animals, etc). A class project and song will be used each week to reinforce learning.
Breastfeeding Support Group - South Nassau Hospital Parent/Child Education Classroom
March 12, 2013 - Baldwin
All mothers and their infants are welcome to attend this informal meeting. Mothers will be able to exchange ideas and share concerns. Led by a board certified lactation consultant. Call for more information and to register.
St. Patrick's Day Party - What's Cooking?
March 12, 2013 - Oyster Bay
Wear your green and celebrate St. Patty's Day with What's Cooking? Children will prepare and eat a "magically delicious" meal and create a fun craft for this special holiday. Erin Go Bragh! The menu includes grilled corned beef panini, Scones, Irish smashed potatoes, Shamrock cookies, Luck of the Irish Ice Cream, and Leprechaun lemonade.
Clifford The Big Red Dog LIVE - The Paramount
March 12, 2013 - Huntington
In this new musical adventure, Clifford and Emily Elizabeth take audiences on a journey to Birdwell Island with their friends Cleo, T-Bone, Charley, Jetta, and Mac where they learn many life lessons.
LEARN TO DRAW with ART TEACHER AMY - Children 9-12 - St. Luke's Lutheran Church
March 12, 2013 - Bayshore
Step-by-step, your child can learn to draw animals, landscapes, people and masterworks while they experiment with chalk and oil pastels, watercolors and markers.
Youth Art Showcase - Mills Pond House
Through March 15, 2013 - St. James
The Smithtown Township Arts Council's Annual Youth Art Showcase opens February 16 at the Mills Pond House Gallery. Highlighting the creativity of young people in Suffolk County, the exhibit includes artwork created by more than 250 students who have used art to express themselves in a wide variety of creative and exciting ways. Gallery visitors will be treated to an eclectic glimpse into the lives these young community members who created their work in a wide variety of media including charcoal, mixed media sculpture, acrylic, graphite, watercolor, ink, digital photography, oil, and ceramic and photography. The exhibit continues through March 15. Public audiences are invited to attend an opening reception Saturday, February 18 from 2-4 pm to view the artwork and meet the exhibiting artists. Admission to the gallery is free. Regular Gallery hours are Monday-Friday, 10 am-5 pm, and Saturday-Sunday, 12 pm-4 pm. Closed Feb 18. The Gallery is located at 660 Route 25A, St. James, NY. Parking off Mills Pond Road (directly across from 199 Mills Pond Road). Call 631-862-6575 or visit www.stacarts.org This year's participating school districts include: Amityville, Bay Shore, Brentwood, Huntington, Kings Park, Lindenhurst, Longwood, Middle Country, Mount Sinai, North Babylon, Northport-East Northport, Patchogue-Medford, Rocky Point, Sachem, Sayville, Smithtown, Three Village, William Floyd
Modernizing America: Artists of the Armory Show - Heckscher Museum of Art
Through March 17, 2013 - Huntington
In 1913, the American public was introduced to avant-garde European art styles at the International Exhibition of Modern Art, held at the Lexington Avenue Armory and known as the Armory Show. The Armory Show created a sensation; the controversial and radical art displayed there proved to be a watershed in the development of 20th-century American art. Modernizing America: Artists of the Armory Show focuses on American artists who participated in the Armory Show and explores the impact of European Modernism on American art in the early years of the 20th century. Through March 17, 2013.
Mirrored Images: Realism in the 19th and 20th Centuries - Heckscher Museum of Art
Through March 24, 2013 - Huntington
Throughout the history of art, artists have turned to the observed world as a source of inspiration. This exhibition, drawn entirely from the Museum's Permanent Collection, explores the various realist movements of the 19th and 20th centuries, beginning with the mid-19th century Barbizon movement in France and the concurrent Hudson River School in America, and progressing through later 19th-century realism and 20th-century movements, such as the Ashcan School, American Scene painting, Magic Realism, Photorealism, and East End (Long Island) realism. December 8, 2012-March 24, 2013.
50/50: Celebrating Fifty Years of the Hofstra University Museum - Hofstra University Museum
Through March 28, 2013 - Hempstead
This anniversary exhibition highlights the breadth and depth of the collection through just 50 of the 605 acquisitions donated since 2006. The featured works include paintings, prints, photographs and drawings by 20th and 21st century American, Latino and European artists such as Luis Cruz Azaceta, Henri Cartier-Bresson, Stanley Brodsky, Lucien Clergue, Yonia Fain, April Gornick, Robert Kipniss, Howardena Pindell, Robert Rauschenberg, Donald Resnick, Alison Saar, W. Eugene Smith and Stanley Twardowicz, among others. Additionally, the exhibition includes Pre-Columbian figures and vessels as well as early to mid 20th-century African masks.
50/50 The Great Art Caper - Hofstra University Museum - Emily Lowe Gallery
Through March 28, 2013 - Hempstead
Pick up Great Art Caper materials while in the Emily Lowe Gallery to enjoy self-guided super-sleuthing. Search for hidden clues in the works in the exhibit 50/50:Celebrating Fifty Years of the Hofstra University Museum and use the clues to complete a message. This program runs through March 28.
Building a Bunny Hutch (Chocolate or Gingerbread) - Riesterer's Bakery
Through March 28, 2013 - West Hempstead
Sign up for classes to learn how to build a bunny hutch in chocolate or gingerbread. It's a great party for children and adults. Enjoy soda, treats and take home your own creation. See how they make some of Long Island's largest variety of Easter bunnies- up to 3 feet tall. It's a chocoholics dream. Call for exact days. Classes run through March 28.
Community Gallery - Long Island Children's Museum
Through March 31, 2013 - Garden City
Stop by the Community Gallery and enjoy the mixed media artwork created by students from North Babylon Schools. Students were inspired by lighthouses on Long Island and the world.
21st Annual Student Art Festival, Part II: Grades 9-12 - Guild Hall
Through April 14, 2013 - East Hampton
The exhibition features over 3,500 pieces of student art from high schools from 11 participating public, private and home schools in the Amagansett, East Hampton, Greenport, Montauk, Wainscott, Southampton, Bridgehampton, Shelter Island, and Sagaponack districts.
Tony Hawk / Rad Science - New York Hall of Science
Through April 22, 2013 - Corona
Find out how the physics of gravity, force, velocity and balance make radical tricks possible in action sports in this program that runs through April 22. Children under age 18 must be accompanied by an adult.
Attack of the Bloodsuckers! - Long Island Children's Museum
Through May 05, 2013 - Garden City
Explore the science of what's eating you in this skin-crawling exhibition. Examine the what, why, when and how of mosquitoes, fleas, ticks, leeches and other parasites known as sanguinivores (creatures that eat blood). Learn why bloodsuckers are important to the ecosystem and how to keep them out of your system. Attack of the Bloodsuckers! offer visitors the chance to look a real leech in the mouth; pull off your socks and test your bug-appealing foot odor; receive a big hug from a giant, inflating tick; get itchy and knotty with the life-size game of "Twitcher" - a buggy variation on the game Twister. This exhibition runs through May 5, 2013.
Math & Science Homework Help - Long Island Science Center
Through June 01, 2013 - Riverhead
Students in grades 1-8 may be dropped off on Saturdays to receive help with homework. No pre-registration required.
After School Arts - Theresa Academy of Performing Arts
Through June 19, 2013 - Lido Beach
Theresa Academy of Performing Arts for Students with Special Needs offers dance, drama, music, drumming, fine art, yoga, and drama classes for students with special needs and their siblings. Classes meet weekly after school and on weekends.
Israel at 65 - Jewish Discovery Museum @ SYJCC
Through August 31, 2013 - Commack
This hands-on exhibit allows families to learn about Jewish life, history, values, traditions and heroes, as well as Israel and the Hebrew language. The interactive displays are designed to transform visitors into participants, offering adults and children a unique opportunity to discover the wonders of Jewish heritage. Through August 31, 2013.
Autism Spectrum Parent Support Group - Family and Children's Association
Through September 01, 2013 - Mineola
Family Center's Spectrum Support Group offers caregivers mutual support by providing opportunities to meet with others also raising children who are dually diagnosed. To be eligible the child must have a primary Mental Health diagnosis and a secondary Spectrum diagnosis. Groups are facilitated by Parent Advocates, each having their own unique experience raising a child under the Spectrum. While caregivers attend group, respite can be provided to children ages 5-17. To receive respite, an intake is required. This ensures staff is familiar with the child, making caregiver's participation more relaxing. Meetings are held the first and third Monday of each month, except holidays. RSVP Miriam at 516-485-5914 xtn 2223 no later than seven days prior to the meeting date.
Friendship Bracelet and Lanyard Making Class - The Lanyard Ladies
Through October 03, 2013 - East Rockaway
Looking for a fun after-school or weekend activity? Does your child want to learn how to make friendship and lanyard bracelets? Kids can make as many bracelets as they want. Each child will also receive a special gift. 15% sibling discount. Please call to reserve your space. You can also book a private play-date(10 or more children needed). Call for more information.
Feeding Nemo! Behind-the-Scenes Tour - Long Island Aquarium & Exhibition Center
Through December 31, 2013 - Riverhead
Go behind-the-scenes and see firsthand all that's involved in creating a hospitable environment for the aquarium's residents. And you may get a chance to help feed the clownfish. While the Seal Exhibit is under construction, you can visit them up close and personal on the tour.
Behind-the-Scenes Tours - Long Island Aquarium & Exhibition Center
Through December 31, 2013 - Riverhead
Go behind the scenes at the aquarium and see firsthand all that's involved in creating a home for the aquatic residents, including helping to feed the clownfish.
Sculpture Mystery: The Great Art Caper - Hofstra University Museum
Through January 01, 2014 - Hempstead
Uncover clues to help solve a mystery in the outdoor sculpture collection. Pick up your caper kit at Emily Lowe Gallery, have fun while discovering more about these works, and at the end of the caper return to Emily Lowe Gallery for a prize. For everyone ages 4-9 and their grown-up companions all year-round. The program runs through January 1, 2014.
Sculpture Exploration Backpack - Hofstra University Museum
Through January 01, 2014 - Hempstead
Kids and their grown up companions can stop in at the Hofstra University Museum's Emily Lowe Gallery, and pick up a backpack. At the end of your tour, return the backpack and each child will receive a small gift from the Museum. The program runs through January 1, 2014.
Outdoor Sculpture Biennial - Adelphi University
Through May 31, 2014 - Garden City
See the work of 10 skilled sculptors located throughout the scenic 75-acre arboretum on the Garden City campus. This outdoor installation showcases the talents of Miggy Buck (NY), John Clement (NY), Maria Hall (NY), Ed Haugevik (NY), William King (NY), Anti Liu (NY), Johnny Poux (NY), Kim Radochia (MA), Christopher Saucedo (NY), and Hans Van de Bovenkamp (NY). Works of art encompass use of various materials-steel, bronze, aluminum, concrete and reflective mirrors. These man-made creations are transposed into poetic visual narrations. The exhibition runs through May 31, 2014.