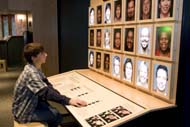 Daily activities for kids and the family are abound in Long Island! Whether you want to spend the day with your children at a zoo, a museum, or just outdoors, we've got it all here. Want to see what's going on next weekend or when you have those few days off? Check out the NY Metro Parents'
calendar
!
The Elephant Letters - Long Island Children's Museum
May 16, 2014 - Garden City
Imagine if elephants wrote letters as people do. "The Elephant Letters" tells the story of two elephants in two different parts of the world; one in the wild and one in captivity. They share with each other reflections of their daily lives through their letters to each other. This live action, multimedia experiences is a first-of-its-kind.
Portledge Adventures For Mommy and Me - Portledge School
May 16, 2014 - Locust Valley
The Portledge Adventures For Mommy and Me class offers toddlers (ages 9-24 months)and moms, dads, or caregivers a safe, nurturing environment that will inspire imagination, self-expression, social interaction, and physical development through a variety of shared activities, such as music, games, crafts, and outdoor play.
Little Shop of Horrors - Studio Theatre
May 16, 2014 - Lindenhurst
With its nerdy floral shop worker, the girl he loves, and a giant man eating plant, Little Shop of Horrors is everyone's favorite boy-meets-girl, plant-eats-world love story. This cult hit is filled with such memorable hit songs as "Somewhere That's Green," "Suddenly, Seymour," and "I'm A Dentist."
BINGO! The Winning Musical - Theatre Three
May 16, 2014 - Port Jefferson
With songs to bring down the house, Bingo is a warm-hearted musical comedy about a group of die-hard bingo players who will stop at nothing to play their weekly game. In between number calling, strange rituals, outrageous plot twists, and fierce competitions, love blossoms and long lost friends reunite.
Ladies Kennel Association of America & Long Island Kennel Club Annual Dog Shows - Planting Fields Arboretum
May 16, 2014 - Oyster Bay
The Ladies Kennel Association of American and the Long Island Kennel Club host their annual dog shows where Long Island dogs and their owners will get their chance to strut their stuff at the 3-day annual all-breed dog shows and obedience and AKC Rally trials. In addition to watching over 800 dogs compete in a variety of sports, visitors and their purebred or mixed breed "All American" dogs can get in on the action at AKC's My Dog Can Do That, where participants try out Agility, a fun and fast-paced obstacle course. Bring the family pet! Shop the vendor mall, see rare breeds up close and personal, and even see if your dog can become a Canine Good Citizen!
LEARN TO DRAW with ART TEACHER AMY- Children 6-10 - First United Methodist Church
May 16, 2014 - Amityville
Step-by-step, your child can learn to draw animals, landscapes, people and masterworks while they experiment with chalk and oil pastels, watercolors and markers.
Parent's Night Out at Tumbling Tunes - Tumbling Tunes
May 16, 2014 - East Northport
Children ages 6 months - 8 years enjoy themselves while playing in the gymnastics, music, craft, and play area supervised by experienced, friendly staff.
West Side Story - Take One Performing Arts
May 16, 2014 - Ronkonkoma
West Side Story is a story of racial hatred and the tragedy that results from it. The protagonists are two rival gangs, the Jets and the Sharks, who live in the same neighborhood and both want control of the streets. The sister of the Shark's leader falls in love with the best friend of the leader of the Jets and their romance is used as a reason by the gangs for an all-out fight that ends tragically for both gangs. The plot is advanced through dramatic, energetic dances and the music of Leonard Bernstein and Stephen Sondheim.
Little Techies (ages 3 – 5) - Bay Shore-Brightwaters Public Library
May 16, 2014 - Brightwaters
Sign up for a half-hour session where they can explore and have fun with a variety of iPad books and game apps together.
Southampton Elks Carnival - Southampton Elks Lodge
Through May 18, 2014 - Southampton
Enjoy kiddie and thrill rides, games, and international food.
Zumba Kids Jr (Ages 4-6) - Unlimited Sports Action
Through May 19, 2014 - Port Washington
Zumba® Kids Jr. classes are a dance 'n' play party for lil' feet where pint-sized party animals get silly, dream big, and begin their journey to a healthy future. This program is where 4- to 6-year-olds just let loose and be themselves – little bundles of natural energy that are endlessly curious about new sounds and experiences! Here they can socialize, move to age-appropriate music and play games with other kids. Classes run Mondays (10 sessions) through May 19.
College Students Can Blow Off Some Steam at Bounce! at Discounted Rates Every Week - Bounce! Trampoline Sports
Through May 28, 2014 - Syosset
Bounce! Trampoline Sports hosts Wild Wednesdays every week from 7–9pm for college students. The special event night offers college students a chance to have some fun and reduce their homework stress at discounted rates. College students only need to show their ID and they will pay just $10.00 for the first hour and $5.00 for the second hour. Admission includes trampoline dodgeball, slam dunk basketball, open jump time and foam pit jumping as well as volleyball (not on the trampolines).
Outdoor Sculpture Biennial - Adelphi University
Through May 31, 2014 - Garden City
See the work of 10 skilled sculptors located throughout the scenic 75-acre arboretum on the Garden City campus. This outdoor installation showcases the talents of Miggy Buck (NY), John Clement (NY), Maria Hall (NY), Ed Haugevik (NY), William King (NY), Anti Liu (NY), Johnny Poux (NY), Kim Radochia (MA), Christopher Saucedo (NY), and Hans Van de Bovenkamp (NY). Works of art encompass use of various materials-steel, bronze, aluminum, concrete and reflective mirrors. These man-made creations are transposed into poetic visual narrations. The exhibition runs through May 31, 2014.
Kids Music Round: Free Demo - Kids Music Round at Small World Connect
Through May 31, 2014 - Manhasset
Well-structured music play spawns lifelong thinking skills. Maximize your child's early potential by calling Kids Music Round at Small World Connect to schedule your FREE Demo class. Classes run through May 31.
Free Trial Class: Spanish - Language Workshop for Children-Manhasset
Through May 31, 2014 - Manhasset
Capture your child's prime time to learn a new language. Call The Language Workshop for Children for a FREE trial. Classes, Camps, Preschools, 6M-3Y. French, Spanish, Chinese, Italian.
Open House - Crestwood Country Day Camp & School Open House
Through June 15, 2014 - Melville
Come and see what Crestwood has to offer children ages 2-15 for summer camp and school. Tour the 15 acres, meet the directors, and have your kids play on the playgrounds. Saturdays and Sundays, February 1-June 15, 2014.
Saturday Respite - Theresa Academy of Performing Arts
Through June 21, 2014 - Lido Beach
Saturday Respite program runs each Saturday and students have a snack and participate three of the following activities: yoga, dance, drama, drumming, art, cooking, or music. Students range in age and work with a 1-on-1 volunteer to guide and support the student. Students with special needs and typically developing students are welcome. Please RSVP at [email protected]
Kidtastic Kids Social Experience - Kidtastic Kids
Through June 30, 2014 - Farmingville
The Kidtastic Kids Social Experience is designed for children with special needs, social needs, or children who are having a hard time making friends. Programs are broken down by each child's needs and individuality. Call or check the website for more information. Jan 1-June 2014.
Create Dance Center - Zumba Fitness
Through June 30, 2014 - Amityville
A great calorie-burning, Latin-inspired, cardiovascular work-out. Work out at your own intensity-perfect for beginners.Tuesdays, January 7-June 30.
Special Needs Classes - Create Dance Center
Through June 30, 2014 - Amityville
Classes focus on social interaction, following directions, imitation skills, gross motor movement and dance techniques. Small classes with extra support. All taught by a NY State Certified Special Education teacher. For more information call or e-mail at [email protected] Classes: Wednesdays (8 and under), Thursdays (13 and older), Fridays (8 and older and 5 and under), Saturdays (8 and older). January 2-June 30, 2014.
Tour of Kenwal Day Camp - Kenwal Day Camp
Through June 30, 2014 - Melville
Call to set up a personal tour of the camp and learn about the activities available for children ages 3-15. Saturdays and Sundays through June 30, 2014.
Moving Forward-Creating A Vision Workshop - Life Coaching For Women
Through July 31, 2014 - Bellmore
Gather your girlfriends together or come by yourself, for this fun and interactive workshop that will leave you feeling motivated and empowered to create the life that you want. There are reasons why most women find it difficult to move forward towards a goal. During this workshop you will become aware of exactly what it is that's holding you back, and see what you can do to make changes in order for you to move forward. Creating a clear vision as to what you want allows you to keep your focus and achieve your goal. Refreshments will be served. Conducted in Bellmore office or host a party at home. Contact for more details. 631-988-4001 [email protected]/www.donnaleakeclc.com
Affirmation Cards Workshop - Life Coaching For Women
Through July 31, 2014 - Bellmore
Enjoy light refreshments as you are creating your very own unique affirmation cards. What is an affirmation? Affirmations are personal, short, powerful words or statements that create a shift in the way you think. Affirmations are uplifting and encouraging! They create a change on any negative perceptions you have. The more you affirm what you like and want for yourself, the more your mind is going to accept it. As your thoughts begin to change, your vision begins to change, and your actions begin to change. Get ready for positive changes to happen. Gather your girlfriends or come alone for this ongoing workshop. Contact [email protected]
Creating a Vision Board Workshop - Life Coaching For Women
Through July 31, 2014 - Bellmore
Interior designers use a similar board to create visions of what they want a certain room to look and feel like. Today, more and more women are creating vision boards for the exact same reasons, except for their own lives! A vision board helps you create your life by having a vision of what YOU WANT in front of you every single day! They are fun, powerful tools, and the more you add to your board, the more likely you are to make it all happen! The sky is the limit. Call or contact [email protected], or visit the website.
Don Resnick: Essence of Place - Hofstra University Museum, Emily Lowe Gallery
Through August 15, 2014 - Hempstead
Throughout his career, Don Resnick built an international reputation as a fine Long Island artist devoted to conveying the beauty of land, sea, and sky. This exclusive exhibition, curated for the Hofstra University Museum by its associate director of exhibitions and collections Karen T. Albert, features Resnick's landscape paintings, drawings, watercolors, and sketchbooks while highlighting his interest in and commitment to preserving the natural environment.
Bethpage Federal Credit Union Global Explorations at the HUM: The Great Art Caper - Hofstra University Museum, David Filderman Gallery
Through August 29, 2014 - Hempstead
Join your guide, Detective Art. E. Fact, at the David Filderman Gallery to uncover clues to help solve a mystery in the exhibition 'Spirit and Identity: Melanesian Works from the Hofstra University Museum Collections.' This original exhibition showcases, for the first time, an extraordinary aspect of the HUM collections, offering a range of ethnographic artworks and objects created by members of the distinct regional communities of the South Pacific. Works feature ancestral figures, ceremonial masks, warrior shields, and ritualized practical objects crafted from natural materials.
Sculpture Art Caper and Exploration Activity - Hofstra University Museum, Emily Lowe Gallery
Through September 30, 2014 - Hempstead
Adults and children can explore the outdoor sculpture collection on Hofstra's beautiful campus with activity-filled animal, shapes or people-themed HUM Sculpture Exploration Backpacks or by solving an Art Caper mystery in which they unravel the clues found in the sculpture collection. Activity materials may be picked up at the Emily Lowe Gallery during museum hours (see website for current hours).
Bethpage Federal Credit Union Global Explorer - Hofstra University Museum, Emily Lowe Gallery
Through September 30, 2014 - Hempstead
Children ages 6 and up and their families can explore and discover the beauty of the world's cultures using activity-filled backpacks that enhance experiences with authentic objects from the Hofstra University Museum's collections. While exploring specific works displayed in the David Filderman Gallery, children create their own keepsake artworks inspired by the art and cultures they discover. Families may pick up the backpacks at the Emily Lowe Gallery during museum hours (see website for current hours).
Penguin Encounter - Long Island Aquarium & Exhibition Center
Through December 31, 2015 - Riverhead
Imagine a close-up meeting with an African penguin ? a 45-minute interactive experience where children ages 5 and up and adults go behind the scenes and learn how animal experts care for these playful birds. You'll see the inner workings of the Penguin Pavilion exhibit,learn how staff cares for the exhibit's residents and enter the Penguin Preschool to meet the penguins. Reserve your spot at [email protected] Year-round.