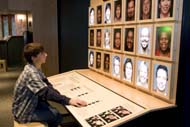 Daily activities for kids and the family are abound in Long Island! Whether you want to spend the day with your children at a zoo, a museum, or just outdoors, we've got it all here. Want to see what's going on next weekend or when you have those few days off? Check out the NY Metro Parents'
calendar
!
Mothers' Center Circle - Baldwin Public Library
May 03, 2013 - Baldwin
Part of the National Mothers' Center, this group provides a social outlet for mothers and their children. Discuss the challenges and joys of parenting, while the children enjoy a play group. The group provides a welcoming, non-judgmental environment where mothers can share insights and build confidence. Registration required.
Dance Theatre of Harlem - Tilles Center for the Performing Arts
May 03, 2013 - Brookville
A distinguished, distinctive and beloved force in American dance returns to Tilles Center for the first time since 2003. Founded by New York City Ballet legend Arthur Mitchell in 1969, the troupe is reborn under the direction of founding member and principal dancer Virginia Johnson. Tilles Center is proud to be among the first presenters of the newly-configured company following their New York City debut in spring 2013.
The Tenors - NYCB Theatre at Westbury
May 03, 2013 - Westbury
Since their inception only five years ago, The Tenors have had over 600 performances, thrilling audiences around the world with their powerful voices and memorable melodies. Their blend of classical music, contemporary pop, and undeniable charm has garnered them international success with music lovers of all ages.
Family Zumba - Family Fitness Unlimited
May 03, 2013 - West Hempstead
ZUMBA combines high energy and motivating music with unique moves and combinations that allow you to dance away your worries without having to be a dancer. The routines feature aerobic/fitness interval training with a combination of fast and slow rhythms that tone and sculpt the body.
Children's Magic Workshop - Town of Hempstead
May 03, 2013 - Uniondale
Children love magic and here's a great opportunity for boys and girls to learn some "tricks" of the trade. Magician Jim McClenahan will teach children some new and exciting magic tricks that will captivate family and friends. Ideal for ages 8-12.
Teen Chinese Cooking Class - Manhasset Public Library
May 03, 2013 - Manhasset
Kids in Grades 7-12 learn to prepare chinese food.
Jammin' Jitterbugs - Manhasset Public Library
May 03, 2013 - Manhasset
Miss Holli and Mr. Tommy lead little ones as they shake, rattle, and roll in a weekly music class. Younger siblings welcome.
Kidpix ID - Floral Park Public Library
May 03, 2013 - Floral Park
Nassau County Child Identification Program-Nassau County Executive Mangano's office will send a photographer and fingerprinter to the Floral Park Library to provide an identification card for your child. Registration is not necessary for this event.
Cirque Du Soleil: Totem - CitiField-Lot C
May 03, 2013 - Flushing
The mission of Cirque du Soleil is to invoke the imagination, provokethe senses and evoke the emotions of people around the world. A fascinating journey into the evolution of mankind. The world's most famous circus traces the human species from its amphibian state to its human desire to fly. Characters evolve on stage. This production traces the fascinating journey of the human species from its original amphibian state to its ultimate desire to fly. The characters evolve on a stage evoking a giant turtle, the symbol of origin for many ancient civilizations. Inspired by many founding myths, this show illustrates, through a visual and acrobatic language, the evolutionary progress of species. The word "totem" contains the idea of the order of species. We carry in our bodies the potential of all species, all the way to our desire to fly --like the thunderbird at the top of the totem pole. Somewhere between science and legend TOTEM explores the ties that bind Man to other species, his dreams and his infinite potential.
Glow Bounce - Pump It Up of Great Neck
May 03, 2013 - Great Neck
Come join in on an open bounce with a twist. After you get your GLOW necklace and once we start your ultimate jump experience we turn up the fun, make the arenas glow in the dark and display special effects lighting throughout. This is fun for the entire family. Please don't forget socks and a signed waiver are always required to play at Pump It Up. Suggested GLOW party dress attire include white, neon, sport stripes, tie dye or glow in the dark clothing for the best GLOW experience. Be creative. Use your imagination.
Attack of the Bloodsuckers! - Long Island Children's Museum
May 03, 2013 - Garden City
Explore the science of what's eating you in this skin-crawling exhibition. Examine the what, why, when and how of mosquitoes, fleas, ticks, leeches and other parasites known as sanguinivores (creatures that eat blood). Learn why bloodsuckers are important to the ecosystem and how to keep them out of your system. Attack of the Bloodsuckers! offer visitors the chance to look a real leech in the mouth; pull off your socks and test your bug-appealing foot odor; receive a big hug from a giant, inflating tick; get itchy and knotty with the life-size game of "Twitcher" - a buggy variation on the game Twister. This exhibition runs through May 5, 2013.
LEARN TO DRAW with ART TEACHER AMY- Children 6-9 - First United Methodist Church
May 03, 2013 - Amityville
Step-by-step, your child can learn to draw animals, landscapes, people and masterworks while they experiment with chalk and oil pastels, watercolors and markers.
Parent's Night Out - Tumbling Tunes
May 03, 2013 - East Northport
Drop the kids off for children to play on the preschool gymnastics equipment, in the book nook, pretend play area, craft area, and baby corner. 4:1 ratio kids to staff.
Jr. Marine Biologist - Sport Fishing Education Center
Through May 18, 2013 - Babylon
Come for an adventure as you and your child learn about the marine environment. Program includes hands-on time with marine animals, beach activities and crafts. Call to register or e-mail [email protected]
Butterflies - Long Island Children's Museum
Through May 31, 2013 - Garden City
Come to the Inner Lobby and design your own beautiful butterfly with assorted materials to ?flutter? through your garden. This program runs through May 31.
Community Gallery - Long Island Children's Museum
Through May 31, 2013 - Garden City
Stop by the Community Gallery and view the mixed media artwork created by students from Columbus Avenue School in Freeport. This exhibit runs through May 31.
Math & Science Homework Help - Long Island Science Center
Through June 01, 2013 - Riverhead
Students in grades 1-8 may be dropped off on Saturdays to receive help with homework. No pre-registration required.
Huntington Arts Council Exhibit: Living Color Art - Art-Trium,
Through June 17, 2013 - Melville
This exhibit features the work of four artists. Each artist selected focuses on the unique and varied ways that color lives in our lives.
After School Arts - Theresa Academy of Performing Arts
Through June 19, 2013 - Lido Beach
Theresa Academy of Performing Arts for Students with Special Needs offers dance, drama, music, drumming, fine art, yoga, and drama classes for students with special needs and their siblings. Classes meet weekly after school and on weekends.
We Hold These Truths-The Great Art Caper - Hofstra University Museum - Emily Lowe Gallery
Through July 26, 2013 - Hempstead
Pick up Great Art Caper materials while in the Emily Lowe Gallery to enjoy self-guided super-sleuthing. Search for hidden clues in the works in the exhibit We Hold These Truths and use the clues to complete a message. Please check the museum's website for summer hours. This program runs through July 26.
Israel at 65 - Jewish Discovery Museum @ SYJCC
Through August 31, 2013 - Commack
This hands-on exhibit allows families to learn about Jewish life, history, values, traditions and heroes, as well as Israel and the Hebrew language. The interactive displays are designed to transform visitors into participants, offering adults and children a unique opportunity to discover the wonders of Jewish heritage. Through August 31, 2013.
Autism Spectrum Parent Support Group - Family and Children's Association
Through September 01, 2013 - Mineola
Family Center's Spectrum Support Group offers caregivers mutual support by providing opportunities to meet with others also raising children who are dually diagnosed. To be eligible the child must have a primary Mental Health diagnosis and a secondary Spectrum diagnosis. Groups are facilitated by Parent Advocates, each having their own unique experience raising a child under the Spectrum. While caregivers attend group, respite can be provided to children ages 5-17. To receive respite, an intake is required. This ensures staff is familiar with the child, making caregiver's participation more relaxing. Meetings are held the first and third Monday of each month, except holidays. RSVP Miriam at 516-485-5914 xtn 2223 no later than seven days prior to the meeting date.
Friendship Bracelet and Lanyard Making Class - The Lanyard Ladies
Through October 03, 2013 - East Rockaway
Looking for a fun after-school or weekend activity? Does your child want to learn how to make friendship and lanyard bracelets? Kids can make as many bracelets as they want. Each child will also receive a special gift. 15% sibling discount. Please call to reserve your space. You can also book a private play-date(10 or more children needed). Call for more information.
Atlantis Explorer Tour Boat - Long Island Aquarium & Exhibition Center
Through October 31, 2013 - Riverhead
Add extra aquatic adventure to your visit with an interactive cruise aboard the Atlantis Explorer Tour Boat. Over the course of your trip, you and your family participate in hands-on exploration, including trap pulls, horseshoe crab encounters, and a stroll along a remote beach.
Behind-the-Scenes Tours - Long Island Aquarium & Exhibition Center
Through December 31, 2013 - Riverhead
Go behind the scenes at the aquarium and see firsthand all that's involved in creating a home for the aquatic residents, including helping to feed the clownfish.
Sculpture Mystery: The Great Art Caper - Hofstra University Museum
Through January 01, 2014 - Hempstead
Uncover clues to help solve a mystery in the outdoor sculpture collection. Pick up your caper kit at Emily Lowe Gallery, have fun while discovering more about these works, and at the end of the caper return to Emily Lowe Gallery for a prize. For everyone ages 4-9 and their grown-up companions all year-round. The program runs through January 1, 2014.
Sculpture Exploration Backpack - Hofstra University Museum
Through January 01, 2014 - Hempstead
Kids and their grown up companions can stop in at the Hofstra University Museum's Emily Lowe Gallery, and pick up a backpack. At the end of your tour, return the backpack and each child will receive a small gift from the Museum. The program runs through January 1, 2014.
Outdoor Sculpture Biennial - Adelphi University
Through May 31, 2014 - Garden City
See the work of 10 skilled sculptors located throughout the scenic 75-acre arboretum on the Garden City campus. This outdoor installation showcases the talents of Miggy Buck (NY), John Clement (NY), Maria Hall (NY), Ed Haugevik (NY), William King (NY), Anti Liu (NY), Johnny Poux (NY), Kim Radochia (MA), Christopher Saucedo (NY), and Hans Van de Bovenkamp (NY). Works of art encompass use of various materials-steel, bronze, aluminum, concrete and reflective mirrors. These man-made creations are transposed into poetic visual narrations. The exhibition runs through May 31, 2014.
Penguin Encounter - Long Island Aquarium & Exhibition Center
Through December 31, 2015 - Riverhead
Imagine a close-up meeting with an African penguin – a 45-minute interactive experience where children ages 5 and up and adults go behind the scenes and learn how animal experts care for these playful birds. You'll see the inner workings of the Penguin Pavilion exhibit,learn how staff cares for the exhibit's residents and enter the Penguin Preschool to meet the penguins. Reserve your spot at [email protected]