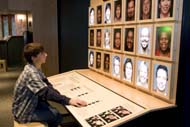 Daily activities for kids and the family are abound in Long Island! Whether you want to spend the day with your children at a zoo, a museum, or just outdoors, we've got it all here. Want to see what's going on next weekend or when you have those few days off? Check out the NY Metro Parents'
calendar
!
Cruise Night- Car & Bike Show And Festival - Oyster Bay - East Norwich
September 24, 2013 - Oyster Bay
Come see some of the finest vehicles on Long Island. From radical to rat-rods, Duesenbergs to Ducatis, car and motorcycle enthusiasts have been invited to bring their precious rides out for public viewing. If you'd like to show your vehicle, contact the Oyster Bay- East Norwich Chamber of Commerce. $5 to show your vehicle, free admission to walk in. Enjoy live music, 50/50 drawing, and other family fun events. Local restaurants provide specials.
Dancing with Cancer - Floral Park Public Library
September 24, 2013 - Floral Park
Kimberly Crail, herbalist and educator, believes in empowering women in their healthcare. In her Dancing with Cancer seminar she gives women helpful information about the role herbal remedies can play in dealing with cancer. Registration is online or at the Reference Desk.
Autumn Preschool Story Time - Floral Park Public Library
September 24, 2013 - Floral Park
Stories, music, fingerplays will keep children ages 2 1/2-5 years engaged as they learn to identify sounds, patterns, and listen to exciting stories.
Story Time & Mommy Time - Parents R Talking
September 24, 2013 - Mineola
This interactive program encourages responsible and interactive listening and thinking skills. It is also a time for adults to socialize. In the span of 45 mins, up to 2 stories will be (actively) read with props, to encourage appropriate interaction by the children. After the stories adult and child will have a chance to play and interact. Moms are encouraged to bring along snacks for their children and themselves. Registration required.
Eat Well, Spend Less - Brentwood Library
September 24, 2013 - Brentwood
This six-part workshop in Spanish will provide many tools and ideas to help cut food costs and provide healthy meals and snacks.
Kids Yoga (5-7 and 8-10 yrs) - Calliope Fitness & Arts
September 24, 2013 - Roslyn
Children learn age-appropriate individual yoga poses, partner poses, group poses, cooperative yoga games, child-friendly breathing techniques, creative guided imagery, mindfulness skills, and relaxation exercises. Additional activities also include yoga-related arts and crafts, picture books along with discussions on how to be grateful, stay calm, and have positive thoughts. Older children do yoga journals, participate in discussions on how to be their true selves, have kind thoughts, be grateful and compassionate.
Early Bird Registration - Camps 'R' Us
Through September 30, 2013 - Farmingdale
Camps 'R' Us is offering early bird discounts to families who register for the 2014 camp season throughout September. Save up to hundreds of dollars on your camp fees, and receive the very best price for the 2014 camp season. Visit campsrus.org/enroll to complete a registration form, or call or visit the main office (by appointment only).
'Sleepers in September' in Newborns in Need - Hamptons Mother Earth
Through September 30, 2013 - Bridgehampton,
During the month of September, Newborns in Need will be collecting new or like new sleepers up to 2T, across the country to provide much needed sleepers for needy babies. You can insure that no baby will go without much needed warmth. (A Nationwide event) Do you have unneeded like new baby/toddler items from newborns to 5 years old...you would like to donate... or are you looking for things you may need? Clothing, books, equipment, furniture etc. We offer pick up and drop off services... any where on the island... Suffolk and Nassau county... for more info. check our website... www.HamptonsMotherEarth.com / Email [email protected]
Free Irish Classes-Mommy Daddy & Me - AOH HAll
Through October 02, 2013 - Babylon
Mommy Daddy and Me, our immersion class for young children and their parents meets weekly on Wednesdays at 7:15 p.m. – 8:00 pm. Our free class for adult students new to Irish Gaelic begins at 8:00 p.m. – 9:00 p.m. Free classes for advanced students are also available. All are welcome, including native speakers and those interested in teaching. For more information call 631-521-1227 or visit our web site: http://www.scoilgaeilge.org
Friendship Bracelet and Lanyard Making Class - The Lanyard Ladies
Through October 03, 2013 - East Rockaway
Looking for a fun after-school or weekend activity? Does your child want to learn how to make friendship and lanyard bracelets? Kids can make as many bracelets as they want. Each child will also receive a special gift. 15% sibling discount. Please call to reserve your space. You can also book a private play-date(10 or more children needed). Call for more information.
Alex Katz: Selections from the Whitney Museum of American Art - Nassau County Museum of Art
Through October 13, 2013 - Roslyn Harbor
Alex Katz (b.1927) is one of the most important American artists alive today. The exhibition includes landscapes and collages from early in Katz?s career and continues through the 1960s and beyond with his hallmark paintings ? enormous, brilliantly-colored portraits of his family and friends. The exhibition draws on the Whitney?s large holdings and is augmented with works from NCMA?s own permanent collection and some on loan from other art institutions. The exhibition runs through October 13.
Guided Tours - Stony Brook Grist Mill
Through October 27, 2013 - Stony Brook
Listed on the NYS and National Register of Historic Places, the Stony Brook Grist Mill, c. 1751, offers the experience of a working grist mill today with the only female "miller" in the U.S. as your guide. Saturdays and Sundays through October 27.
'Discovery' Wetlands Cruise - Boatworks Marina
Through October 30, 2013 - Stony Brook
Learn the importance and fragility of a wetlands ecosystem, enjoy the sweeping panorama of a salt marsh moraine and be amazed at the untouched beauty of Long Island's North Shore this summer aboard the "Discovery" Wetlands Cruise 90-minute sightseeing tours aboard a 27-passenger pontoon boat. A naturalist is on board to guide passengers through this experience embracing ecology, geology and history. The cruise also includes information on how Native Americans first settled here, views of a long sand pit with the historic Gamecock Cottage at its tip, the serpentine creek, tidal flow, grasses and various species of water fowl and other wildlife in the wetlands. Seating is first come, first served. For additional information or to make a reservation, call the museum or go online. Cruises run through October 30, 2013.
Fall Festival Family Fun - Hicks Nurseries
Through October 31, 2013 - Westbury
Fall is one of our customers? favorite seasons to bring the family to Hicks. Take a picture with Otto the Ghost, enjoy a hayride down a decorated trail and visit with the farm animals. And while you?re there enjoy fresh picked apples, fudge, roasted corn, popcorn, apple cider, candy apples and other fall treats! An animated children?s story, featuring Otto the Ghost, leads children and adults through a new story each year that focuses on friendship, family, and Halloween cheer. In addition, children and adults are encouraged to grow their own pumpkins to enter in the giant pumpkin contest and get creative with carving and decorating for the annual pumpkin carving contest. This program runs through October 31.
Atlantis Explorer Tour Boat - Long Island Aquarium & Exhibition Center
Through October 31, 2013 - Riverhead
Add extra aquatic adventure to your visit with an interactive cruise aboard the Atlantis Explorer Tour Boat. Over the course of your trip, you and your family participate in hands-on exploration, including trap pulls, horseshoe crab encounters, and a stroll along a remote beach.
Alex Katz: What About Style? - Nassau County Museum of Art
Through October 31, 2013 - Roslyn Harbor
For more than 50 years, painter Alex Katz has resisted trends in modern art to pioneer and refine his own style of flat, elegant, and realistic figure painting. What About Style? offers an uncluttered view of this American maverick. Filmmaker and art critic Heinz Peter Schwerfel captures the elusive Katz working in his Maine studio and his Soho flat, laboring over a 32-foot painting called The Black Brook. Interviews, archival footage, images of his subjects, and a virtual tour of 20 Katz paintings are combined to convey his unique style of art. No reservations. First come, first seated. The exhibition runs through October 31.
Self Care Coaching Session - Life Coaching for Women
Through November 29, 2013 - Bellmore
Are you balancing work and family? Coping with anxiety, fears and anger? Contemplating a career move? In college or have thoughts of going back to college? Now's the time to move forward with your life, to spend time alone and love who you are. What are your goals? Where do you see yourself a year from now? Five years from now? Learn techniques that will move you forward to where you want to be in life. Get a one-hour introductory coaching session on self care. This session will leave you feeling alive again and thinking of ways as to how you will begin to move forward! Call or email [email protected] to register.
Life After Divorce-The New You - Life Coaching for Women
Through November 29, 2013 - Bellmore
Sign up for a free one-hour life coaching session on life after divorce. Who are you now? What positive things have you learned about yourself? What does your future look like? What goals have you set? Learn techniques on how to move forward and enjoy life with the New You! Visit the website, call, or email [email protected]
Behind-the-Scenes Tours - Long Island Aquarium & Exhibition Center
Through December 31, 2013 - Riverhead
Go behind the scenes at the aquarium and see firsthand all that's involved in creating a home for the aquatic residents, including helping to feed the clownfish.
Sculpture Mystery: The Great Art Caper - Hofstra University Museum
Through January 01, 2014 - Hempstead
Uncover clues to help solve a mystery in the outdoor sculpture collection. Pick up your caper kit at Emily Lowe Gallery, have fun while discovering more about these works, and at the end of the caper return to Emily Lowe Gallery for a prize. For everyone ages 4-9 and their grown-up companions all year-round. The program runs through January 1, 2014.
Sculpture Exploration Backpack - Hofstra University Museum
Through January 01, 2014 - Hempstead
Kids and their grown up companions can stop in at the Hofstra University Museum's Emily Lowe Gallery, and pick up a backpack. At the end of your tour, return the backpack and each child will receive a small gift from the Museum. The program runs through January 1, 2014.
Outdoor Sculpture Biennial - Adelphi University
Through May 31, 2014 - Garden City
See the work of 10 skilled sculptors located throughout the scenic 75-acre arboretum on the Garden City campus. This outdoor installation showcases the talents of Miggy Buck (NY), John Clement (NY), Maria Hall (NY), Ed Haugevik (NY), William King (NY), Anti Liu (NY), Johnny Poux (NY), Kim Radochia (MA), Christopher Saucedo (NY), and Hans Van de Bovenkamp (NY). Works of art encompass use of various materials-steel, bronze, aluminum, concrete and reflective mirrors. These man-made creations are transposed into poetic visual narrations. The exhibition runs through May 31, 2014.
Saturday Respite - Theresa Academy of Performing Arts
Through June 21, 2014 - Lido Beach
Saturday Respite program runs each Saturday and students have a snack and participate three of the following activities: yoga, dance, drama, drumming, art, cooking, or music. Students range in age and work with a 1-on-1 volunteer to guide and support the student. Students with special needs and typically developing students are welcome. Please RSVP at [email protected]
Penguin Encounter - Long Island Aquarium & Exhibition Center
Through December 31, 2015 - Riverhead
Imagine a close-up meeting with an African penguin – a 45-minute interactive experience where children ages 5 and up and adults go behind the scenes and learn how animal experts care for these playful birds. You'll see the inner workings of the Penguin Pavilion exhibit,learn how staff cares for the exhibit's residents and enter the Penguin Preschool to meet the penguins. Reserve your spot at [email protected]