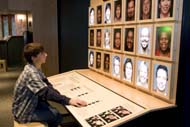 Daily activities for kids and the family are abound in Long Island! Whether you want to spend the day with your children at a zoo, a museum, or just outdoors, we've got it all here. Want to see what's going on next weekend or when you have those few days off? Check out the NY Metro Parents'
calendar
!
Open Pop-In-Playtime - Pump It Up
September 27, 2013 - Plainview
Do your kids feel the itch to bounce around like crazy? Then join in for a Pop-In-Playtime session. The kids will laugh, bounce, slide, play and make new friends all in a safe, clean environment. Space is limited to 35 children.
Long Island Fair - Old Bethpage Village Restoration
September 27, 2013 - Old Bethpage
Stop by New York State's longest running County Fair. Prize-winning vegetables, flowers, crafts, farm animals, brass band concerts, traditional music, wagon rides, pony rides, and more. This event is a family favorite.
Preseason: New York Islanders vs. Nashville Predators - Nassau Coliseum
September 27, 2013 - Uniondale
The hockey season's gearing up. Come out and root for the home team, the Islanders, as they play against the Nashville Predators.
Fiddler on the Roof - BroadHollow Theatre at BayWay Arts Center
September 27, 2013 - East Islip
In the village of Anatevka, Tevye, a poor milkman, is trying to keep his family's traditions alive. Yet times are changing. Tevye's daughters want to make their own decisions. Songs include Tradition, Matchmaker, If I Were a Rich Man and Sunrise Sunset.
LES MISERABLES - Theatre Three
September 27, 2013 - Port Jefferson
Theatre Three opens its 44th season with the epic, stirring, and uplifting story of Jean Valjean, unjustly imprisoned for nineteen years, and his journey to a new life. Winner of the Olivier, Tony and Drama Desk Awards for Best Musical.
Knitting Club - North Bellmore Public Library
September 27, 2013 - North Bellmore
Want to learn to knit? Join this group of industrious knitters who produce beautiful items to wear or to give away. Bring knittle needles and yarn.
Little Playmates - Floral Park Public Library
September 27, 2013 - Floral Park
This is an ideal way to spend your morning with your little one. This class is designed to engage and stimulate your kids as they play and socialize with others. It's a special time for play and a circle fun for babies ages 12-30 months with their caregivers.
Parent's NIght Out - Tumbling Tunes
September 27, 2013 - East Northport
Children from ages 6 months to 9 years old enjoy games, music, gymnastics, crafts, playroom and fun while parents enjoy an evening out.
23rd ANNUAL SCARECROW COMPETITION - Ward Melville Heritage Organization
September 27, 2013 - Stony Brook
This will be the 23rd year the spooky, silly, scary six-foot creations will adorn the pathways of Stony Brook Village Center for visitors to enjoy and vote on their favorite. Categories are Professional, Adult/Family and Children. This year, in recognition of Breast Cancer Awareness Month, all scarecrows decorated with a majority of pink will receive 50 bonus points towards the competition. Official Entry Forms are now available in most Stony Brook Village Center shops, at the offices of WMHO at 111 Main Street, 2nd floor, in Stony Brook or online at stonybrookvillage.com. Registration deadline is September 27. Winners will receive cash prizes awarded at WMHO's Annual Halloween Festival, beginning at 2 pm on October 31. Cast your vote for your favorite scarecrow. Voting Ballots are available in all Village Center shops and eateries or at the WMHO office.
Moriches Rotary Club Oktoberfest - Camp Pa-Qua Tuck
Through September 29, 2013 - Center Moriches
The three-day event will include German food, beer gardens, a carnival,vendors, live German entertainment and more. Admission includes a ticket good for one complimentary beer or soft drink. All proceeds will benefit Camp Pa-Qua-Tuck. This is a rain-or-shine event. For more information, visit morichesrotary.org or camppaquatuck.com.
Fall Registration - Posey School of Dance
Through September 29, 2013 - Northport
Open Registration for new and returning students. Come visit the studios and register for classes.
Southampton SeptemberFest 2013 - Southampton Village
Through September 29, 2013 - Southampton
Southampton celebrates the season with a full weekend of events that embrace art, music, food, entertainment and history. Organized by leading civic, cultural and business groups, residents and visitors enjoy Southampton's rich cultural heritage and its close connection to agriculture and the sea. In addition to live music, there will also be volunteers dress in traditional outfits who will sell locally grown produce, teach traditional crafts like basket weaving and even hold class in a one-room school house. Brady Rhymer will have a booth there as well. Grammy-nominated rocker Brady Rymer's 2011 award-winning album, Love Me for Who I Am, is designed to give children on the autism spectrum a boost of self-confidence and powerment through rock 'n' roll. For more information on the festival go to the events facebook page.
Early Bird Registration - Camps 'R' Us
Through September 30, 2013 - Farmingdale
Camps 'R' Us is offering early bird discounts to families who register for the 2014 camp season throughout September. Save up to hundreds of dollars on your camp fees, and receive the very best price for the 2014 camp season. Visit campsrus.org/enroll to complete a registration form, or call or visit the main office (by appointment only).
'Sleepers in September' in Newborns in Need - Hamptons Mother Earth
Through September 30, 2013 - Bridgehampton,
During the month of September, Newborns in Need will be collecting new or like new sleepers up to 2T, across the country to provide much needed sleepers for needy babies. You can insure that no baby will go without much needed warmth. (A Nationwide event) Do you have unneeded like new baby/toddler items from newborns to 5 years old...you would like to donate... or are you looking for things you may need? Clothing, books, equipment, furniture etc. We offer pick up and drop off services... any where on the island... Suffolk and Nassau county... for more info. check our website... www.HamptonsMotherEarth.com / Email [email protected]
Free Irish Classes-Mommy Daddy & Me - AOH HAll
Through October 02, 2013 - Babylon
Mommy Daddy and Me, our immersion class for young children and their parents meets weekly on Wednesdays at 7:15 p.m. – 8:00 pm. Our free class for adult students new to Irish Gaelic begins at 8:00 p.m. – 9:00 p.m. Free classes for advanced students are also available. All are welcome, including native speakers and those interested in teaching. For more information call 631-521-1227 or visit our web site: http://www.scoilgaeilge.org
Friendship Bracelet and Lanyard Making Class - The Lanyard Ladies
Through October 03, 2013 - East Rockaway
Looking for a fun after-school or weekend activity? Does your child want to learn how to make friendship and lanyard bracelets? Kids can make as many bracelets as they want. Each child will also receive a special gift. 15% sibling discount. Please call to reserve your space. You can also book a private play-date(10 or more children needed). Call for more information.
Alex Katz: Selections from the Whitney Museum of American Art - Nassau County Museum of Art
Through October 13, 2013 - Roslyn Harbor
Alex Katz (b.1927) is one of the most important American artists alive today. The exhibition includes landscapes and collages from early in Katz?s career and continues through the 1960s and beyond with his hallmark paintings ? enormous, brilliantly-colored portraits of his family and friends. The exhibition draws on the Whitney?s large holdings and is augmented with works from NCMA?s own permanent collection and some on loan from other art institutions. The exhibition runs through October 13.
Guided Tours - Stony Brook Grist Mill
Through October 27, 2013 - Stony Brook
Listed on the NYS and National Register of Historic Places, the Stony Brook Grist Mill, c. 1751, offers the experience of a working grist mill today with the only female "miller" in the U.S. as your guide. Saturdays and Sundays through October 27.
'Discovery' Wetlands Cruise - Boatworks Marina
Through October 30, 2013 - Stony Brook
Learn the importance and fragility of a wetlands ecosystem, enjoy the sweeping panorama of a salt marsh moraine and be amazed at the untouched beauty of Long Island's North Shore this summer aboard the "Discovery" Wetlands Cruise 90-minute sightseeing tours aboard a 27-passenger pontoon boat. A naturalist is on board to guide passengers through this experience embracing ecology, geology and history. The cruise also includes information on how Native Americans first settled here, views of a long sand pit with the historic Gamecock Cottage at its tip, the serpentine creek, tidal flow, grasses and various species of water fowl and other wildlife in the wetlands. Seating is first come, first served. For additional information or to make a reservation, call the museum or go online. Cruises run through October 30, 2013.
Fall Festival Family Fun - Hicks Nurseries
Through October 31, 2013 - Westbury
Fall is one of our customers? favorite seasons to bring the family to Hicks. Take a picture with Otto the Ghost, enjoy a hayride down a decorated trail and visit with the farm animals. And while you?re there enjoy fresh picked apples, fudge, roasted corn, popcorn, apple cider, candy apples and other fall treats! An animated children?s story, featuring Otto the Ghost, leads children and adults through a new story each year that focuses on friendship, family, and Halloween cheer. In addition, children and adults are encouraged to grow their own pumpkins to enter in the giant pumpkin contest and get creative with carving and decorating for the annual pumpkin carving contest. This program runs through October 31.
Atlantis Explorer Tour Boat - Long Island Aquarium & Exhibition Center
Through October 31, 2013 - Riverhead
Add extra aquatic adventure to your visit with an interactive cruise aboard the Atlantis Explorer Tour Boat. Over the course of your trip, you and your family participate in hands-on exploration, including trap pulls, horseshoe crab encounters, and a stroll along a remote beach.
Alex Katz: What About Style? - Nassau County Museum of Art
Through October 31, 2013 - Roslyn Harbor
For more than 50 years, painter Alex Katz has resisted trends in modern art to pioneer and refine his own style of flat, elegant, and realistic figure painting. What About Style? offers an uncluttered view of this American maverick. Filmmaker and art critic Heinz Peter Schwerfel captures the elusive Katz working in his Maine studio and his Soho flat, laboring over a 32-foot painting called The Black Brook. Interviews, archival footage, images of his subjects, and a virtual tour of 20 Katz paintings are combined to convey his unique style of art. No reservations. First come, first seated. The exhibition runs through October 31.
Arts Alive LI -
Through October 31, 2013 -
Arts Alive is an Island-wide celebration of Long Island's arts, culture and cuisine and features a Family Series component including the Sag Harbor Music Festival, the Long Island African American Heritage Festival, the Jamboozi Festival at the Vanderbilt Museum, Viva L'Art at Hofstra University Museum, the Heckscher Museum of Art Free art activity on the Museum terrace, the Cinema Arts Centre's Cinema for Kids featuring Gustafer Yellowgold, Elska plus Arctic Animals Workshop at the Long Island Children's Museum, and the Craic Festival Stoked Fest in Long Beach. Over 35 in total will pay tribute to the visual, musical, and performing arts, community festivals and epicurean delights that take place on stages, in galleries, at film houses, and in neighborhood restaurants across Long Island. Many events are free. For a full calendar of events and to purchase tickets, visit artsaliveli.org. September 17-October 31, 2013.
2nd Annual 'Arts Alive LI ' Festival - Long Island Arts Alliance
Through October 31, 2013 - Woodbury
Arts Alive LI is a month-long showcase of Long Island's many art, entertainment and cultural attractions. The event is presented by the Long Island Arts Alliance (LIAA) and Bethpage Federal Credit Union. From visual, musical and performing arts, to community festivals and epicurean delights, Arts Alive LI is a tribute to Long Island's arts and entertainment world and will take place on stages, in galleries, at film houses, and in neighborhood restaurants across Long Island's Nassau and Suffolk counties. Long Island families and visitors to the region are invited to attend and participate in the 35 + signature events, many offered for free. For a full calendar of events and to purchase tickets, visit artsaliveli.org.
Self Care Coaching Session - Life Coaching for Women
Through November 29, 2013 - Bellmore
Are you balancing work and family? Coping with anxiety, fears and anger? Contemplating a career move? In college or have thoughts of going back to college? Now's the time to move forward with your life, to spend time alone and love who you are. What are your goals? Where do you see yourself a year from now? Five years from now? Learn techniques that will move you forward to where you want to be in life. Get a one-hour introductory coaching session on self care. This session will leave you feeling alive again and thinking of ways as to how you will begin to move forward! Call or email [email protected] to register.
Life After Divorce-The New You - Life Coaching for Women
Through November 29, 2013 - Bellmore
Sign up for a free one-hour life coaching session on life after divorce. Who are you now? What positive things have you learned about yourself? What does your future look like? What goals have you set? Learn techniques on how to move forward and enjoy life with the New You! Visit the website, call, or email [email protected]
Behind-the-Scenes Tours - Long Island Aquarium & Exhibition Center
Through December 31, 2013 - Riverhead
Go behind the scenes at the aquarium and see firsthand all that's involved in creating a home for the aquatic residents, including helping to feed the clownfish.
Sculpture Mystery: The Great Art Caper - Hofstra University Museum
Through January 01, 2014 - Hempstead
Uncover clues to help solve a mystery in the outdoor sculpture collection. Pick up your caper kit at Emily Lowe Gallery, have fun while discovering more about these works, and at the end of the caper return to Emily Lowe Gallery for a prize. For everyone ages 4-9 and their grown-up companions all year-round. The program runs through January 1, 2014.
Sculpture Exploration Backpack - Hofstra University Museum
Through January 01, 2014 - Hempstead
Kids and their grown up companions can stop in at the Hofstra University Museum's Emily Lowe Gallery, and pick up a backpack. At the end of your tour, return the backpack and each child will receive a small gift from the Museum. The program runs through January 1, 2014.
Outdoor Sculpture Biennial - Adelphi University
Through May 31, 2014 - Garden City
See the work of 10 skilled sculptors located throughout the scenic 75-acre arboretum on the Garden City campus. This outdoor installation showcases the talents of Miggy Buck (NY), John Clement (NY), Maria Hall (NY), Ed Haugevik (NY), William King (NY), Anti Liu (NY), Johnny Poux (NY), Kim Radochia (MA), Christopher Saucedo (NY), and Hans Van de Bovenkamp (NY). Works of art encompass use of various materials-steel, bronze, aluminum, concrete and reflective mirrors. These man-made creations are transposed into poetic visual narrations. The exhibition runs through May 31, 2014.
Saturday Respite - Theresa Academy of Performing Arts
Through June 21, 2014 - Lido Beach
Saturday Respite program runs each Saturday and students have a snack and participate three of the following activities: yoga, dance, drama, drumming, art, cooking, or music. Students range in age and work with a 1-on-1 volunteer to guide and support the student. Students with special needs and typically developing students are welcome. Please RSVP at [email protected]
Penguin Encounter - Long Island Aquarium & Exhibition Center
Through December 31, 2015 - Riverhead
Imagine a close-up meeting with an African penguin – a 45-minute interactive experience where children ages 5 and up and adults go behind the scenes and learn how animal experts care for these playful birds. You'll see the inner workings of the Penguin Pavilion exhibit,learn how staff cares for the exhibit's residents and enter the Penguin Preschool to meet the penguins. Reserve your spot at [email protected]