1. For kids who learn through touch, the
WordLaunch Learn-to-Read System
(Leapfrog, $39.99, ages 4+) gives preschoolers the tactile sensation of placing letters in a 'magic word machine' that helps them put together and learn 300 three- and four-letter words.  An alphabet tray has letters, in both upper and lower case.  When a kid chooses a word to make, he is asked for the letter — and so, gets experience sounding out words.
www.leapfrog.com
.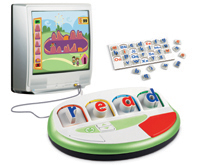 2. Floam is a creativity toy kids mold like clay, but it doesn't dry out or stick to clothes (and the rug, couch, etc.). It comes in plastic tubs, and you have to mix the gel and microbeads together, so kids who like to cook or experiment with science will enjoy 'making' the product.  You can reuse Floam by mashing it back into its plastic containers, or you can keep your creations, which harden over time. A tub is $6.99; amazon.com has a 4-pack for $19.99.  Get more ideas at www.floamit.com.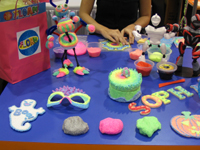 3. Crayola Beginnings has a great marker, TaDoodles First Marks, for toddlers as young as 18 months.  Egg-shaped markers fit snugly in a little one's hands, and won't stain clothes or skin.  Best of all, the washable markers, which come three to a pack, don't need caps, so there are no worries about choking, misplaced caps or dried-out markers.  Cute designs on the markers themselves — pink is a pig, green is a frog — may inspire toddlers to create.  $5.99 at www.crayolastore.com.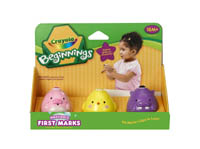 4. One of the appeals of the Nintendo DS is its ease of use by younger players.  But there aren't always games appropriate for kids as young as 3. UFO Interactive has a new series, Storybook DS, based on fairy tales, for kids ages 3-6.  Each $19.99 game has four stories, with a read-aloud and related games.  Kids practice counting, and use the wand to draw or paint.  In The Three Little Pigs, kids blow into the mic to try to blow the house down, and can touch different characters to make them move.  At Toys R Us and amazon.com; more info at www.ufointeractivegames.com.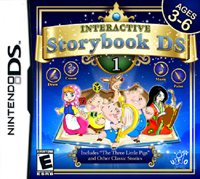 5.
XBOX 360
has a new family console; the same gaming system now comes in an Arcade bundle, with five family-oriented games and a wireless controller.  The bundle, $279.99, also comes with a broadband Internet connection where you can buy games, TV shows and high-definition movies from Xbox LIVE Marketplace.  Shows like Blue's Clues and Backyardigans are available, as well as Looney Tunes cartoons in English or Spanish.  The XBOX 360 consoles includes Pac-Man and UNO games; for younger family members, new 'E' titles include Viva Pinata:  Party Animals (Microsoft Game Studios, $49.99) with over 40 games and races.  A Bee Movie game is the latest buzz.
6.
Q-BA-MAZE
(KYOO-ba-maze) is a creative toy that has colored, transparent cubes kids lock together.  There are two modes of play: building, then using the steel marbles and dropping them through the creation.  A 20-pack of cubes is $19.95; 50 cubes is $49.95.  Ages 5 and up.
www.Q-BA-MAZE.com
.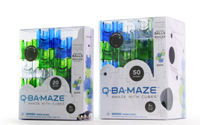 7. Backyard Sports gave kids the opportunity to play sports games on computers.  Now redesigned for the Wii, kids are really able to practice their game.  In Backyard Football '08, you use your body, and the remote, to move the ball down field, or tackle opponents. For ages 8 and up (it helps to have some knowledge of football to play the game).  You can choose actual NFL players (who appear in 'kid' form) or create your own roster of male and female players.  $39.99 from Humongus, www.backyardsports.com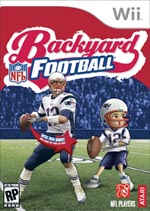 8. If you're trying to be green this holiday season, the new SEE Toys (for Safety, Ecology, and Economy) are fun, kid-powered electronic toys.  Nothing disposable, rechargeable or solar powered; each toy has a crank to 'charge' up the toy.  The Dynacar will appeal to the kids of Prius and SUV drivers alike.  You can rev the engine, turn on LED head and taillights, and make six different car sounds by pressing the rear spoiler. Dynacar, for ages 5 years and up, is $24.99 at www.seetoys.com.
9. Smart Cycle Physical Learning Arcade System combines the best of two worlds.  Preschoolers use the stationary tricycle to pedal and play games on television.  There is a joystick and a steering wheel, but kids have to keep pedaling, and the faster they pedal, the faster the games move.  Designed for ages 3-6, the Smart Cycle comes with three games, Driving, Learning Arcade Games and The Big Race (additional software titles, including licensed products like SpongeBob and Dora, are $19.95 each).  Letters, numbers, shapes and colors are some of the educational activities, but parents who are cooped up inside may appreciate the active play their kids get on a cold or rainy day. $99.99 from Fisher-Price, www.fisherprice.com or amazon.com.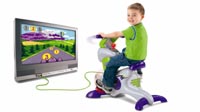 10. For older kids stuck inside, Hyper Dash gets kids moving.  The game, which requires at least two square feet of room (it can also be played in a larger space outside) is like a grown-up Twister.  There is an electronic tagger and five colored and numbered plastic targets.  The tagger plays music and calls out the target you need to touch.  You can play with just one person, trying to beat your time, or with up to eight people.  There is a memory component where you have to remember a long list of commands; math is also involved, when you have to tag a number based on an addition or subtraction problem.  From Wild Planet, for ages 6-12; $19.99 at Target or www.shopwildplanet.com.
HONORABLE MENTIONS:
   Kids' music sung by parents' favorite artists is a win-win situation.  The Every Child Deserves a Lifetime:  Songs from the 'For Our Children' Series CD also benefits the Elizabeth Glaser Pediatric Aids Foundation.  Carole King sings "Child of Mine", Bob Dylan sings "This Old Man", and Bruce Springsteen offers his take on "Chicken Lips and Lizard Hips".  There are a few unexpected artists:  Seal sings "Puff the Magic Dragon" and Ziggy Marley sings "Give a Little Love".  This is one for the family car and a grown-up's iPod.  $13.98 from Shout! Factory, www.shoutfactory.com.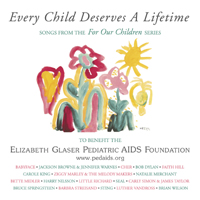 The Nintendo DS can be used to help with homework. My French Coach and My Spanish Coach are great ways to get kids who are not enjoying foreign language study to play games and improve vocabulary in another language; parents can use it to bone up on their high school French or Spanish. From Ubisoft, $29.99 each at GameStop, www.gamestop.com.

   Girls who don't usually like video games may be lured in by High School Musical: Sing It! for Wii and Playstation 2.  These are karaoke games where you can sing along with the movies' stars.  There are 30 songs, plus bonus footage from the movie, and cast interviews.  For High School Musical fans 8 and up.  $59.99 for Wii (with a microphone); $49.99 for PS2 with a mic, $39.99 without.  From Disney Interactive, at www.amazon.com.

   If you like doing crossword puzzles or making anagrams, Word Spot, Jr. is for you.  The game has tiles, each with four letters in a grid.  Four tiles are placed together, and you highlight each word you find with translucent tiles.  You can reuse letters to form words in different directions; the goal is to find words and get rid of your tiles.  For ages 7 and up, $19.95 at The Scholastic Store, www.scholastic.com.


Two new ways to learn guitar:

—I Can Play, from Fisher-Price, for ages 6 and up, plugs into the TV and has color-coded finger positions. You learn in different steps, from strums and rhythm with the right hand, to following color patterns with the left hand to play notes.  The final step incorporates both hands and can include accompanists.  $99.99.

—The Power Tour Electric Guitar from Tiger Electronics, has touch sensors, not strings, and you learn the 12 included songs (like "Wild Thing") segment by segment.  This mini Gibson guitar is cool because you can connect an iPod or other MP3 player and play along once you learn the basics. $69.99 for ages 10 and up.  Both at www.amazon.com.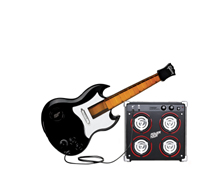 Npower is a new line of Nickelodeon-themed electronics designed for young kids, and its two cameras are surprisingly well-featured and easy to use.  The Flash Jr. Rugged Digital Camera has Dora the Explorer and Go, Diego Go! designs and can be dropped by preschoolers, then used again.  It has large buttons for small hands to manipulate, and a 1.4 inch preview screen.  $59.99 for ages 3 and up. At Best Buy; get more info at www.imation.com.  VTech has the Kidizoom camera for ages 3 and up, which takes pictures and short videos.  It connects to a TV or PC for photo and video playback and editing; you can also play puzzle games.  $59.99 at Toys R Us; get more info at www.vtechkids.com.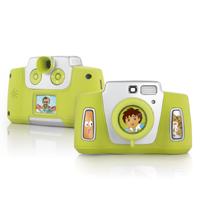 The movie Hairspray was rated PG, but is really appropriate for all ages.  The 2-disc DVD "Shake and Shimmy" could have the whole family dancing and singing along.  In fact, the DVD has a sing-along feature, and a step-by-step tutorial on the movie's dances.  Deleted scenes and a new song offer even more Hairspray.  From New Line Home Entertainment, $34.98 at Barnes & Noble.  Find out more about the movie at www.hairspraymovie.com.