One thing the big red apple needs is a big red dog. The Children's Museum of Manhattan (CMOM) has obliged with Adventures with Clifford The Big Red Dog, their new exhibit. The show features a 9-foot-tall Clifford complete with a tail slide, and all the locations familiar to readers of the Clifford books: Birdwell Island's library, post office and huge dog house.
The Clifford books emphasize such 'life lessons' as sharing, playing fair, being a good friend and working together, and the activities at the exhibit bring these to life. At T'Bones Beach, kids are encouraged to 'play fair' while they take turns hunting for seashells. At Samuel's Fish and Chips Shack, they have to work cooperatively to run a restaurant, taking orders, cooking and cleaning. Other activities include steering a ferry to the island (complete with the sounds of seagulls and the ocean), joining a band at the musical marina, and sorting mail.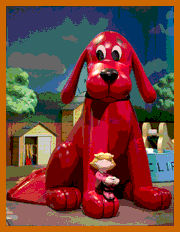 Kids can even dress up as Clifford, and perform with a Clifford video as backdrop. There is a garden where kids can plant and pick flowers, and a library where they can read Clifford books. Kids learn that having a dog is not just all fun and games; they use a conveyor belt to fill a dog bowl with bones.
There is a special padded area for toddlers who can crawl through a tunnel, sort shapes, and crank Clifford in and out of his doghouse.
CMOM is committed to many of the ideals espoused in the exhibit, and to that end, held a family party recently benefiting its programs for children with cancer at Memorial Sloan Kettering, and its programming outreach in the Bronx. The Magic of Sharing benefit featured performances by Tsidii Le Loka (Rafiki) and Clifton Oliver (Simba) from The Lion King, animators from Ice Age, and Cirque 2:21 circus performers. CMOM also makes low cost Family Access memberships available for low-income families.
Adventures with Clifford runs through September 5. The museum's third floor is currently under renovation, with a new permanent exhibit, PlayWorks, for babies through 4-year-olds, opening in October. There will be a constructive play area, with air tubes and tunnels, an art and science area with sand table, and language play area with an alphabet garden and story nook.
Info: When: Tuesday -Sunday, 10am-5pm.
Where: Tisch Building, 212 West 83rd Street, between Broadway and Amsterdam
How much: $8 children and adults; $5 seniors; free/children under one year old.
For more information: (212) 721-1223; www.cmom.org.