The Topps Company has introduced a new sticker book that will make even the most seasoned New Yorker want to act like a tourist again. The My City New York City book includes all the greatest NYC landmarks and sights, and a great incentive to get out and see them: $8,000 in specialty tours and gift certificates.

Remember when your family first came to visit you in the Big Apple and wanted to see the Empire State Building? Remember how you refused to go, telling them real New Yorkers don't bother?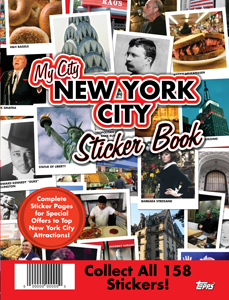 Well, thanks to The Topps Company's My City New York City sticker book, everyday New Yorkers of all ages have a great reason to get out there and see the sights. Climb to the top of the Empire State Building, order a pastrami on rye at Katz's Delicatessen, and tell your kids about the original punksters that made it big in NYC, the Ramones. Although the book might be more appropriate for older children and adults, everyone can enjoy trips to the Bronx Zoo and Dylan's Candy Bar.
With each new experience in your same-old stomping grounds, collect the 158 stickers to fill the book. For the price of a $1.99 sticker book and $1 per six-pack of stickers (which include discounts to certain attractions, tours, and eateries), you and your family create priceless memories about a place you only thought you knew.
As an added bonus, collect four specialty stickers dispersed among the packs and enter to win a New York City-themed grand prize valued at more than $8,000 in specialty tours and gift certificates. For more information about the booklet, sticker packs, or prizes, visit www.topps.com.
Also see: Visiting Kid Lit Landmarks in NYC

10 Best Children's Books About NYC History