As the president of an independent chain of educational toy stores, I am always looking for the latest specialty toys from around the globe that encourage learning and fun.  In fact, the word "toy" comes from the Old English word for "tool." For parents and educators looking for "tools" that stretch the imagination, encourage creativity, and don't end up in a storage bin the day after they arrive, we put together a list of 27 unique choices for hours of fun and learning. 
Encouraging Imagination
   According to Martha B. Bronson, a professor of developmental and educational psychology at Boston College, parents should look for simple toys that spark imagination. Toys that do everything themselves do not stimulate the participation and interaction necessary for learning.  Kids have great imaginations and these toys are designed to put them to use: 


Alex's Magic Picture Maker ($9.99) helps kids ages 6 and up make an endless variety of spiral-shaped drawings.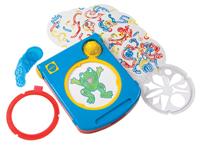 Playfoam Jumbo Pack from Educational Insights ($19.99) is a new take on dough that won't dry out, crumble or stick to skin or fabric. For ages 5 and up.
Creativity for Kids Cowgirl Dress-Up Set ($24.99) comes complete with peel-and-stick shapes to customize the costume.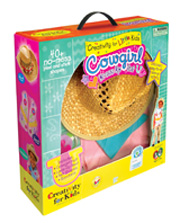 Calico Critters from International Playthings ($7.99-$300) are a great way to stimulate imaginary play for ages 3 and up.
Alex Panline offers a six-foot-tall Puppet Theater ($69.99) complete with clock and chalkboard for announcing upcoming show times. For ages 3 and up. 


Alex Panline also offers the Baggy Bunch ($14.99), make-your-own guys or gals bag puppets. 
Building Creativity
   Construction toys are a fun, interactive holiday gift.  By stimulating hand-eye coordination, these toys help with the development of fine motor skills.  They also encourage children to play together and exercise their creativity.
Tall Stacker Pegs Building Set from Lauri Products ($39.99) are colorful, malleable foam pegs great for the beginning builders, ages 3 and up.

The Wedgits Starter Kit from Imagability ($22.99) allows children ages 3 and up to create structures that defy gravity.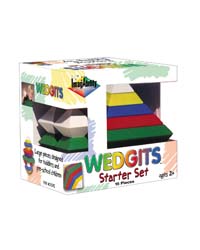 Thistle Blocks from Learning Advantage ($36.99) are multi-dimensional toys for preschoolers.
Learning Resources' Gears Super Set ($49.99) snap together, allowing ages 4-9 to build moving masterpieces. 


For ages 6 and up, the Zoob Mobile Car Designer by InfiniToy ($29.99) allows young auto enthusiasts to build their own cars.
 
Ages 3 and up will enjoy Educational Insights' Design and Drill ($42.99), a combination construction and design set.
Learning is Just a Game
   The first board game in the U.S. was developed in 1843.  Since then, a variety of new games have entered the market, disguising learning as play.  These games are great for building vocabulary and quick thinking skills. While playing them, kids will never suspect they're learning!


Learning Journey's Count and Learn Cookie Jar ($19.99) teaches children ages 2-7 to recognize numbers and count from 1 to 10. 


Bananagrams ($14.99) is a rapid-fire word game for ages 7 and up that builds vocabulary. 


ThinkFun offers What's GNU ($15.99), challenging children ages 5-8 to create as many three-letter words as possible.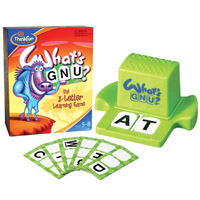 I Spy Word Scramble by Briarpatch Toys ($22.99) is a multi-award winning game that challenges children's spelling capabilities.


The winner of more than a dozen toy awards, The Touch Game ($34.99) from Anthony Innovations improves memorization and motor skills for ages 5-8. 


The multi-award winning Pentago Cruise Edition of Mind Twister ($19.95) improves problem solving and spatial relations skills, challenging children to create a row of five marbles while their opponent is reconfiguring the board.
The Gift of Green
   The 2008 study, "Packaged Facts, Kids and Tweens in the U.S.," based on data from Simmons Market Research Bureau, found that more than half of kids surveyed encourage their parents to buy green products.  For the eco-friendly children and families on your list, consider toys made from sustainable resources and those that give back to the environment. 


Blue Orange Toys plants two trees for every tree used in the manufacture of their products.  Their award-wining Gobblet Game ($34.99), for ages 5 and up, is an updated, handcrafted version of tic-tac-toe, complete with its own wooden game board and storage box.


Plan Toys' Wooden Parking Garage ($89.99) is a three-story parking garage for ages 3 and up.  This toy is great for developing motor skills and increasing hand-eye coordination.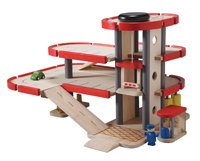 The Science of Fun
   Learning about science doesn't have to be a chore.  When choosing a science toy, look for those that are challenging, stimulating and offer opportunities for parent-child collaboration. 


Snap Circuits from Elenco ($15.99-$64.99) are the perfect gift for science lovers.  Children, ages 8 and up, can build their own easy-to-assemble working electronic circuits, including AM radios, doorbells, alarms, games and more.
The Science of Special Effects ($42.99) by Educational Insights teaches everything you need to learn about how and why special effects work.

Enjoy the Outdoors
   Outdoor play is an important part of childhood, and the right toy will encourage kids to play outside.
Kickeroos ($99.99) by Geospace International are anti-gravity shoes for ages 6 and up. This new twist on the classic pogo stick is a great way to get children outdoors.
Make Every Night Family Game Night
   Game night is an economical alternative to a night out with the family and a great way to create memories.  From an old classic to a new take on tennis, these games will provide hours of fun for the whole family.


Frog Tennis by Pressman Toys ($17.99) is ideal for improving motor skills and encouraging collaboration. For ages 5 and up. 


The strategic thinkers in the family will enjoy Mancala ($9.99) and Rummikub ($16.99), both from Pressman Toys.  For ages 6 and up, Mancala is an ancient African strategy game designed to build critical thinking skills.  Rummikub is a tile game for ages 8 to adult.
International Playthings offers Super Bingo ($19.99), which even includes a traditional bingo dial.
EASTON KING is president and CEO of Educational Warehouse, a developmental toys and school supplies destination for parents and teachers.  Educational Warehouse is celebrating its 27th year in business and has stores in Carle Place, Spring Valley and White Plains, New York; Randolph and Wayne, New Jersey; and, Danbury and Norwalk, Connecticut.  Products and guidance from educators and toy experts are also available at www.EducationalWarehouse.com. Easton can be reached at 845-426-ABCD or [email protected].