7 Fingers, a Montreal-based performance art troupe unleashes its latest creation, 'Traces,' to New York City audiences. Having recently performed on 'America's Got Talent,' 'Traces' features an impressive mixture of gravity-defying acrobatics, contemporary music, comedic banter, and much more.
By this time of year, I've pretty much had my fill of blockbuster action flicks, jaw-dropping rollercoasters, frenzied waterpark adventures, glow-in-the-dark bowling alleys, and all the other big, loud trappings of a typical family summer. So how lucky for me that my family discovered Traces, an equally thrilling, if somewhat quieter, piece of family entertainment now delighting audiences at the Union Square Theatre.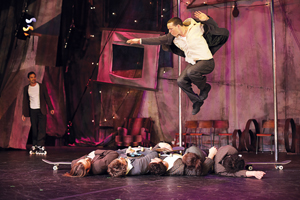 What, exactly, is Traces? That's hard to say, as it's more intimate than the circus, more hip than an acrobatic act, and way more accessible than a dance concert. Just picture a group of seven charismatic and extremely bendable people who launch themselves to the rafters, propel themselves through small spaces, dive-bomb to within inches of the floor, and hang off vertical poles in utter defiance of the laws of gravity -- all while offering up delicious one-liners and amusing sight gags. It's part Cirque du Soleil and part Paper Bag Players with a dash of Monty Python and a healthy dose of urban street smarts.
It is also the latest brainchild of 7 Fingers, a Montreal-based performance troupe that got its start in 2002. The troupe's name refers to its seven founding members, whose original goal was to transform the typical circus experience, making it more personal for both the audience and the artists, while also incorporating contemporary music, interactive videos, and creative banter. This latest show goes one step further, combining all these elements with skateboards, roller blades, basketballs, and assorted props more typical of the street than a stage.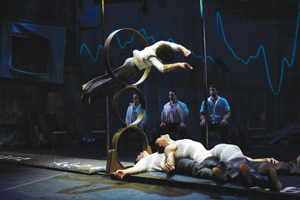 The current cast of Traces includes seven internationally trained circus performers who hail from China, Switzerland, and Canada, as well as the United States. While my family and I enjoyed all of the roughly 90-minute performance, we especially liked the vertical-pole escapades, as well as the final act, when the performers sped across the stage and hurled themselves through the highest in a tall tower of rings. Bradley Henderson, wielding a giant-sized hula hoop, gave a performance that could only be described as magical. And we loved the charming gymnastic sketch that Valerie Benoit-Charbonneau -- the sole female in the ensemble -- performed with unlikely props that included an upholstered armchair and a book.
If Traces sounds familiar to you, it may be because the troupe appeared in an appetite-whetting segment on the TV show America's Got Talent this past summer. That's how my family and I first became aware of this unique production -- and it's a testament to its appeal that my son and I actually jumped up from our comfortable berth on the family-room sofa to search on the computer for tickets to the New York engagement of the tour.
Traces is at the Union Square Theatre, 100 East 17th Street, through Oct. 9th. For more information visit www.tracesusa.com.
Barbara Solomon Josselsohn is a freelance writer based in Scarsdale and the mother of three kids who love live theater.