TRICK-OR-TREAT FOR UNICEF
Related:
Trick or Treat for UNICEF
,
UNICEF
,
Zendaya
,
UNICEF ambassador Zendaya
,
give to charity
,
halloween charity
,
Use one of the most commercial holidays of the year to teach your kids about service!

Every Halloween in America, children get to suspend all belief and enter another world where math homework and 8pm bedtimes don't exist. Little girls turn into princesses, boys become brave firefighters, and everyone indulges in too many sugary sweets without the dentist's disapproving glare. But while in the United States we celebrate this make-believe realm, there's no masking the reality of less privileged children across the globe.

There are ways to make your child's trick-or-treating experience much more meaningful than just collecting bags full of sweets. By participating in the lauded Trick-or-Treat for UNICEF program, not only will your kids learn the importance of fundraising and having a global impact, but they will gain an invaluable sense of self-worth through helping other children across the world.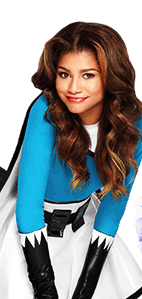 Trick-or-Treat for UNICEF was founded by the United Nations Children's Fund in 1950. Its main purpose was to bring awareness to the plight of children in underprivileged countries around the world and to create involvement for those more fortunate to lend a hand while still having fun. UNICEF now brings aid to more than 190 countries around the world. Beyond getting your children involved, you can use the occasion of Halloween to instill in them some key financial lessons.
This year, Trick-or-Treat for UNICEF has named Zendaya, teen star and producer of the Disney Channel series KC Undercover as the 2014 Trick-or-Treat for UNICEF spokesperson. "I loved Trick-or-Treating for UNICEF when I was younger because it was such an empowering experience to be able to make a difference. Kids need more than candy; they need basics like medicine, nutrition and clean drinking water, and millions of them wouldn't have these things without UNICEF," Zendaya said.
From Pennies to Pounds
It's important to teach kids about fundraising and charity at a young age, and hopefully every parent finds unique ways to do so throughout the year. What UNICEF can help you do this month is to demonstrate to your children—in very concrete ways—the value of money.

Most children have a hard time envisioning how far their money can go, and generally think their impact is small (or goes unnoticed!). With every penny kids collect, though, parents can show them the far-reaching worth. No doubt, they'll be surprised with how much a box full of change can do for another life.

Making Connections
There are more than 7 billion people in the world, and a little more than quarter of them are children. Painting a picture for your kids of exactly who needs aid, and how, helps them grasp the significance of their fundraising efforts. Here is a rundown of the impact your change makes on the world:

- $5 provides a soccer ball for a child in a refugee camp
- $20 supplies bed nets to protect a family from malaria-carrying mosquitoes
- $30 vaccinates 100 children against measles
- $70 provides high-protein peanut paste to combat malnutrition
- $100 allows a bicycle to deliver medicine to those in need
- $220 provides a School-in-a-Box kit, making education available
- $500 supplies a clean water pump for a village or school


Make connections for your child to bring home the grand significance of the above examples. Does your 6-year-old love playing sports? Have him imagine that for less than ten dollars, a child with no other access to sports and recreation could have his very own soccer ball. Do you have a tween who dreams of being a nurse or doctor someday? Explain about the ease with which she was vaccinated as a child, and how it is an expectation for all healthy babies in our country. Then describe how in many villages around the world, vaccinations are a luxury—yet, through her efforts, can be given to another young girl across the globe who might otherwise get sick; yes, she can save someone's life now!

How to Get Involved
Your child's elementary or middle schools may already host the Trick-or-Treat for UNICEF program. If so, about a week before Halloween, teachers will pass out the signature small orange boxes in class designed by UNICEF with festive decorations and a slot for collecting coins.

If your child's school is not already partnered with UNICEF: Learn more and download or order all the necessities for participation at trickortreatforunicef.org. Parents and teachers can alternatively set up an online collection to enable children to notify friends and family of the cause and acquire donations anytime throughout the year.

By trick-or-treating with UNICEF, your children can proudly help educate, feed, and medically treat children less privileged than themselves. That beats chocolate any day.
Additionally, encourage your child's teacher to participate in the second annual Trick-or-Treat for UNICEF School Challenge for a chance to win technology grants for their classroom.
Don't forget to spread the word about Trick-or-Treat for UNICEF on social media by using the official hashtag: #TOT4UNICEF
---
Get Your FREE Indoor Activity eGuide!
---
More News & Tips: Services Articles
Your Driver Is Here Offers Car Service for Minors
Trick-or-Treat for UNICEF
How to Soothe a Camera-Shy Child
The Sunshine Gallery Retail and Consignment Store Opens in Nanuet
10 Things to Do if Your Pet is Lost