When I was in elementary school, boys used to have great fun asking us girls if we were virgins.  We never knew what to say — was virginity a good thing, or not?  On a recent tour of the U.S. Virgin Islands — St. Thomas, St. Croix and St. John — I decided it was a very good thing indeed!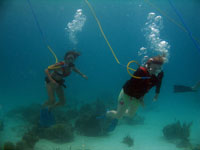 ST. THOMAS
   St. Thomas is too often a day-long stop on a cruise, but spending some time there reveals its delights.  One of these is night snorkeling.  Homer's Scuba & Snorkel Tours offers a unique look at the Caribbean waters, where you can spot nocturnal creatures, like lobsters, moving around.  Homer provides wetsuits for kids and adults, glow sticks and flashlights, and a homemade dinner afterwards.  He also has a guide rope with which he cheerfully tows those who lose stamina.


   St. Thomas is also the launching spot for the Atlantis submarine tour, where you actually go down 80 feet.   This is not for anyone under 3 feet tall, or claustrophobics; I stepped onto the sub's platform and turned right back around.  But my 13-year-old, Sela, went onboard and was jazzed by the incredible coral reef and huge shark that she saw up close.  She also liked the fact that everyone's lips looked blue underwater.

   Wyndham just took over the Sugar Bay Resort & Spa and have turned it into an all-inclusive, with a Kids Klub for ages 4-12.  There are three interconnected pools with a waterfall, and a beach with watercraft. There is a new mini golf course, and lots of free-roaming iguanas (one of the Kids Klub activities is iguana feeding). Parents will appreciate the new fitness center and spa.

ST. CROIX
   You can take a ferry or a seaplane to St. Croix. Again, not great for those who don't like small, confined spaces, but while I gasped for air, Sela was enthralled by the wonderful Chitty Chitty Bang Bang aspect of it.

   On St. Croix, we stayed at the family-run Buccaneer, which has a charming, faded-glory look in its main building, and gorgeous new rooms in a recently renovated area down by the kids' club.  The beach offers snorkeling equipment and non-motorized boats for free.  You can see plenty of fish if you snorkel right there, but the best snorkeling is offshore, at Buck Island.  A number of boat companies will take you out to a marked trail on the coral reef, and then let you walk around the tiny island.

   Every week, The Buccaneer has a party with a steel band and Mocko Jumbies, dancers who wear stilts and traditional island dress.  You are expected to dance with the Jumbies if they extend a hand; rum punch entices shy adults.  The party is held at a stone sugar mill, dating from St. Croix's days as a major sugar producer.

   Whereas The Buccaneer is charming but slightly shabby, the Westin St. John is pristine and exclusive.  The pool is magnificent, with a waterfall and water volleyball area.  There is a large playground, a beach with free non-motorized boats (but too much seaweed in the ocean to make swimming in it fun), and the Westin Kids Club.  The club has a well-appointed home base; kids are also taken outside for iguana hunts or outdoor games.  And there's a Teen Center for older kids.  There are ferries from St. Thomas to St. John, and the Westin runs its own ferry service, which docks right at the resort.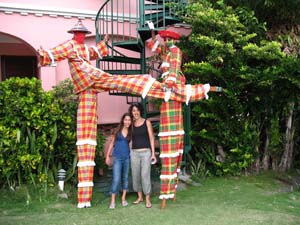 ST. JOHN
   Because St. John is off the beaten path — there are few hotels and only a smattering of restaurants — prices are high.  The trade-off is serenity.  Much of the island is national park, where you can hike alone; you can also walk around an old sugar plantation.  We had Trunk Bay almost to ourselves for snorkeling, and then the bravest of us went snuba diving.  This is a cross between scuba and snorkeling — you go down 15 feet tethered to a tank, but you don't have to carry your own air. Note: this is only for ages 8 and up. I watched from the safety of the pure white sand, virgin indeed.

Info:
—The Buccaneer, www.thebuccaneer.com
—Homer's Scuba and Snorkel, www.nightsnorkel.com
—Atlantis St. Thomas, www.atlantisadventures.com
—Wyndham Sugar Bay Resort & Spa, www.wyndham.com
—Westin St. John, www.westin.com
—VI Snuba Excursions, www.VISnuba.com

For more information: www.usvitourism.vi

PASSPORT REQUIRED?
   Don't forget that as of January 8, passports are required for all U.S. citizens traveling to the Caribbean and Canada.  
   The USVI are exempt from this requirement.  You can use that freshly minted passport to enter Bermuda, where Jet Blue started flying last spring.  Check out www.bermudatourism.com/300_credit.aspx for the "Compliments of Bermuda" package, saving $300. www.bermudatourism.com. 

   And Aruba has a new Westin, a full renovation of an existing hotel, with white sand beaches — and it's outside
the region's hurricane belt.  The new Westin Aruba Resort & Spa features the hotel chain's Heavenly Beds and Heavenly Bath, all-inclusive packages, and their signature Westin Kids Club. www.westin.com.