Westchester's own Tyler James Williams, 14, star of 'Everybody Hates Chris', is in a new movie, 'Unaccompanied Minors', opening December 8, 2006. In the movie, five unruly kids are stranded in an airport on Christmas Eve. We asked Tyler about his New York holiday traditions, and how much trouble he's planning to cause.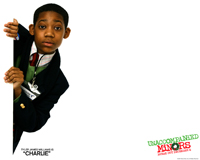 What has been your best Christmas ever?
The Christmas when I was 7 years old. It was good because I got a dog — and that was because the other dog had died.

Have you ever gone "unaccompanied" without telling your parents where you were going?
No. Well, I have, but they knew where I was going. I don't get away with anything.

What would be the first thing you would do if you found out you were going to spend Christmas at an airport?
After I scream with joy, I would probably try to find somebody else to spend it with.

Have you ever been lost anywhere?
Truthfully, I've never been lost or done anything like that. I was the sane one out of my brothers. The closest thing I think I've ever been to that is being stuck in one aisle in the grocery store, and after two seconds, I didn't notice that my mom turned the corner. The next thing I know, she's right there. That was about as close as I got to being lost. I was about 4.

Did you ever act in any Christmas plays or pageants when you were younger?
Oh yeah, I did a couple of them. Acting was always a passion of mine. I played baby Jesus one time. I was in an off Broadway play called Love, Lives, Leading. And I was young Jesus before he turned into a man.

Any others?
Uhhh, I don't know. That was about seven years ago. I was like 5, I'm 14 now; I can barely remember what I did today!

Describe your character in the movie.
My character is a quirky kind of going-to-his-own-drummer kind of character. He doesn't need anybody to tell him that he's cool or that he's a dork. He's his own person, and he's all right with that.

Is that anything like you?
Somewhat, yeah. I usually don't look to people to tell me what looks nice and what doesn't. I don't like the whole, "Well you can't wear white after Labor Day" thing. Or, orange is the new black, or spring colors. I'll wear black in the middle of the spring and summer, I don't care. If I think it looks nice, that's what I'm going to wear.

You've worked with a lot of comedians in your career so far. Who would you say is your favorite comedian ever?
My favorite comedian ever? Wow, that's a big question. You know, I don't have one specific person because I like to take from a lot of different people. You could take Chris Rock, he can do a certain type of stand-up, but he doesn't have the inflections and mannerisms of Chris Tucker. Those are two different people but combined are very funny. So I guess I would have to take from Chris Rock, Chris Tucker, Will Smith, and umm, there's one more person….Jim Carrey.

What is your favorite Christmas movie?
Home Alone, because it's basically like this movie — something that a kid would probably want to do.