Instead of drinking whiskey and rye, Huntington's Usdan Center for the Creative and Performing Arts partnered this spring with Bethpage Federal Credit Union (BFCU) to keep the music alive for five Long Island music students.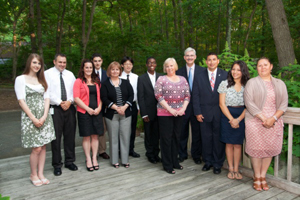 This new scholarship program allows students who would otherwise be unable to attend Usdan to participate and perform in its summer arts day camp, a program that boasts famous alumni like Natalie Portman and Mariah Carey.
Each student is sponsored by a participating BFCU branch in Commack, Bay Shore, Port Jefferson, Westbury, and Massapequa. The students were introduced to their branch sponsors during a June 8 reception at the Usdan Center (pictured).
One of these students is 18-year-old Karina Aristy of Westbury, who already has played the violin for a decade and performed with the likes of the Long Island Philharmonic. Aristy recalls her interest in the string instrument beginning around age 3. "I used to pick up a stick and pretend it was a violin and play it," she says. Now a counselor at the Usdan Center, Aristy says she hopes to make music her career as she gears up to study music education at Long Island University's C.W. Post Campus in the fall.
Other scholarship winners include Justin Cheung of Commack, Matthew Mantione of Port Jefferson, Alon Simpson of Bay Shore, and Kirsten Schmidt of North Massapequa. All five scholars are set to perform at Usdan's Band IV Concert, a mid-summer camp concert, on July 20.