Try vegan baker and author of "Quick and Easy Vegan Bake Sale," Carla Kelly's delicious vegan buttercream recipe to compliment your cupcakes, cake, and other tasty treats.
Buttercream, More or Less
Makes about 3 cups butter cream
(No nuts, no wheat)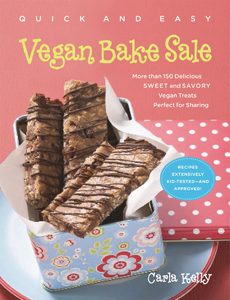 I love the rich, creamy taste of this buttercream. This is helped by having shortening and margarine in it, and the resulting flavor and fluff.

The "More or Less" refers to the firmness of the icing, and is up to you. If you want a firmer buttercream, use the coconut oil as stated; this is my preference. As coconut oil is solid at room temperature, by refrigerating the cream, it becomes harder and holds its shape. By using no coconut oil, you get a softer, creamier buttercream. If you choose not to use the coconut oil, increase the amount of shortening by 1 tablespoon. My children, who despise coconut, gobble this up, so there is no taste or flavor issue.
This recipe lends itself well to flavoring and coloring to suit all your frosting needs! As written, there is enough for spreading on a batch of cupcakes or a single layer cake, if you don't go "over the top." If you want to be fancy and pipe the frosting, or be super-duper generous with it, double the recipe. You can always keep some in the fridge for another day. And, speaking of fridges, if you refrigerate coconut oil (including any frosting leftovers), you'll notice that it gets very hard. To use, allow to come to room temperature, which will take a while, or microwave briefly on high (in five-or 10-second bursts), until soft enough to spread.
1 tablespoon coconut oil
1-4 cup vegan margarine
2 tablespoons vegan shortening
1-2 teaspoon vanilla extract
1-4 teaspoon other extract to match your recipe, or more vanilla (see Note)
2 cups confectioners' sugar, sifted if lumpy
3 to 5 teaspoons soy milk or soy creamer
1. If your coconut oil is very hard (this will depend on the temperature in your kitchen), microwave on high in five-second bursts until soft but not melted. Add the shortening and margarine; cream until well combined and fluffy, with no lumps. If creaming by hand, a whisk does this part of the job best.
2. Add the extracts and mix well.
3. Add the confectioners' sugar and mix well, until quite crumbly looking. If mixing by hand, a wooden spoon is your best bet here.
4. Add the soy milk a teaspoonful at a time, so you can judge the consistency. Mix until well combined and at the level of fluffiness you desire.

Note: Instead of using the extracts you can add espresso, spices, or anything you can think of for flavoring, and even create an adults-only buttercream by adding an alcohol flavoring.
Also see: Vegan Berry Cupcakes Recipe

How to Store and Freeze Baked Goods