For many, a beach vacation requires little more than soft white sand and clean water. 
Cape May, N.J.
, offers that, plus a cute town filled with child-friendly restaurants, diversion for rainy days, and enough mini golf and arcades to ensure that kids won't get bored.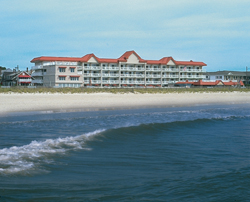 For the beach, while you may grumble about having to buy a beach tag (kids under 12 are exempt), what makes this beach great is the long, wide boardwalk. In the early morning hours, you can ride a bike here; it's the perfect, traffic-free place for a kid to gain confidence on wheels.  No hotels are directly on the beach — they are all across the street — so the whole beach is open to all.
   One way to get your bearings is to take a Trolley Tour.  Tours, run by the
Mid-Atlantic Center for the Arts (MAC)
include an intro to Cape May, where you see Sunset Beach, or Mansions by the Sea, focusing on the town's famous Victorian 'cottages'.  Tours are $9 adults, $4.50 kids ages 3-12.  There is also a children's trolley tour of the historic district, geared towards kids ages 5-10; tours are $5 person.  For a more interactive approach, consider MAC's
Family Treasure Hunt
, a self-guided tour where you search for gazebos, cupolas and turrets; this also serves as a quick tutorial in Victorian architecture (packets, which include answers, are $5).
   My favorite way to explore is by bicycle.  There are several rental shops, which have kids' bikes and seats, and the vacation standard, the surrey.
   The lighthouse is another way to see the Cape, albeit from a lofty vantage point.  This is not for beginning walkers; there are 217 steps up (and down), 199 of these on a spiral staircase.  Entry is $5 for adults, $1 for kids ages 3-12.
  Along the boardwalk, and across the street, there are cafes, two huge arcades, and multiple ice cream shops and places to play miniature golf.  The "mall", a couple of blocks inland, is a long pedestrian-only street lined with more restaurants, fudge shops and boutiques.
   If the gentility of Cape May starts to stifle, you can let off steam at
Wildwood
, which has three water parks and old-fashioned amusement rides (i.e., no character tie-ins). 
Morey's Piers
has gentle rides for little kids and thrill rides for teens.
   There is a thrill ride for all ages, however — parasailing. 
Cape May Parasail
takes kids as young as 2, and there are tandem rides for parent/child bonding.
   The area is known for its birding (it's on a spring migratory pattern).
The Cape May Bird Observatory
has nature and birding walks where you can see hawks, owls and seabirds.  Dolphins often frolic in the ocean; if you see a crowd gathered on the sand and pointing in the water, look closely.
   Cape May is bursting with B &Bs, but most don't accept kids.  One place to stay, on the high end, is
Congress Hall,
where signs around the hotel each evening warns guest to be quiet — because kids are sleeping.  Camp Congress Hall offers babysitting.  A more economical choice is the
Montreal Inn
(pictured above), which also has a pool and a baby pool.  Many rooms are efficiencies, with refrigerator, microwave, coffee maker and stove; you can have breakfast in your room, and keep snacks for the kids fresh.  The Montreal Inn also has its own mini golf course, 50c a game instead of the usual $5 or so.
Info
—Mid-Atlantic Center for the Arts:
www.capemaymac.org
—Morey's Piers, Wildwood:
www.moreyspiers.com
—Cape May Parasail: (609) 884-8759
—Cape May Bird Observatory: (609) 884-2736;
www.njaudubon.org
—Congress Hall: (888) 944-1816;
www.congresshall.com
Montreal Inn: (800) 525-7011 or
www.montreal-inn.com
Cape May Natural
   The Nature Center of Cape May is just one of nine nature centers staffed by the New Jersey Audubon Society.  It is right on the harbor in Cape May City, and features a three-story observation tower, providing a panoramic view of the harbor and east Cape May.  The center features birding from the second-story deck of the welcome center where you can join a NJAS naturalist for a discovery walk on the harbor.  There are also Family Habitat Hikes with wonderful trails and wildlife viewing platforms where you can search for rabbits, birds, muskrats, snakes, frogs, and other cool critters.  Each costs $10 adults, $7 children ages 3 to 12; children under 3 free.

   Interactive programs run year-round; Harbor Safaris are every Saturday at 10:30am from May 5 to June 23.  Join marine biologists as they pull a seine net through the waters of Cape May Harbor, encounter an incredible diversity of marine line in the teeming shallows, and learn about the fascinating lives of the animals that inhabit the coastal waters.  Have an up-close experience with horseshoe crabs and learn why these living fossils are so important to migrating shorebirds and biodiversity.  Cost:  $10 adults; $5 children ages 3-12; children under 3 free.

   Hours:  April, Tuesday-Saturday, 10am-3pm; May-September, open daily, 10am-4pm.  For more information, call (609) 898-8848 or go to www.njaudubon.org. 

   For an eco-tourism getaway for the whole family and for a learning vacation built around one of New Jersey's important contributions to world ecology, as well as lodging listings and trip planning help, go to www.visitnj.org.

— Mary Ann Vislocky