Volunteering with your kids in the community brings a sense of pride and satisfaction. Helping others and getting involved in charities also presents a bonding experience for the whole family. Find out why you should and how you can donate your time with your kids in a fun way this year.
When Hannah Waldron and Sofia D'Angelo, both 12, first became involved with Change for Kids (CFK), a nonprofit education charity that provides enrichment programs in underprivileged elementary school children throughout the city, they were more interested in making and wearing the charity's colorful, beaded charm bracelets than making a difference in their community.
Each year, CFK community members sell beaded bracelets to raise funds so that more than 2,500 elementary students can have access to enrichment programs like art, music, and fitness classes as well as one-on-one tutoring. Teachers and principals at each of four elementary schools throughout the city that CFK partners with assess the students' most urgent needs and use the funds to transform schools in high-poverty areas into inspiring place that parents, students, and community members can be proud of, with the hopes that this will encourage long-term achievement and commitment to education.
Waldron and D'Angelo first became involved in bracelet making because their families volunteered with CFK. When the girls, both young athletes who gained self-confidence from sports, heard that there were children in their communities who didn't have the option to play the same sports they did, they were shocked -- and decided to make a difference.
They spoke to the community service coordinators at their respective schools about selling bracelets to their classmates. They also set up a booth outside of a SoulCycle studio and sold bracelets to friends, family members, and neighbors. By the time they finished their sales pitches, they had raised $2,612.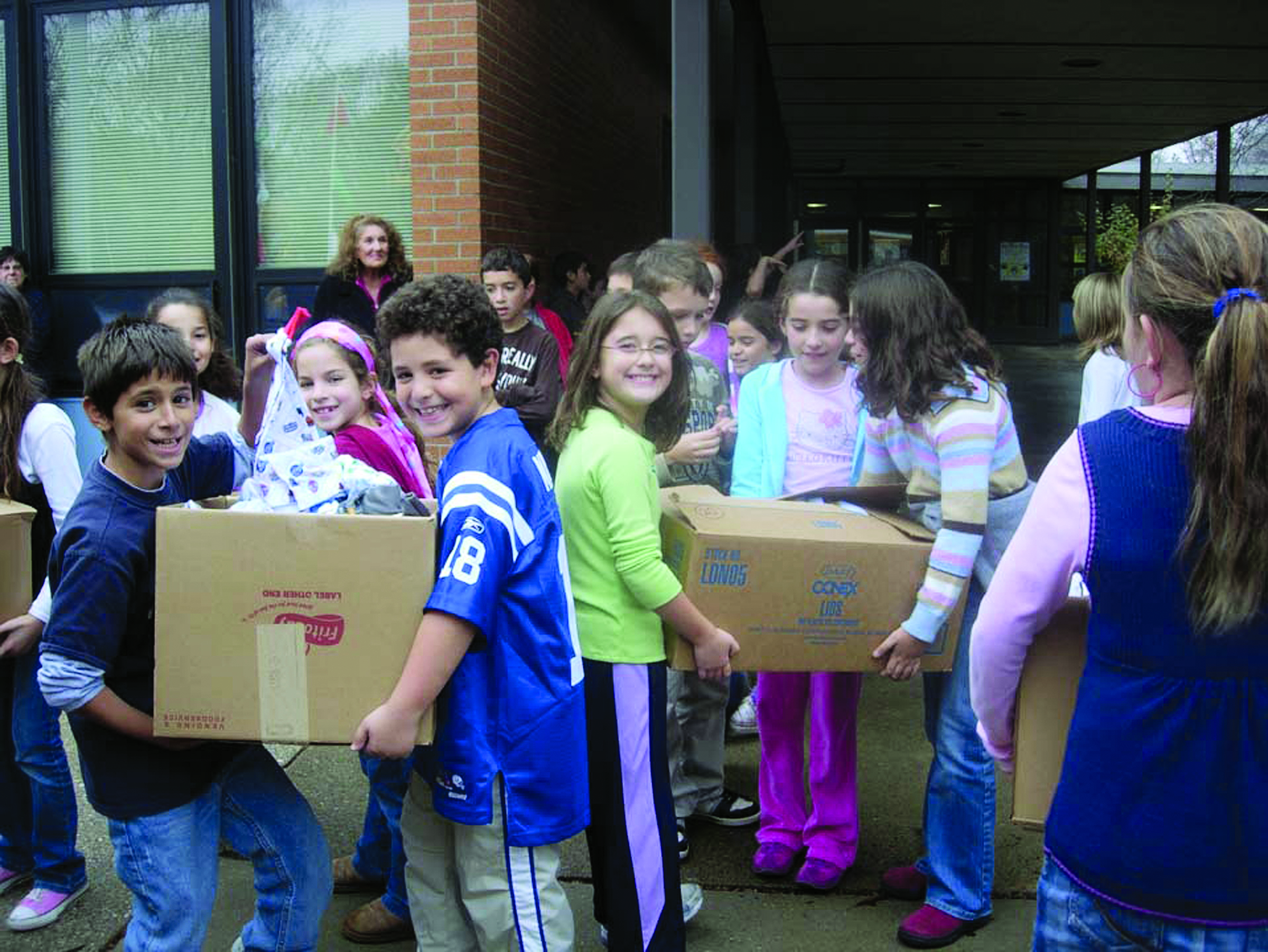 "When they found out how much money they'd made, it was a combination of shock-jumping and high-fiving each other like crazy -- and inspiration, saying, 'We could do more! We should do this again!'" Mireya D'Angelo describes. "It just made them see how strong and capable anyone is when they put their minds to something."
Although children can gain self-confidence from volunteering, there are other benefits, too, says Bill Ayres, executive director of WhyHunger, a Manhattan-based international organization focused on ending hunger and poverty by connecting people to nutritious, affordable food.
"Volunteerism can play an important role in helping youth develop a sense of responsibility, community perspective, and commitment to service," says Ayres. "Young people who participate in volunteer activities are exposed to a community-based point of view, in contrast to the 'me-first,' self-important perspective that is so prevalent today."
Children also learn more about the service area that they choose to volunteer in. WhyHunger partners with nearby farms and community gardens, allowing children who volunteer to learn about hunger and sustainable farming. Change for Kids volunteers learn about education issues.
Help your children pick activities based on their interests as well as whether they work better in groups or alone and whether they'd like to initiate a project or help an already established group to make sure they have a positive experience.
Some children would enjoy going to a hospital or nursing home to visit with parents. For others, that setting is intimidating. These children may prefer to contribute to a neighborhood or school beautification project. If they're older, they might like organizing a building-wide coat drive.
Volunteering is not a one-size-fits-all experience, says Allan Luks, a former director of Big Brothers and Big Sisters NYC and author of The Healing Power of Doing Good.

Luks reminds parents that they will need to realistically see how much time their children can set aside to volunteer. Some children might be able to volunteer for one Saturday morning per month. Others may prefer to volunteer every week, but for a shorter period of time. Also, just because there's an adult leading the project doesn't mean that children will be allowed to volunteer alone. To make sure that both you and your child have a positive experience, choose an activity you'll both enjoy, and show your son or daughter what a great time you're having.
"When parents are able to model volunteerism to their children, the link between values and action is strengthened and children can learn to make a lifelong commitment to service," Ayres says. "From my own personal experience volunteering with my children, I can attest that it can be an important way to strengthen the bonds between parent, child, and community."
Once children have seen their parents or others volunteering, they often take the initiative to volunteer. Mireya D'Angelo was ecstatic that Waldron and her daughter were able to take control of their bracelet-making project with very little guidance. Now the girls understand how nonprofits work and work within communities. They've also turned into salespeople.
"By the end of the summer you were seeing people with an armful of bracelets — a good four inches of multicolored beads — on both kids and adults," Mireya D'Angelo says with pride. "I wish I could have learned at her age what she learned as a result of this."
Get Your Charity On!

• See what's in it for your child according to PBS Kids.

• Find out how to turn a birthday bash into a pajama party for a good cause.

• Parents, take advantage of a website and mobile app that manage all your "volunteer" obligations.
• Get ideas for local volunteering that you can do together as a family from our Where-to guide.

• September 11 is a day for rememberance as well as giving back. For its 10th anniversary, find out how your family, friends, and co-workers can help Americans living in poverty.
National Public Lands Day
National Public Lands Day—this September 24—supports the Let's Move Outside initiative by providing innovative opportunities for youth to be active outside. Visit www.publiclandsday.org for more info and to find locations where you can help (activities range from building trails to pulling invasive plants). Ready to get moving? Plan ahead for September 24 with 10 specific ideas courtesy of NPLD:
1. President's Challenge: Invite kids to take the challenge—the Presidential Active Lifestyle Award challenge! Get them moving for the recommended 60 minutes of daily activity with a wide range of sports and games, including obstacle courses, skateboarding, volleyball, basketball or softball. Learn more about the Presidential Active Lifestyle Award at www.presidentschallenge.org/NPLD.
2. Cache In-Trash Out: Geocaching is a great way to combine technology and exploring the outdoors. As kids are looking for their next "cache", they can pick up litter and help improve their public land. Learn more about geocaching at www.geocaching.org.
3. Hiking: Many NPLD volunteer events focus on building new hiking trails or restoring existing trails. Show kids what all their hard work was for by taking them on a hike. If possible, set up educational tables along the trail that teach Leave No Trace principles, fire safety or wildlife identification. Learn more about hiking at www.americanhiking.org.
4. Host a Fishing or Birding Derby: Teach kids a new skill that they can use during future trips to public lands. Demonstrate how to fish or identify birds using field guides. After they practice their new skills, hold a contest with prizes for the largest fish caught or the most birds identified. Learn more fishing and bird identification at www.takemefishing.org and www.audubon.org.
5. Fun Fee - Free Day: An unfortunate reality is that many families feel that they cannot participate in recreational activities because of the cost of renting equipment. One way to reintroduce families to the outdoors is by eliminating the rental fees on equipment in honor of NPLD. Allow families to use bikes, kayaks, or fishing poles for free for a day and potentially offer discount for future rentals. Learn about the National Park Service's fee-free entrance days at www.nps.gov/findapark/feefreeparks.htm.
6. Explore their Creative Side: The outdoors often serves as inspiration for art, music, theater and photography. Provide kids with cameras, art supplies, or a stage and allow them to show you why they care about the outdoors. Younger kids can make leaf rubbings, paint bird boxes or act out animals that live in their neighborhood. Visit www.beoutthere.org for more creative activities.
7. BioBlitz: Turn kids into amateur scientists! A BioBlitz is a wildlife scavenger hunt. Using handheld tools, field guides and help from adults, kids try to identify as many different species as possible. Along the way, they get dirty and learn about ecology and the wonders of the outdoors. Learn more about organizing BioBlitzes at www.nationalgeographic.com/field/projects/bioblitz.html.
8. Mountain Biking: Grab a bike and take the kids off road on a mountain biking adventure. Many kids have only ridden bikes in their backyards or along city streets. A day on a mountain biking trail will show how recreation and exercise can take them to new heights and experience the natural world in a different way. Learn more about mountain biking at www.imba.com.
9. Play is for Everyone: Let's Move Outside is not just about getting kids active. It focuses on the whole family learning how to make healthy lifestyle choices. Use NPLD as a way to bring families together through scavenger hunts, races, games and sports activities. Read about national campaigns to get families outdoors at www.childrenandnature.org.
10. Celebrate Recreation and Nature with a Festival: Not sure which of the above activities would be best for your NPLD event? Consider hosting a festival that combines them all into a day of fun, the outdoors and recreation. Local government agencies, nonprofits, schools or businesses could lead activities. If possible, create a "passport" where kids receive a stamp after participating in an activity and then a prize at the end of the day. View an example of a "passport" used by the Massachusetts state park system at www.mass.gov/dcr/passport.
Weblinks
Online orgs that will help your children find volunteering opportunities, craft their own do-good endeavors, and encourage their efforts
• www.thevolunteerfamily.org
The Volunteer Family matches your family up with a volunteering opportunity or works with you to create an individually tailored volunteer experience. They have a complete listings of volunteer ideas and opportunities over the U.S.
• www.volunteerspot.com
Easily plan and coordinate your own volunteer projects with your friends, neighbors, congregation and class parents.

• www.volunteerspot.com/ebooks/FamilyVolunteering
Free eBook filled with Family-Friendly Volunteering Ideas – from A-Z
• www.insidegood.com
InsideGood is a nonprofit ratings website where employees, interns, volunteers, and donors can rate their experiences working with, or donating to, nonprofits.
• www.firstgiving.com
Create an online fundraising page to share with your friends and family to raise money for any U.S. nonprofit.
• www.pajamaprogram.org/kidshelpingkids.html
Kids helping kids: By finding ways to collect new PJs and books for children in need, kids learn about the importance of giving. Site includes tools for teachers and parents to help organize drives and fun fundraisers.
• www.kidscare.org
A generationOn program, kids work together to help others. Various service projects are posted each month, which include step-by-step instructions, compassion and issues education information, fact for kids, meeting activities, additional resources and information on possible service partners.
• www.dosomething.org
An online place where teens can learn about and shop around for a cause, then take action offline.
• www.volunteermatch.org
Over 6,000 searchable volunteer opportunities that are great for kids.
• www.pbskids.org/itsmylife/emotions/volunteering
Kids can read about what other kids are doing... and how it makes them feel.
Related and inspiring articles

How volunteering can give your teens a taste of real life and bolster their college apps; plus, how to raise a generous child.