Going to D.C. for the weekend should not be a hard sell to the kids, but a certain 14-year-old preferred to go to the beach rather than take yet another visit to the nation's capital.  Too bad — she missed out on new attractions.  The good news: Amtrak children's discounts, where an adult can take up to two children half-price, still applied to us.

   Had we gone to the International Spy Museum, we would have learned how to conceal people in cars; at this museum, there are cut-away models so you can see how spies have been stowed in trunks, engines and under floorboards.  The first thing you do here is choose a secret identity; later, you take a test to see how well you've memorized the details.  The Spy Museum is designed for kids over age 12, but savvy younger kids should enjoy it, too, with adult help. Kids of all ages (though not anyone claustrophobic) will enjoy crawling through a duct work tunnel, and watching clips of old spy movies and TV shows.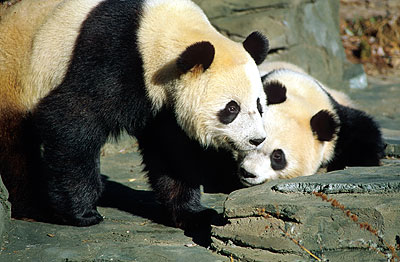 We've seen the monuments in D.C. via an amphibious Duck tour, a trolley tour, and by Metro, but Bike the Sites gives you a unique perspective.  These guided tours use mountain bikes to tour around the city; kids' bikes, tandems and seats are available.  The guide gives a brief background of each site, then you have a few minutes to explore.  At the FDR Memorial, the only handicapped-accessible one, you can wheel your bicycles through; at the Washington, Lincoln, WW11 and Vietnam memorials, you have to leave your bikes out front.  The biking is done on sidewalks, and helmets, water bottles and snacks are provided.

   The Smithsonian American Art Museum and National Portrait Gallery just opened in a shared space across the street from the Spy Museum.  Kids will enjoy the oversize video installation, "Electronic Superhighway", by Nam June Paik.  The museum also has a 'behind the scenes' area where you can see conservators at work

     One reason to get down to D.C. quickly is because the National Museum of American History is closing on September 5 for a major rehab; the new museum will open in summer 2008.  Its swan- or frog-song exhibit on Jim Henson's Muppets features Kermit the Frog, as well as hand puppets from Henson's first TV show, Sam and Friends.

     The Smithsonian Institution added the National Museum of the American Indian in 2004.  The building resembles a natural rock formation, and young kids will like walking along the stream. You can learn about Native life and history in Our Universes, Our Peoples, and Our Lives, and explore interactive materials in the Family Activity Room.  The museum has an excellent (though pricey) cafeteria, where you can learn about, and eat, such Native food as corn soup and tamales.

     If the kids start balking at museums, head to the Sculpture Garden in the National Gallery of Art.  There is a fountain where you can cool off (in winter, it becomes an ice skating rink), and a number of kid-appealing sculptures, including Roy Lichtenstein's House 1 and Claes Oldenburg's Eraser, Scale X.

     The National Zoo's panda cub, Tai Shan, turned one in July, and is still a major attraction.  There is a new 'Kids' Farm' with cows, donkeys and goats, and a giant pizza playground with an olive tunnel and other oversized vegetables.

Where we stayed
     We stayed at the Willard Intercontinental, and if your kids were fans of the recently departed Plaza Hotel in New York, they will recognize the period charm; it was designed by the same architect, Henry Hardenbergh.  There is no pool, but the workout room does include a large outdoor plaza where kids can run around and adults can lounge on chaises.  Another good choice for families is the L'Enfant Plaza, which has a roof-top pool.

Info:
—International Spy Museum is open daily, 10am-8pm. (866) SPY-MUSEUM.  www.spymuseum.org. The museum has timed tickets; advance reservations are suggested.  Admission:  $15 for ages 12 and up; $12 for ages 5-11; free, 4 and under
—Admission to all Smithsonian Institutions, including the National Zoo, is free. www.si.edu
—Bike the Sites: Three-hour tours are $40 adults, $30 ages 12 and under.  (202) 842-BIKE;  www.bikethesites.com
—Willard Intercontinental:  www.washington.intercontinental.com
—L'enfant Plaza Hotel: www.lenfantplazahotel.com
—For general D.C. information:  www.washington.org