WebMD Baby is a new app that provides instant access to expert medical info and health answers to parents of babies and toddlers.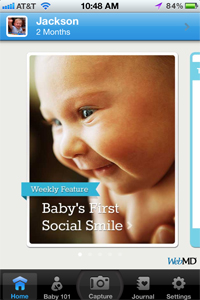 For the third evening in a row, your healthy 4-week-old has cried for two hours, straight through dinner and beyond. She doesn't have a fever, the pediatrician says she's fine, your mom insists it isn't colic…but you'd like more information.
Where to turn without breaking stride? Grab your iPhone (or iPod or iPad) and open WebMD Baby, a new mobile app for parents of infants and toddlers. WebMD Baby gives new parents quick and reliable access to pediatrician-approved health and wellness information anywhere, anytime. Searchable content personalized for your baby's specific age, record-keeping suggestions, and reassurance can all be found easily, even by the most tired of eyes. Plus, it makes for great reading during 2am feedings. There's even a "baby book" feature with photo capabilities.
Download the app for free at itunes.com/appstore or go to webmd.com/babyapp for more information.