SEE OUR MOST RECENT BIRTHDAY PARTY GUIDE TO WESTCHESTER COUNTY
---
Take a look at the Westchester Birthday Party Guide (A-L) for some fun ideas! Find party spaces, caterers & food, balloons, magicians & clowns, and more!
And find even more party places in Manhattan, Brooklyn, Queens, Rockland, Fairfield County, Nassau & Suffolk!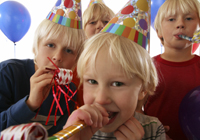 ALCOTT MONTESSORI SCHOOL
535 Broadway, Dobbs Ferry • (914) 693-4443
27 Crane Rd, Scarsdale • (914) 472-4404
306 Rumsey Rd, Yonkers • (914) 969-9676
www.alcottschool.org
Email [email protected]

The Alcott School gym is available for birthday parties for children ages 2 to 7 years old. The gym and playground hold up to 25 pre-schoolers. The school provides small chairs and tables; parents must provide their own refreshments, paper goods, entertainment, and decorations. An Alcott Staff person is in attendance during the party. The cost is $75 for the Alcott School and $75 for 1 1/2 hours for a staff person. For more details and an application call or visit our website.
ANDREA'S DANCE STUDIO II
209 Brook St, Scarsdale • (914) 723-2927
Andrea's Dance Studio • 904 Morris Park Ave, Bronx • (718) 597-9869

Have the dance party of your dreams at Andrea's Dance Studio II. Our trained dancers lead the children through singing, dancing, tumbling and games. Hip-hop, Macarena, Limbo and dance contests keep your partygoers on the move and having fun, and every child wins a prize. Rent the studio for the amazing price of $175 for two hours of fun-filled partying. Call to reserve the magic today. Also, call to inquire about our monthly adult ballroom socials.
ANIMAL EXPERIENCES
9 Old Lake Rd, Valley Cottage
845-596-0701
www.animalexperiences.com

Laugh and learn with animals! Invite Animal Experiences to your next birthday party/special occasion, and get up close and personal with exotic animals from all over the world! Pick eight animals to have at your party from over 40 species, including chinchillas, lizards, snakes, foxes and even wallabies! Check out our website for more information.
APPLAUSE WESTCHESTER
114 W. Boston Post Rd, Mamaroneck
914-500-2599
www.applauseny.com
Email [email protected]

Celebrate your child's birthday with a Broadway show! Applause Westchester will customize a party just for your child in our brand-new space that includes acting, singing, and dancing. Parties for ages 1-4 include Princess Party, The Wizard of Oz, Annie, The Sound of Music and more! Our older performance parties for ages 5-10 include our Hip-Hop Extravaganza, Pop-Star Contest, Hairspray and many more. Contact us to book your party today. Packages start at just $395!
BELLIZZI
153 E. Main St, Mt. Kisco
(914) 241-1200
www.bellizzifood.com

Nothing beats Bellizzi when it comes to food, family fun and birthday parties. We are kid-friendly to the max but cater to adults that want healthy, quality food. Our staff enjoys creating a good time and making sure that you have fun. We start each day using quality ingredients that achieve the great taste that you deserve. Gluten free? We have a menu for you. Next time you are in Mt. Kisco, come and see us, we would love to see you.
BITS, BYTES & BOTS
(914) 218-8175
www.bitsbytesbots.com
Email [email protected]

Invite Bits, Bytes & Bots and we'll show up with all of our pals—our LEGO® robot pals! During two hours, your kids and their buddies will learn to program their robots to battle head-to-head on our Sumo battle board. We'll supply laptops and robots at your location of choice. Your guests will leave with smiles on their faces as well as new knowledge in their brains. CAUTION: Robot battles can be exciting and inspiring. Be prepared for an extraordinary amount of screaming and laughter.
BLUE MOON MEXICAN CAFE
19 Main St, Hastings-on-Hudson • (914) 478-1147
7-27 Pondfield Rd, Bronxville • (914) 337-4000
www.bluemoonmexicancafe.com

Looking to add a touch of spice to your child's next birthday celebration without heading south of the border? Then take an unforgettable trip to the moon — the Blue Moon Mexican Café, that is. Seven convenient locations in Bergen, Rockland and Westchester counties present visitors of all ages with a bright and airy atmosphere. Our outgoing, child-friendly staff will put together the party of a lifetime. Your party guests will revel in a fun-filled celebration with a mouth-watering menu. Call today to find out more!
BOULDER BROOK EQUESTRIAN CENTER
291 Mamaroneck Rd, Scarsdale
(914) 725-3912
www.boulderbrook.org

Birthday parties with a pony ride and more. Let us plan your next birthday party at Boulder Brook Equestrian Center. We offer pony rides with a horse-party theme, including themed paper goods, piñata, crafts, pizza and drinks. All you have to provide is the cake. Ages 4 to 10, with a minimum of 12 people and a maximum of 20. Sundays only. Call Mary.
BRUCE CHUNG'S TAE KWON DO
250 Halstead Ave, Harrison
(914) 835-0665
www.brucechung.com

Our 90-minute Tae Kwon Do parties are filled with challenging obstacle course activities, exciting races and action-packed games. Parties are appropriate for children as young as 3 years old. This summer, introduce your child to Tae Kwon Do in our great mini camp for 3- to 4- and 5- to 6-year-olds. Each 2-hour session is packed with prize games, team challenges, parachute activities, music, take-home art projects, snacks and much more.
CIRCUS ARTS CAMP, LLC
555 W. Hartsdale Ave, Hartsdale • 914-923-4650
420 S. Riverside Ave. #174, Croton
www.circusartscampny.com
Email [email protected]

What's as much fun as a party? A circus! Campers become circus folks during summer vacation when safety-certified instructors teach juggling, clowning, unicycling, trapeze, wire walking, balancing and more to kids, ages 7 and up, in the air-conditioned gyms of the Hartsdale Solomon Schechter School. Three 2-week sessions run 6/29 to 8/7, and the exciting student performance that ends each session is free and open to the public. Plus Aerial Arts Week 8/10-14 featuring flying trapeze instruction!
COME 'N DRUM
(914) 263-3563
www.norbertgoldberg.com

This unique interactive presentation will have kids of all ages drumming, shaking and moving to the beat in no time. Cool sound effects and exotic percussion instruments draw the children into enjoyable activities and games which promote musical and rhythmic skills, and are just plain fun. Your child will feel special as he/she conducts the band and leads the parade of drummers.
CROWNE PLAZA HOTEL
66 Hale Ave, White Plains
(914) 821-1377

Celebrate your child's birthday or special occasion with us! The Crowne Plaza is the place to be. Choose from our different party packages — Pool Party, Super Sweet Sixteen or Bar/Bat Mitzvah. We book early, so give us a call to reserve your date. Crowne Plaza parties are where memories are made. Call our catering department now.
CYBER DISCOVERIES 2
(914) 921-2024/(877) 376-0048
www.cyberdiscoveries.com

Share birthday surprises with the Puterbugs®! Children ages 3-7 will be greeted by a "video-voicemail," preparing the birthday computer detectives for their special mission. After that, children will solve this mission using Imagine Tomorrow's® custom software. Children ages 7-15 will use Microsoft Office software to create fun projects or solve a fun detective mission. Parties accommodate up to 20 children and are led by two certified Cyber Discoveries teachers. Call for more info or visit us online.
DANCE CAVISE
273 Halstead Ave, Mamaroneck
(914) 381-5222
www.dancecavise.com

Be our guest at a Dance Cavise birthday party and have a truly theatrical experience.Our staff accommodates our future Broadway or Music Video stars, whether young or old, beginner or novice! Guests are led through an hour of games and exercises in preparation for the big finale — a performance starring the birthday child! We provide decorations, balloons, invitations, thank you notes and a "playbill" to autograph for the guests at the end of the performance. Call for details and reservations.
DAVE'S CAST OF CHARACTERS
(914) 235-7100
www.davescast.com

Make your birthday party a special one! Dave's entertainment services include over 100 costumed characters that seem authentic, plus rides and games. Princesses to superheroes, pirates to tea parties, Hannah rock star parties, High School parties — there's something for everyone. We feature DJs, clowns, magicians, face painters, balloon sculptors and food carts. New inflatable attractions include 5-in-1 units, Sesame, Kong's Revenge, Adrenaline Rush, Batman Challenge and Treasure of the Caribbean Obstacle courses. Water fun includes Wild Rapids, Big Kahuna and Splashdown slides. Enjoy the Spiderman Velcro Wall, robots, racecars and more.
FASTRACKIDS
27 Rye Ridge Plaza, Rye Brook
(914) 937-6977
www.fastrackids.com

FasTracKids parties are designed to be fun, exciting, and memorable for children turning 3 to 7 years of age. You will choose from several themes, including "Space — The Final Frontier," "Constellations and Planets," "Introduction to Rocks and Caves," among others. Party packages include 1 1/2 hours of non-stop fun, invitations, interactive educational games and exclusive use of our state-of-the-art facility. Parties are scheduled Friday and Saturday afternoons. We invite you to sample our program with a complimentary trial class. Call now to reserve your spot.
FRANKIE'S CARNIVAL TIME & FRANK BEE COSTUME CENTER
(718) 823-3033 • (877) 937-2652
www.costumeman.com • www.frankiescarnival.com

Frankie's Carnival Time Inc. and Frank Bee Costume Center have been making parties and events magical since 1957. We have bounce rides, carnival games, carnival booths, photo booths, dunk tanks, cotton candy, popcorn, snow cones, ice cream carts, hot dog carts, chocolate fountains, champagne and punch fountains, tents, tables, chair rentals, costume characters, clowns, magicians, and much more. Our excellent service and reasonable prices make Frankie's Carnival Time the best choice for your party needs.
FUN BUS
(866) 7-FUNBUS
www.funbuses.com
Email [email protected]

The Fun Bus offers children a "Disney-like" unique and magical experience of challenging obstacle courses, rope swings, rock-climbing wall, rings, trampoline, gymnastics bar, and more! Amazing memories and photo moments abound as a Big Green FUN BUS pulls up for your child's party. Parents can relax as our dynamic team guides the children through our very unique program onboard a CLIMATE-CONTROLLED gym-on-wheels! Memorable experience guaranteed!
FUNFUZION AT NEW ROC CITY
19 Le Count Place (Exit 16 off I-95), New Rochelle
Corporate & Group Sales • (914) 637-7575 ext. 204
Party Central (914) 637-7575 Option 1
www.funfuziononline.com

Westchester's largest indoor entertainment megaplex specializing in birthday parties for children (and adults) of all ages, corporate events, bar/bat mitzvahs, private celebrations and more. Featuring video games, prize center, rides, laser tag, glow-bowling and mini-golf, billiards, and go-karting. The World's Greatest Birthday is an interactive experience not to be missed. New this year — mid-week bowling parties!
GRANDMASTER B.M. KIM'S TAE KWON DO
White Plains, (914) 428-0085
Port Chester, (914) 934-1861
Nanuet, (845) 623-2002
www.bmkim.com

At Grandmaster B.M. Kim's Tae Kwon Do school, we offer a variety of classes suitable for all ages over 3 years. We have specialized PeeWee classes, children, adult and family classes. We specialize in birthday parties and children's summer camp programs. Call today to book your next birthday party with us!
GREAT PLAY
968B Central Ave, Scarsdale
914-713-3470
www.greatplay.com

Great Play, a unique new gym for kids, runs fun-filled parties that make your child the star of the show in our patent-pending Interactive arena. Themes include Field Day (ages 3-10), Fun and Games (ages 1-6), and Multi-sport (ages 4-10). We customize each party within the selected theme based on your child's interests using some of our most popular Great Play games and activities. It's a memorable, fun-filled event for everyone involved! See our website for details and reviews.
GREENWICH YOGA
328 Pemberwick Rd at The Mill, Greenwich, CT
203-532-0660
www.greenwichyoga.com

Add a twist to your child's next birthday party at Greenwich Yoga! Party includes yoga class, goodie bags, games and henna tattoos! We also offer Family Yoga, a Mommy & Me class (or Daddy), PRENATAL yoga or drop off your child for one of our kids yoga classes or join us this summer for a unique kids camp in July. Call or visit our website for details.
GROOVE PERFORMING ARTS
157 Larchmont Ave, Larchmont
(914) 834-3383
www.findgroove.com

Groove parties are innovative, interactive and imaginative celebrations for kids ages 1-8. You bring the cake and we provide the rest! Featuring live musicians, an ultimate dance party, rockin' jam session and drums, drums, drums. For ages 4-8, "create your own guitar" drop-off parties are also available. Groove parties are held in our festive music studio and celebration room, located one-block north of Route 1.
GYM CATS GYMNASTICS AND BIRTHDAY PARTY CENTER
1 Odell Plaza, Yonkers
(914) 965-7676
www.gymcats.net

We are famous for our unique private birthday parties — our enthusiastic interactive staff makes your child's party memorable. At Gym Cats, children learn the skills and confidence they will need for many of life's challenges. Exciting gymnastics classes are offered for boys and girls ages 2 to adult, including Mom and Me classes, Tiny Tot classes, cheerleading groups and summer camp. Call for more information on how your child can meet new friends and new challenges, and build the confidence necessary to succeed.
GYMTIME
Scarsdale and Elmsford, (914) 948-1868
www.gymtimeplace.com

Gymtime offers a variety of party packages to accommodate all needs and budgets. Party packages feature invitations, two party hosts, 1 1/2 hours of jumping, bouncing, singing and much more. We have packages that include pirate, princess and luau themes, arts and crafts, and more. Extra options such as pizza, heroes, food platters and balloons are also available. Safe, clean and fun.
HARDBALL NY TRAINING CENTER
102 Fairview Park Dr, Elmsford
(914) 347-4700
www.hardballny.com

Have a fun-filled All-Star Birthday Party at the Hardball NY Training Center! Our skilled staff will organize your child's baseball, softball or soccer party with a variety of age-appropriate, sports-related skill activities, games and instruction in our climate-controlled facility. Utilize our party room, batting cages, pitching tunnels, and all-purpose utility space. Have a blast with a Hardball Bash.
THE INTREPID
Pier 86, W. 46th St & 12th Ave, NYC • (646) 381-5010
www.intrepidmuseum.org
Email [email protected]

Make your child's birthday celebration a unique adventure at the Intrepid Sea, Air and Space Museum complex—now featuring a new interactive area, Exploreum. Our exciting new party themes include "Just Plane Fun," "Captain's Adventure" (with pirate options!), "All Hands on Deck" and our astronaut themed party—"Birthday Blastoff." Value package at various levels and customization options ensure your child's birthday will be an adventure. To book your child's birthday celebration, call or email.
J.W. TUMBLES
14-B Rye Ridge Plaza, Rye Brook
(914) 251-0555
www.jwtumbles.com

Imagine taking all the crazy FUN your kids always have at J.W. Tumbles children's gyms, and wrapping it up into one big, bouncy, birthday bash filled with great games, manic music, tasty treats and super silliness. That's exactly what happens when you give your child a "Tumbles-style" birthday party at J.W. Tumbles. It's a day you and your kids will never forget. Just give us a call or stop by and reserve your day and time as early as possible; we book early!
JODI'S GYM
25 Hubbels Dr, Mt Kisco • (914) 244-8811
244 E. 84th St, NYC • (212) 772-7633
www.jodisgym.com

Kids run, jump, climb, tumble, slide, bounce and giggle to their hearts' delight at Jodi's Gym, where action-packed parties have won children's hearts for 27 years. Our bright, spacious facility is every child's dream. Teachers guide the children on bars, beams, rings, slides, tunnels, space bouncer, tumble track, and more. Next, it's off to a separate area for refreshments that we are happy to supply. Teachers set up, serve and clean up. At Jodi's, the whole place is yours! You sit back and enjoy.
JUNGLE JIM'S ANIMAL ADVENTURES
Greenwood Lake, NY
(845) 595-6381/(845) 239-9389
www.junglejimsanimaladventures.com

Hi, my name is Jim Haindl and I have been working with animals my whole life. I love to teach children about animals! The children will learn about animals from all over the world. This is a close-up, unforgettable experience even parents will enjoy. I have a variety of reptiles, mammals and amphibians. This will be a day you will never forget. Birthday parties, school functions, or any occasion. Hope to see you soon.
JUST FOR FUN ENTERTAINMENT
(914) 232-1903
www.rentakidsparty.com

Just for Fun Entertainment offers a wonderful variety of children's entertainment for all types of events. Face painters, princesses, clowns, carnival games and inflatables are only a few. We take great pride in creating safe, fun and memorable events that will last a lifetime. For more information, log on to our website.
K & A HOUSE OF BOUNCE PARTY RENTALS
(845) 825-6617
www.kahouseofbounce.com
Email [email protected]

"We bring the party to you." We provide everything you need to make your event special including bouncers, party tents, kids' tables and chairs, sand art, spin art, cotton candy, popcorn and other fun concession foods. We have one of the largest selections of themed inflatables along with wet slides and dry slides to provide safe, non-stop fun for your guests. We pride ourselves on our exceptional level of customer service. Fully licensed and insured.
KATONAH ART CENTER
131 Bedford Rd, Katonah
(914) 232-4843
www.katonahartcenter.com

Katonah Art Center offers art and clay birthday parties for children of all ages. We provide an art project and a birthday banner signed by your child's guests, and you provide food and goody bags. Children will have a great time creating projects such as decoupage photo albums, aquariums, jewelry boxes, robot helmets, animal sculptures, tie-dyed shirts and more. Please call the office for more details.
KIDDIE PARTIES
174 Harris Rd, Bedford Hills
(914) 242-0102
www.kiddieparties.com

Voted again in 2008 "Best Place to Throw a Kid's Birthday Party" by Westchester Magazine, Kiddie Parties allows busy parents time to relax during the planning process and the party. Children ages 1-12 enjoy 90 minutes of supervised activities and excitement. Celebrating one party at a time, theme parties range from bear and animal stuffing, pirate, princess, luau, and many more! Themes include invites, paper goods, pizza for the children and other accessories, plus an arts and crafts project. Magicians, musicians, clowns and other entertainers available. Kiddie Parties celebrates good times!
KIDS 'R' COOKIN
(914) 937-2012
www.kidsrcookin.com

Picked for the Best of Westchester 2007, now in our 7th year, we've been helping parents and their budding chefs plan memorable and fun parties in Westchester. You and your chef choose from our menu of recipes; we are happy to accommodate special requests. We'll take the worry out of planning your child's party. We also offer fun, healthy classes, summer programs and enrichment programs for afterschool clubs, pre-schools, playgroups or any children's event.
LEAPIN' LITTLE ONES
PO Box 937, Mohegan Lake
(914) 806-5503
www.leapin-little-ones.com

Are you tired of the same old backyard parties and looking for something different? Look no further than Leapin' Little Ones. We provide brand new, clean, inflatable bouncers and slides for the Hudson Valley area. We guarantee prompt delivery, safe and clean equipment, and very satisfied little customers. Inflatables are perfect for any occasion. Call and experience our friendly service and unbeatable prices! Check out our website and "add some bounce to your party" today!
LEAPIN' LIZARDS
At Kohl's Shopping Center, Port Chester • (914) 937-JUMP (5867)
www.leaplizards.com

Leapin' Lizards is the play and party place for kids in Westchester! Open daily at 10am, admission is $11.99 per child for unlimited play. Full snack bar, game room and sand art are available. Our 2-hour theme birthday party package includes playtime in the fun-filled play area (slides, mazes, ball baths, etc.), private party room for enjoying pizza, hot dogs, and a Carvel ice cream cake, and tokens for our game/arcade room. Paper supplies, invitations and balloons are included. Visit website for more info.
LIFE THE PLACE TO BE
2 Lawrence St, Ardsley
(914) 591-4400
www.lifetheplacetobe.com

Westchester's newest, coolest place for special events and everyday fun. Life is 29,000 square feet of fun and excitement. We offer laser tag, a rock climbing wall, bowling, and 3,000 square feet of high-end arcade games. We provide you with your own private party room and all party supplies. All parties are supervised by Life birthday party hosts. Make LIFE simple — let us plan your next birthday party. We do it all!
THE LITTLE GYM - SCARSDALE
777 White Plains Rd, Scarsdale
(914) 722-2773
www.tlgscarsdaleny.com

A private party at The Little Gym is a perfect way to celebrate your child's next birthday. The 1 1/2-hour parties are supervised by our trained, professional staff, from beginning to end. Gymnastics, games, obstacle courses, sports and music are tailored to your child's interests. Parties at The Little Gym mean exclusive use of the gym and party room. At The Little Gym, your child's birthday bash will be the easiest party you'll ever throw!
LITTLE SCOOPS
62 Washington Ave, Pleasantville • (914) 741-0011
14A Rye Ridge Plaza, Rye Brook • (914) 253-6400
www.littlescoops.com

What's the sweetest idea for a party? How about Little Scoops' classic 1950s ice cream parlor where children can make their own sundaes? Parties feature private party room, pizza, beverages, ice cream sundaes & fun, age-appropriate activities. Autograph t-shirt for guest of honor and making a handprint on wall-of-fame are some highlights. Options available and party package customized to include everything you need for a fun and hassle-free party. Create the sweetest memories at Little Scoops!
LOGREA DANCE ACADEMY
2 Dale Ave, Ossining
(914) 941-2939
www.logreadance.com

Make your party special at the Logrea Dance Academy. A 45 minute age-appropriate creative dance class with one of our professional dance instructors is the highlight of your two-hour event. A separate room is provided for refreshments and gifts. Founded in 1986 by professional dancers Beth Fritz-Logrea and Jean Logrea, the Academy offers classes in ballet, jazz, tap, modern and Zumba. Call for information on parties, summer or fall classes.