From a high of 42%, recycling in Westchester is now at a slipped level of 41%.  The county needs more trash, says Marianne Petronella, director of the Westchester County Recycling Office.  Here's how you and your family can help: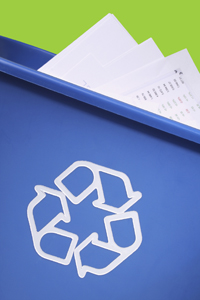 Paper
   Did you know that each one of us uses on average 580 pounds of paper a year, and that recycling 2,000 lbs. (one ton) of paper saves 17 trees?
   At the curb, Westchester is doing a great job recycling its newspapers.  But newspapers make up only a small portion of the papers we could recycle.
   Don't forget to really bulk up those recycling bins with "heavy" weight catalogs, magazines, junk mail (letters, all types of envelopes, promotional advertisements), and brown boxes made with corrugated cardboard.  All these items can really add up in tonnage.  Place the paper in a brown paper bag, corrugated cardboard box, or loose in the recycling bin, or tied with twine.

Glass, Metal and Plastic
   We need to continue recycling glass, metal and plastic (coded 1 & 2) food and beverage containers.  For starters, recycling plastics and glass saves oil.  Just remember NOT to place any of these recyclables in plastic bags which contaminate the recycling load. 

Electronics, Cell Phones, and More
   There are many other items that can be recycled — TVs and computer monitors are accepted at special recycling events; cell phones can be dropped off at many locations raising funds for domestic violence and other well-deserving causes; tires, automotive fluids… the list goes on.  Go to www.westchestergov.com/envfacil or call the Recycling HelpLine at (914) 813-5420.

EDUCATE YOUR KIDS ABOUT THE IMPORTANCE OF
RECYCLING
   You can set a good example by involving your kids in household chores that include recycling. Westchester County's Recycling Office can also help your children's schools to start or rev up a recycling program.

—Technical assistance for setting up and maintaining a recycling program. The Recycling Office can assist school principals, custodial staff, and teachers in setting up and maintaining a recycling program that fully complies with the Source Separation Law.

—Class tours at the Education Center of the Westchester County Material Recovery Facility (MRF) in Yonkers.  MRF tours are free of charge and are given on an appointment basis.  The tour educates participants about the recycling process. Groups are taken to the observation tower and shown the machinery which is used to separate, sort and prepare materials to be sold to vendors who then recycle the collected materials.   From that tower, viewers can also see the tipping floor, where truckloads of  recyclables are delivered and dropped off.   A brief presentation and educational video is shown to explain the purpose and benefits of recycling.  Tours can be given to students of all age groups, Monday through Friday, and typically last between 45-60 minutes. The MRF is located in Yonkers; Exit 6A/ Stew Leonard Drive, off I-87, just opposite Home Depot and Stew Leonard's.

—Assembly presentations about  recycling. Speakers from the Recycling Office can visit schools and conduct assemblies that include a  slide presentation and Q&A about recycling, waste reduction, and other trash-related topics.

—Free educational handouts, posters and stickers to be placed on containers for recyclables. Vinyl stickers can be placed on anything from a cardboard box to a fancy plastic container, and help designate recyclable drop-off points.

   For more information, visit www.westchestergov.com/envfacil or call the Recycling HelpLine at (914) 813-5420. The Household Chemical InfoLine can be reached at (914) 813-5425; and Treasure Hunt (a waste reduction program putting Westchester's useable items to good use) at (914) 813-5415.


RECYCLING IN WESTCHESTER —
A Timeline
   Back in 1989, Westchester County was recycling a mere 57,900 tons or 9 percent of its trash. The county instituted a program to work with local towns, cities and villages to reach a goal of 40 percent recycling by 1997.
   A recycling law was passed in September 1992 and recycling became mandatory.  By 1994, recycling had tripled to 180,300 tons or 27 percent, and by 1997 we had achieved our goal of 40 percent, recycling 260,300 tons.
   But let's not stop there.  Our next goal is 50 percent and recycling in Westchester has grown to nearly 42 percent or 372,600 tons by 2000.
   But unfortunately, our numbers have been slipping and Westchester is currently recycling only about 41 percent of its trash.