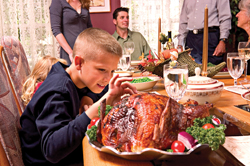 For parents with kids that don't like the traditional Thanksgiving foods, here are some nutritionist-approved suggestions to help create a healthful, successful holiday meal.
Parents of picky eaters know that mealtime can be challenging. Thanksgiving, a holiday full of food traditions, is no exception. What to do with kids who don't like traditional Thanksgiving foods? Here are some strategies to help parents appease their kids with fussy appetites without sacrificing nutrition, straying from fall traditions or creating a lot of extra work.
Sometimes these kids just want to make food decisions on their own. For them, simply offer up a menu of healthy options. No matter what they choose, they'll win nutritionally.
For other children, it may take some stealthy and healthy creativity to make wholesome foods fun. Just remember that to establish healthy eating patterns, parents are responsible for getting everyone to the table and providing good food options and kids are responsible for what they choose and how much they eat.
Big Idea #1: Involve your kids in meal planning and aspects of the food preparation process to give them some control over the meal without sacrificing nutritious food choices.
At-a-Glance
If you usually serve...

Let your picky eaters choose from a menu of...

Whole turkey

Skinless drumsticks

Baked breaded chicken fingers

Turkey salad made with picky-eater approved mix-ins

Egg "boats" or scrambles

Mashed potatoes

A kid-friendly variation on the favorite: favorite color mashed potatoes, baked potatoes, potato "daggers" (wedges)

A sweet alternative: sweet potatoes, yam medallions, honey mashed potatoes

An alternative carbohydrate: pasta, whole grain bread cut into shapes

Vegetable side dish

Minitrees (broccoli)

Forest spears (asparagus)

Baseball bats (carrot sticks)

Little green logs (green beans/string beans)

Big yellow logs (corn on the cob)

Exploding pebbles (mixed peas and corn)
1. If your kids are reluctant to eat turkey from the whole bird, this may be one time to be flexible and prepare foods just for them. Let them pick from skinless drumsticks (which can be prepared separately or carved from the whole bird), or go with a kid-friendly classic like chicken fingers that can be breaded and baked as a healthier alternative to frying. Kids can help prepare the breading mix by adding in their favorite herbs.
Another option is a turkey or chicken salad into which kids can mix in extras; options may include dried cranberries, celery, apple, pear, onion, herbs, mustard, bell peppers.
Eggs are a fun and easy alternative to turkey that still provide a high quality protein for kids. Hard-boiled eggs can be halved to create "boats"; egg scrambles can be as simple as whisked eggs, pepper, and a small amount of your child's favorite cheese.
2. For potatoes, let kids pick from an array of options, such as mashed potatoes, honey mashed potatoes, baked potatoes, sweet potatoes, yam medallions and potato wedges. If they choose mashed potatoes, ask them if they'd like them in their favorite color - red, green, blue, etc and just mix in a few drops of food coloring. If they are curious about one of the choices, try introducing it in a meal prior to Thanksgiving to get the okay, and remind them that it was their potato dish of choice.
3. For a vegetable side dish, present a menu of items with fun names like minitrees (broccoli), forest spears (asparagus), baseball bats (carrot sticks), little green logs (green beans/string beans), big yellow logs (corn on the cob), exploding pebbles (mixed peas and corn).
Big Idea #2: Get hands-on with the kids this Thanksgiving by helping them make their own healthy plates. Concept plate "toolkits" can be prepared in advance. Guidance, if requested, can be given at the table. It's a great way to get picky eaters involved in food preparation. Kids are often more receptive to trying the foods they make themselves.
The concept plate

As a preholiday activity, get kids to be creative and draw what they think any of the following might look like.

The tools

Working from the blueprints (aka your kids' drawings), pick healthy options that are visually similar. Below are some suggestions.

Dinosaur playground

Drumstick for body of dinosaur

Carrot sticks for legs and tail

Mashed potatoes for ground

Broccoli for trees

Apple slices for boulders

Funny face

Brown rice for skin

Halved hard-boiled egg whites for eyes

Carrots for nose and eyebrows

Cranberry sauce lips

Spaghetti hair

Peas for freckles

Bell pepper rings for eye glasses

Volcano

Mashed potato "mountains" with gravy "lava"

Assorted vegetables for scattered "debris"

Rescue "boats" made of halved hard-boiled eggs
A Few Final Tips
Safety: Make sure kids' hands are clean before they help out with food preparation. Supervise all activities, but pay special attention to make sure they wash their hands before and after handling raw meat, and use your judgment on whether they are ready to work with sharp utensils.
Drinks: Provide appropriate serving sizes of 100 percent juice, and give your child the choice between a few seasonal options such as apple juice, apple cider or cranberry juice. Don't forget - water is always in season!
Dessert: Apples are usually a hit, even with picky palates. Let your kids create their own yogurt parfaits with nonfat vanilla yogurt, apple slices, and, if they choose, dried cranberries, walnuts or banana slices.