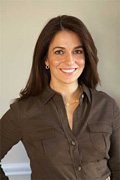 Constantly missing her children's play dates and appointments,
Nina Restieri
needed a system that would keep her organized. There were a variety of planners on the market, but there was nothing just for moms. So Nina created
momAgenda
, a functional and stylish line of organizational products that have helped millions of other moms set their schedules straight.  
Quick stats
:
   Married for 13 years to Larry, Nina has four children: Andrew 12, Jenna 10, Matthew 9, and Jamie 5. They live in Old Greenwich, CT.
How did you come up with the idea for momAgenda?
   I was a stay-at-home for six years and I wanted to start my own business, but I really didn't know what I was going to do. I woke up one morning, and for some reason I was thinking about wedding planners. I realized that there were so many wedding planners for brides to plan just one day, but moms have a million things to coordinate every day and there was nothing for them.
What was the process?
   I started making a prototype at home and then I bounced the idea off other people. I asked my friends, "If I created this, what would you want it to include?" I also found a consultant who had worked with calendars and knew a lot about developing them, and she helped me develop the product.
   I definitely set goals but it was putting one step in front of the other and asking myself, "What do I want to do today to push this forward?" That approach was good for me because if I thought of the enormity of the task ahead, I would just get overwhelmed.
Did you have a timeline?
   I started in spring 2004 and I knew the National Stationery Show in New York was in 2005. The show started on Sunday and my samples arrived the Friday before! No one had seen the finished product and we went to the show without having any feedback, but we completely sold out our inventory. It was so exciting!
Did you expect that would happen?
   No, I didn't think that was even a possibility. I hoped that a few stores would pick it up but I honestly thought this would be my hobby. 
What do you think is so appealing about momAgenda?
   I think moms like that it's created just for them and also that it was created with input from other moms.  
What were your roadblocks along the way?
   I think people are naturally resistant to change and they really don't want new things, so it was hard to rally all the people I needed to create this and get them to take it seriously.
What was the biggest key to your success?
   All of the experts I put my confidence in. I think it's important not to have an ego and to let the experts really do their thing. It's saying, "I don't know how to do this but there are other people who do."
Before starting momAgenda, you were president of your mother's marketing company. How did that prepare you to start your own company? 
   It made me realize that I really could do it and that it was not this big scary thing that people think it is.
What's the best part of your job
?
   It's pretty cool that this product helps me so much and I know it's helping other women, too. Being a business owner, I also like the flexibility because I get to be a mom first. I pick up my kids from school every day and I help them with their homework. I work when it works for me.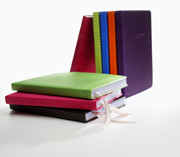 In a world filled with BlackBerries and iPhones, how do you compete and set yourself apart?
   The digital calendar programs work well for a lot of people but momAgenda is for people that they don't work for. With the digital programs, you really need to set aside time to sit down at your computer. With momAgenda, you can have it on the soccer field or wherever you need it.
What's one piece of advice you have for someone wanting to launch her own product?
   Don't go in blindly. Talk to as many experienced people as you can and get advice. Find out if your idea is viable and don't think you can do it on your own. It's not just okay to ask for help, it's critical.
How do you manage work/life balance?
   I'm lucky because all four of my children are in school until 3 o'clock, so that's my work time. I try not to do too much after I get home but I'm always available if something comes up at work.
Celebrity stylist Rachel Zoe recently said that's she a big fan of momAgenda. Do you think it will be the newest celebrity accessory?
   I hope so! We've gotten a lot of great feedback from Courtney Cox, Felicity Huffman, and Kimberly Williams Paisley as well.
What's next for momAgenda?
   We're going to continue to develop products that help moms and make their lives easier. We're also working on products like our new School Years line that help moms organize their children's class pictures and report cards.