With the diagnosis of a highly allergic child, some moms might get mired in negativity.  But Long Islander
Jessica Wolfe
took a Zen approach — ZenMomma, to be exact. She has used her background in cosmetology to develop a line of natural skin care products —
Baby Cakes by ZenMomma
.  "Baby Cakes" is her nickname for her son, Lawson, now 3 1/2.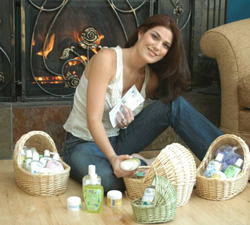 Lawson is "allergic to everything," Wolfe explains, including the Band-aids he needed to cover the blistering sores he got from severe reactions.  The first product she came up with, Bye Bye Boo Boo, is a gentle salve that soothes cuts, dry skin, and insect bites.  It comes in a stick, making it easy to carry in a diaper bag or purse.
   When Wolfe first created Bye Bye Boo Boo, she was intending it solely for Lawson's use.  But the lab that made up her combination of calendula, comfrey and tea tree required such a large minimum order, she went for it, and then began giving away extras to her friends.  As she developed different products and had more to give away, she realized this could be a business.
   But Wolfe, who has since given birth to a daughter, Asia, now 11 months old, also believes in not having "too much stuff".  To that end, her products have more than one use. Rear Repair diaper rash cream also combats eczema — because "from my mommy perspective, I want to make things simpler," she explains. She also developed a formulation that heals diaper rash effectively, yet doesn't stick to a baby's bottom — or the hands of the person changing the baby's diaper.
   Other products have been introduced as Lawson's needs have changed. On a trip to Lake George, "where we were eaten alive," Wolfe could not find an effective, DEET-free insect repellant.  But she noticed that the basil and geraniums in her garden kept bugs away. She used these, along with citronella, to create No-Fly Zone, a water-based spray that can be used on a stroller or infant carrier to keep bugs away from baby.  As Wolfe adds, "Some people think 'natural' means not effective, but this is not true."
   After an outbreak of lice in Lawson's preschool, Wolfe developed Mane-Event Natural Hair Gel, which, she says, uses rosemary oil to repel lice, and tea tree, peppermint and lavender to keep other bugs out of the hair.  The gel also tames cowlicks and helps curly hair manageable (Asia sports a head of thick curls!).
    Other Baby Cakes products include shampoo & body wash, and body lotion. Wolfe hasn't made a conditioner because she says the shampoo leaves hair so shiny and soft, a conditioner isn't necessary.  And she found all-natural sunscreens that worked, so she doesn't see the need to introduce yet another product to a crowded marketplace
.
   Jessica, who now lives in Bellmore, grew up in Woodhaven and Howard Beach, and worked a variety of jobs with her husband, Larry; he now works from home and shares child care duties.  
   Baby Cakes by ZenMomma products are $12.50-$24 at www.zenmomma.com.