Working through infertility can be a challenge.  But for Orthodox Jewish couples, those challenges get complicated when you factor in religious restrictions.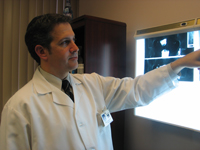 It helps that fertility specialist Dr. Harry J. Lieman (pictured) is an Orthodox Jew himself, because he counsels many such couples as practice director of Montefiore's Institute for Reproductive Medicine and Health in Hartsdale. Orthodox Jewish couples observe family purity laws that dictate certain times each month when a husband and wife may not have physical contact. This is not a problem if the woman's menstrual cycle is the standard 28 days, because fertility is easy to pinpoint in a regular cycle. But, Dr. Lieman explains, "If the woman's cycle is not as precise, the family purity laws may interfere with her chance to conceive. This, of course, can be very frustrating for the couple. However there are ways to manipulate the cycle to improve the timing and allow the observant couple to live within the framework of the Jewish law." Dr. Lieman, who is board certified in obstetrics and gynecology and reproductive endocrinology and infertility,  estimates about five percent of his patients are Orthodox Jews, some of whom travel from Riverdale and Rockland County for his services.
   Rabbis play a central role in the Orthodox Jewish community, and as with any weighty decision in their lives, a couple will often consult their rabbi before considering IVF. "I have gotten calls from rabbis asking what testing and procedures have already been done," says Dr. Lieman, who has been counseling observant couples since 1996. "The rabbi wants to know if everything possible has been done before the couple goes high-tech. Rabbis may not be medical professionals, but they are usually very educated in these matters. They want to know exactly what has been done before they offer counsel to a couple."
   Infertility is diagnosed when a woman younger than 35 is unable to conceive within a year, and when a woman over 35 is unable to conceive within six months. "Age is an important factor," Dr. Lieman says. "No matter what the etiology (cause) of the infertility, when a patient is younger it helps."
   Nevertheless, an Orthodox couple may choose to postpone an evaluation, even after a year has passed. "If the rabbi and the couple want to change the timetable, we will modify our plans with them," says Dr. Lieman.
   He has also spoken with his patients' rabbis about concerns regarding the collection of semen for fertility testing, and if requested, can offer alternate testing options.
   If a couple decides to pursue IVF, there are further religious regulations regarding the child's origins.  In such cases, Dr. Lieman will permit an overseer for the entire fertilization process. The service is based on a program that began in Israel.  "If desired, a rabbi will assign someone to follow the 'chain of custody'. This person is not necessarily a nurse or even in the medical field, but has been taught about the process and can monitor the lab's long-established checks and balances. This observer will vouch for the collection of the egg and sperm, monitor the embryologists' work, and watch the gametes (reproductive cells) on a daily basis until they are implanted."
   Like many couples having trouble conceiving, Dr. Lieman's patients often ask: "Why us? Why is nature not taking its course?"
   "I wear many hats in my office when seeing patients," he says. "I can be a medical doctor one moment, dealing with complicated hormonal imbalances. I can be a surgeon at another moment, preparing to repair damaged fallopian tubes. Sometimes I act as a therapist, and I guess I can add philosopher to the list, too."
   The Institute for Reproductive Medicine and Health is affiliated with Montefiore Medical Center and the Albert Einstein College of Medicine. It is located at 141 South Central Avenue, Hartsdale. (914) 997-1060; www.montefiore.org/services/coe/womenshealth/invitro/mirmh.