Feeding your children can be stressful because you want to make sure they eat well.  And sometimes it seems no matter what you prepare, it doesn't appeal to them. Now imagine you are an excellent cook – and the editor of a food magazine to boot – but your child is allergic to almost everything you make.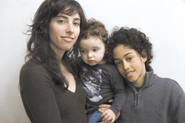 Meet Silvana Nardone.  Her 11-year old son, Isaiah, developed food allergies last fall.  He has to avoid wheat, dairy, eggs, soy, peanuts — "all his normal foods," says his mom. The situation challenged her to look at food completely differently.
   Nardone, the editor of
Every Day with Rachel Ray
, once had a bakery in Red Hook, so she is accustomed to being creative with food.  Nevertheless, she says the food allergies her son exhibited "turned her cooking upside down."  A huge issue was his school lunch. "We decided to forget trying to recreate what he used to have and started fresh," Nardone recalls.  Now she packs lunches including chili, rice pasta and enchiladas.
   As a food editor, Nardone is willing to experiment with her cooking, and, she says, unafraid to fail.  For example, it took her many tries to perfect a cornbread made without flour.  How was she to thicken corn chowder without cream? Her solution: mash in creamy cannelloni beans.  Walnut oil mimics the nuttiness of butter in mashed potatoes, and crushed rice cereal stands in for breadcrumbs.
   Isaiah has also shown a willingness to experiment, and has added dishes like spaghetti with mussels to his repertoire. Nardone says one of her goals is to "fill his diet with things he loves to eat, so he won't crave what he used to eat."
   Nardone cooks within Isaiah's limitations for the whole family, including her one-year-old, Chiara. Nardone noted that Chiara is so new to food that she is open to trying anything. "Her palate has no pre-conditioned flavors," she says, adding that her husband is a vegetarian, which is "an extra layer of fun for me."
   Isaiah first exhibited food sensitivities when he developed warts, and Nardone says the new diet, which cleared up the skin condition, has offered visual proof that "you are what you eat."  Nardone said that Isaiah has learned about the power that food has, and how taking control of your diet can literally change your life. It's a lesson that anyone can learn.
Silvana Nardone's Creamy Corn Chowder
Cannellini beans may not be a classic corn chowder ingredient, but they give the chowder a nice, creamy consistency.
Serves 4 
2 tablespoons extra-virgin olive oil
1 small onion, finely chopped
2 stalks celery, cut into 1/4-inch pieces
1 potato, peeled and cut into 1/2-inch pieces
3 ears corn, kernels removed, or one 10-ounce bag frozen corn
1 15-ounce can cannellini beans, mashed until creamy
1 quart vegetable or chicken broth
Salt and pepper
2 jalapeño peppers, seeded and thinly sliced lengthwise  
In a large pot, heat the olive oil over medium-high heat. Add the onion and celery and cook until softened, about five minutes. Add the potato, corn, mashed beans and broth; bring to a boil. Reduce the heat to medium and simmer until the potatoes are tender, about 15 minutes; season with salt and pepper. To serve, ladle the soup into bowls and top with the jalapeno slices.