Apple picking makes for a quintessential family weekend getaway or day trip that brings fruitful rewards far after you've left the orchard. Here, we've put together a guide to pick-your-own apple farms in New Jersey, which are all just a short trip from NYC.
Take advantage of the crisp fall weather and venture out to the orchards for equally crisp and delicious apples, plucked straight from the tree. Many of the local orchards listed here offer low-hanging branches ideal for your little ones to pick and fill their own bushel of autumn's freshest fruit. While you're there, join in fun farm activities like hayrides, farmers markets, and petting zoos.

Please note: Dates and availability are subject to change. We recommend calling ahead before visiting these farms.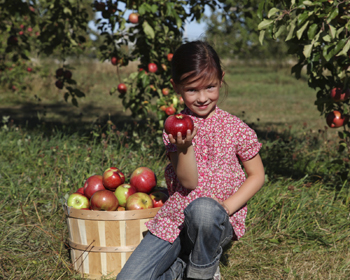 BERGEN COUNTY
Demarest Farms
244 Wierimus Road, Hillsdale
201-666-0472


Pick-your-own apples beginning Sept. 6, weekends 10am-4:30pm; weekdays 3-4:30pm. Reservations for schools or large groups available. Farm store with bakery, apple cider, salad bar, and fresh produce. Weekend hayrides available and during the week by reservation. Also offering a corn maze and farm animals.
MORRIS COUNTY
Alstede Farms
84 County Route 513 (Old Route 24), Chester
GPS location: 1 Chesterfield Drive, Chester
908-879-7189

Apple picking through September and October, 9am-7pm daily. Seasonal U-pick vegetables, pumpkins, peaches, raspberries, blackberries, blueberries, strawberries, and flowers (call for availability). Two corn mazes, hay pyramid, hayrides, free-range animals on site, and pony rides. Farmers market with homemade ice cream and homegrown fruits and vegetables.
Hillview Farms
223 Meyersville Road, Gillette
908-647-0957

Pick-your-own apples in September and October, 9am-5pm daily. Call for availability. Store open until 6pm. Also offers hayrides, pick-your-own pumpkins, farmers market with homemade pies, fruits and vegetables, honey, donuts, and apple cider.
Riamede Farm
122 Oakdale Road, Chester
908-879-5353

Apple picking (34 varieties) Aug. 31 through October, 9am-4:30pm daily. U-pick pumpkins and tomatoes in September and U-pick Indian corn in October. Hayrides available.
Stony Hill Gardens
8 Route 24 (Route 513), Chester
908-879-2696


Pick-your-own apples in September and October, 10am-4pm daily. Apples sold by the pound. Pick-your-own pumpkins start in late September. Store and greenhouse on premise (open 9am-6pm daily). Hayrides on weekends.
Sun High Orchards
19 Canfield Ave., Randolph
973-584-4734

Apple picking after Labor Day through October, 9am-6pm daily. Call for available varieties. Farmers market with fresh fruits and vegetables, homemade pies and baked goods, and homemade ice cream. Weekend hayrides available.
Wightman's Farms
1111 Mt. Kemble Ave. (Route 202), Morristown
973-425-9819

Pick-your-own season open now through October. Weekends 9am-5pm. On premises store and bakery with homemade cider and pies, corn maze, and pumpkin slingshot. Weekend hayrides available.
SUSSEX COUNTY
Pochuck Valley Farm
962 Route 517 (McAfee-Glenwood Road), Glenwood
973-764-4732

Apple and pumpkin picking in September and October, 9am-4pm daily. Farmers market with deli, homemade donuts, pies, jams, cider, and fresh fruits and vegetables. Gift shop on premises.
Windy Brow Farms
359 Ridge Road (Route 519), Fredon Township
973-579-9657

Pick-your-own apples (35 varieties) early September through mid-October, 10am-4pm on weekends for the general public. Wagon rides to orchard available on weekends. Store on premise with apple pies and apple cider donuts, jams, jellies, homemade ice cream, and seasonal fruits and vegetables.
WARREN COUNTY
Longmeadow Farm
561 Blairstown Road (Route 521), Hope
908-459-5351

Apple picking (15 varieties) on fall weekends 9am-5pm. Pumpkin picking begins in October. Hayrides available. Store on site with sweet corn, fruit butters, jams, jellies, and honey.
Mackey's Orchard
284 County Road 519, Belvidere
908-475-1507

Apple picking (approximately 50 varieties) through September and October, weekends 10am-4:30pm. Farmers market, bakery, ice cream barn, and playground on site.
Race Farm, LLC
87 Belcher Road, Blairstown
908-362-8151

Apple and pumpkin picking late September through October, 9am-5pm daily. Store on premise with pre-picked produce and bakery. Free hayrides on weekends starting at about 11am.
MERCER COUNTY
Terhune Orchards
330 Cold Soil Road, Princeton
609-924-2310

Pick-your-own apples through October, 9am-5pm daily; also have pick-your-own pumpkins and gourds September through October. Apple Day festival is Sept. 13-14. Fall harvest festivals with wagon rides and pony rides every weekend, 10am-5pm, from Sept. 13 though Oct. 26 (see website for details). Farmers market with pre-picked fruits and vegetables, apple cider, donuts, and more (open year round). Barnyard of farm animals on site and a 1-mile nature trail (open to visitors daily). Winery and tasting room on site.
Beyond NJ
Planning a day or weekend trip to Long Island, Connecticut, or Southeast New York? Check out our complete guide to apple picking near NYC