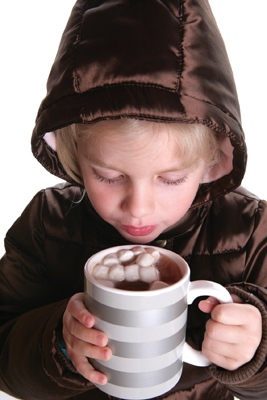 We've highlighted some of the coziest cafes in New York City where families can grab a steaming mug of cold-weather beverages like hot cocoa or tea. Our guide includes sweet stops in Manhattan, Brooklyn, and Queens.
Manhattan
Alice's Tea Cup is a tea shop with an Alice in Wonderland theme, perfect for parties or an afternoon meal. The shop carries more than 130 varieties of tea in three-cup pot ($6) and six-cup pot ($8) servings, all of which can be included in the Afternoon Tea selections. Options for Afternoon Tea include the "Wee Tea" for children (choice of tea, scone, sandwich from the "menu for the small," and cookies for $15); "Nibble" (choice of tea, scone, sandwich, and cookies for $23); "Mad Hatter" (choice of tea, scones, two sandwiches, and a dessert for $30; $37 for two); and, for those throwing caution to the wind, the "Jabberwocky" (choice of tea, scones, unlimited sandwiches, and two desserts for $38; additional $20 to share). In addition, Alice's serves a traditional hot chocolate, and a "Loco Cocoa," with cayenne, cinnamon, and nutmeg ($4). Open daily 8am-8pm. 102 West 73rd Street; 156 East 64th Street; 220 East 81st Street, Manhattan. 212-734-4TEA.
City Bakery's hot chocolate is made from a secret recipe ($5), and every cup is served with homemade marshmallows. Each February, the bakery hosts an annual Hot Chocolate Festival, featuring a different flavor of hot chocolate each day of the month. Enjoy flavors like Banana Peel, Espresso, Hi-Ho Pistachio, and many more. Open Monday-Friday 7:30am-7pm, Saturday 8am-7pm, Sunday 9am-6pm. 3 West 18th Street, Manhattan. 212-366-1414.
Hot chocolate is the specialty at Cocoa Bar, where the drink comes in a variety of flavors, including dark, milk, mint, spicy, cinnamon, and white ($4-$4.50). Chocolate is also the theme of a variety of different beverages, including the Choco-latte (a combination of espresso, hot chocolate, and syrups), and the Cocoa Bar blend of tea, a black tea mixed with chocolate ($1.85-$2.75). In the evenings, Cocoa Bar features a wine and cocktail menu that offers French hot chocolate, a dark blend made with port, or the spicy chocolate martini made with hot chocolate and sake. Upcoming art shows and Thanksgiving specials are featured on its website. Open Sunday-Wednesday 8am-12am, Thursday-Saturday 8am-2am. 228 Seventh Avenue, Brooklyn (718-499-4080); 21 Clinton Street, Manhattan (212-677-7417).
Jacques Torres makes its own hot chocolate powder from real chocolate. The Classic Hot Chocolate comes with a variety of add-ins, including handmade, all-natural ingredients (no syrups!) like peanut butter, caramel, orange, and mocha. All of these flavors can be mixed with ground ancho and chipotle peppers, which transforms the hot chocolate into Wicked Hot Chocolate (starts at $3.25; add-ins are 50 cents each). Manhattan locations: 350 Hudson Street at King Street; 285 Amsterdam Avenue; 75 9th Avenue in Chelsea Market. Also at 66 Water Street in Brooklyn. Call for location hours. 212-414-2462.
Lady Medl's Tea Salon has been consistently rated the best and most romantic Tea Salon in New York City. The Victorian-style architecture and furnishings help transport customers to a time of sublime elegance. The Five Course Royal Tea Service ($35) includes a seasonal amuse bouche, selection of tea sandwiches, scones with clotted cream and preserves, a slice of Lady Medl's signature cake, assorted cookies with chocolate covered strawberries, and a pot of freshly steeped tea. Reservations required. Seatings: Monday-Friday 3pm-5pm (additional seating Wednesday at 12pm), Saturday-Sunday 12pm, 2:30pm, and 5pm. Located at the Inn at Irving Plaza, Irving Place between 18th and 19th Streets, Manhattan. 212-533-4466.
Max Brenner's hot chocolate (made with 100 percent chocolate) is a light and frothy beverage that comes in dark, milk, white, or Swiss whipped cream varieties ($5.25; $1 for additional flavor shot, from hazelnut to banana) and is served in a Hug Mug. Classic chocolate beverages like Italian Thick Hot Chocolate (with vanilla cream) and Mexican Spicy Hot Chocolate (with red chili, nutmeg, cinnamon, and pepper) are also on the menu. Monday-Thursday 9am-12am; Friday and Saturday 9am-2am; Sunday 9am-11pm. 841 Broadway between 13th and 14th Streets. 212-388-0030.
Serendipity 3 is well known for its tasty desserts and exquisite beverages. Its hot chocolate is $5.50; for an extra 50 cents, customers can get the Serendipitous Hot Chocolate, topped with whipped cream, grated orange, cinnamon, and shaved French chocolate. Other options include the Frrrozen Hot Chocolate ($8.95), Peanut Butter Frrrozen Hot Chocolate ($9.50), and Frrrozen Mint Hot Chocolate ($8.95). Tea-lovers can indulge in one of seven varieties ($3.50 per pot). Serendipity also serves a full lunch and dinner menu. 225 East 60th Street, Manhattan. 212-838-3531.
Tea & Sympathy requests that you come hungry for their Afternoon Tea. Service includes your choice of tea, six finger sandwiches, two scones with clotted cream and jam, and a piece of cake ($35; $60 for two). In addition, Tea & Sympathy stresses a no-frills environment, with a very kid-friendly menu and atmosphere. Tea is also sold by the pot ($4.75), and comes in about 30 varieties. 108 Greenwich Avenue, between 12th and 13th Streets, Manhattan. 212-989-9735.
Brooklyn
The Chocolate Room offers hot cocoa three ways: classic milk chocolate, a 61 percent dark bittersweet chocolate, or a spiced dark chocolate made with ancho chiles, cloves, cinnamon, and chipotle ($4.50). Add homemade marshmallow or fresh whipped cream for an extra 75 cents each. The Chocolate Room also serves a full chocolate-themed dessert menu ($5.50-$10.50), and chocolate teas ($2). Open Sunday-Thursday 12pm-11pm, Friday-Saturday 12pm-12am. Two locations: 86 Fifth Avenue (718-783-2900) and 269 Court Street (718-246-2600), Brooklyn.
Sweet Melissa Patisserie serves three types of three-tiered adult tea options: the Afternoon Tea ($25) includes a pot of tea, scone with clotted cream and preserves, mini quiche, salmon spring roll, curried chicken salad finger sandwich, and an assortment of petit-fours; The Queen's Tea ($35) adds a soup and salad to the meal; and the Champagne/Mimosa Tea ($40) adds a glass of bubbly to the Queen's Tea. For kids, the Prince/Princess Tea ($15-$19.95) includes tea, scone, children's sandwich, and petit-fours. The experience is heightened for children with the available dress-up trunks, featuring an assortment of costumes from princesses to pirates. Sweet Melissa also offers custom-made hot chocolate with real chocolate morsels and homemade vanilla marshmallows. The Mexican hot chocolate is blended with cinnamon and topped with a cinnamon marshmallow (all $4.50/mug, $6/bowl). Open Monday-Thursday 7:30am-10pm, Friday 7:30am-12am, Saturday 8am-12am, Sunday 8am-10pm. Two locations: 276 Court Street (718-855-3410); 175 Seventh Avenue (718-788-2700), Brooklyn.
Queens
Canelle Patisserie's original hot chocolate is a homemade blend of milk and dark chocolate, milk, vanilla, and secret ingredients ($2.25-$3). The French patisserie also serves more than 10 varieties of Harney and Sons full-leaf teas, as well as classic Lipton ($1.25-$1.50). Additionally, it serves a wide array of quiches, sandwiches, cakes, and tarts. Open Monday-Friday 6:30am-8pm, Saturday 7am-8pm, Sunday 7am-6pm. 75-59 31st Avenue, Jackson Heights. 718-565-6200.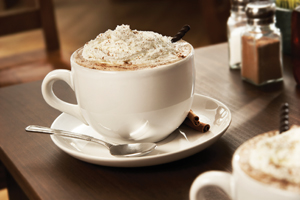 Martha's Country Bakery carries a variety of eight herbal teas ($1.95), a chai tea ($3.25), and chai latte ($4.25). It also serves a homemade hot chocolate, blended from melted Hershey's chocolate and steamed milk ($2.25). Seasonal flavor varieties include peanut butter and pumpkin hot chocolates ($3). In addition to delicious beverages, Martha's offers desserts and pastries, including a number of pumpkin-flavored treats for fall. Open Monday-Thursday 6am-11pm, Friday-Saturday 6am-12am, Sunday 6am-11pm. 70-30 Austin Street, Forest Hills (718-544-0088); 36-21 Ditmars Boulevard, Astoria (718-545-9737); 41-06 Bell Boulevard, Bayside (718-225-5200).
See our complete guide to the best hot chocolate and tea spots in the New York metro area