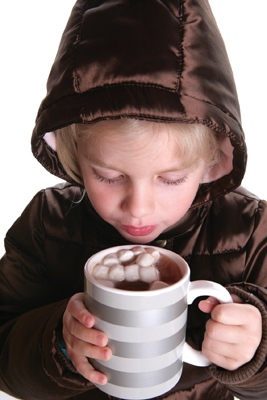 We've highlighted some of the coziest cafes on Long Island where families can grab a steaming mug of cold-weather beverages like hot cocoa or tea. Our guide includes sweet stops in Suffolk and Nassau Counties.
Suffolk County, Long Island
Caffé Portofino serves breakfast, lunch, and a full espresso bar in a kid- and stroller-friendly environment. Its rich hot chocolate is made with Guittard chocolate sauces ($2.50-$3) and comes in a variety of flavors. Its specialty hot chocolate, called Campfire Cocoa, is made with milk chocolate and toasted marshmallow syrup and topped with marshmallow cream and graham cracker crumbs. The café carries full-bodied Mighty Leaf teas in 10 varieties ($1.90-$2.40) and offers an organic chai tea latte ($4-$5). Its specialty is the Dirty Hippie, a chai latte with espresso ($4-$5). In November, the café will host a Sunday Jazz Brunch and a free comedy night for parents; more info about both events can be found on the website. 249 Main Street, Northport. 631-262-7656.
Georgio's Coffee Roasters in Huntington sells coffee and teas from all over the world. It offers about 15 varieties of exclusive and exotic teas, including white, black, and green teas ($2.25-$2.50). Its rich and creamy hot chocolate is a blend of dark chocolate, sweetened cocoa, and steamed milk ($2.25-2.50). Georgio's products are eco-friendly and fair trade-certified. 146 West Jericho Turnpike, Huntington. 516-238-2999.
Tea Time Cottage in Jamesport has a casual environment where country music plays in the background, families can enjoy a walk through the garden, and kids can go outside to feed the goats. It offers 42 different types of tea, from white to green to black ($3.95 for one, $7.50 tea for two, $12.95 tea for four), along with a daily flavor of iced tea and hot chocolate ($2.95). For anyone looking to make their own, the cottage also sells its teas loose by the ¼ lb. ($6.95-$19.95). A lunch menu with soups and sandwiches along with scones and a small variety of baked goods is available. 5913 Sound Avenue, Jamesport. 631-722-5329.
The Greenport Tea Company's High Tea for two includes assorted tea sandwiches, scones with jam and cream, mini pastries, fruit tart, and hot or iced tea ($28.75; $55 for the Double High Tea, which serves three to five people). Pots of tea are $2.25-$4.50 per person. It also has a full lunch menu with daily specials. 119A Main Street, Greenport. 631-477-8744.
Robinson's Tea Room is a full-service restaurant that serves both tea and lunch items such as wraps, salads, sandwiches, soups, and quiches. The tea room provides a quaint English cottage atmosphere for customers and offers a traditional afternoon British tea service by reservation. The tea service includes unlimited tea, iced tea, or coffee; scones; assorted finger sandwiches; and assorted desserts ($25 per person). There are about 75 varieties of tea available, ranging from traditional English Breakfast, jasmine, and apricot to more exotic flavors like Chocolate Macadamian Nut and Butterscotch Caramel Toffee. While you're there, also pick up one of their popular scones ($3.50). Open Tuesday-Friday 10am-4pm; Saturday 10am-6pm; Sunday 11am-5pm; closed Mondays. 97 East Main Street, Stony Brook. 631-751-1232.
Urban Coffee is a family-owned shop in Greenlawn serving a wide selection of hot beverages. Its hot chocolate can be made with white, dark, or milk chocolate syrup and regular or soy milk ($2.49 and up). All are made from scratch and steamed in an espresso machine. Add a flavor shot, like raspberry, mocha, peppermint, or peanut butter (a popular choice), to make it a special treat (more than 24 flavors to choose from). If you prefer vanilla to chocolate, try the Vanilla Crème, served hot for the colder seasons. The café carries about 25 varieties of tea ($2 and up), and the most popular is its homebrewed chai, made with all-natural ingredients. If you're looking for a pick-me-up, try the Teaspresso-a strong black tea brewed through an espresso machine ($3.29 and up). A variety of baked goods, including gluten-free and sugar-free selections, are available. Free wireless internet, board games, and occasional live music lend a subdued, sit-down quality to the atmosphere. 101 Broadway, Greenlawn. 631-261-7979.
Nassau County, Long Island
Chat Noir Teahouse offers a country, French- style atmosphere perfect for brunch or afternoon tea. The teahouse carries about 50 different teas, which include selections of black, green, herbal, fruit, and oolong. A Tea Service is offered at $18 and includes finger sandwiches, scones, and a pot of tea. Tea is also served alone by the pot ($4 for one person; $7 for two). Lunch is served as well and prices range from $7-$13. French-inspired pastries are a staple here and specialties include fruit tarts, macaroons, sweet pies, and freshly baked croissants and brioche. Reservations can be made for tea parties for children or any other occasion. Open Monday-Friday, 8am-5pm. 230 Merrick Road, Rockville Centre. 516-208-8521.
The Cupcake Corner provides a whimsical and comfortable environment to relax with a cup of hot chocolate or tea. Hot chocolate ($3.25) is made with Valrhona cocoa and cacao barry. An assortment of teas is also available ($1.25-$2.2). There is also a huge selection of tasty cupcakes and gluten-free pastries. Available for family-friendly parties (by reservation), such as baby showers or children's birthday parties (the store boasts a pink and brown theme and a candy wall). Open Monday-Thursday 9am-8pm; Sunday 9am-5pm. 61 New Hyde Park Road Garden City. 516-328-2253.
The Garden City Hotel's Rein restaurant serves a traditional afternoon tea, which includes tea sandwiches, scones, pastries, and your choice of tea ($29). The menu also includes an A La Carte section. Rein's Polo Room is available for birthday tea parties, baby shower tea parties, and other special events. Reservations highly recommended as afternoon tea is not available every Saturday. 45 Seventh Street, Garden City. 516-877-9353.
The Witches Brew is a funky, family-friendly spot that carries 85 organic, loose-leaf tea varieties, most of which are organic or fair trade-certified. The teas are served in a cast iron pot ($2.75-$4.75). It also carries several varieties of homemade hot chocolate ($3.00-$5.50), including a standard brew made with milk chocolate, coffee, and hot chocolate combos, soy hot chocolate, and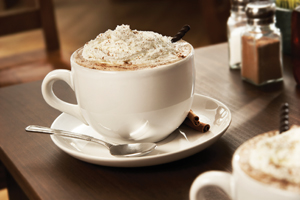 a vegan version made with dark chocolate and topped with vegan marshmallows. One of the unique offerings is the Hot Chocolate Float, made with ice cream and topped with whipped cream. November will bring out the fall-themed teas, which include a dark chocolate matte, pumpkin spice tea, "Get Soothed" tea, and a variety of other wellness teas. Stop by for a late night treat-the café is open till 1:30am every Thursday, Friday, and Saturday and 12am every other day (closed Monday). 311 Hempstead Turnpike, West Hempstead. 516-489-9482.
See our complete guide to the best hot chocolate and tea spots in the NY metro area