Spring has sprung, and botanical gardens across the area are in full bloom with the sweet fragrance of flowers, exotic plants, and trees. Stroll through floral gardens, see amazing landscapes, and you and your family can experience the world's most beautiful forests — all in our own backyard.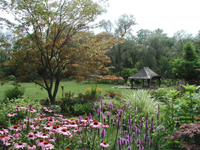 ROCKLAND

The Gardens at Matterhorn
227 Summit Park Road, Spring Valley
845-354-5986; www.matterhornnursery.com/gardens.php
Hours: Monday-Saturday 8am-5pm, Sunday 10am-5pm. Closed Thanksgiving, Christmas Day and New Year's Day.
Prices: $5, $4 seniors, $2 children, FREE under 3 years.
This nursery has elaborate gardens to explore, including the Garden Center Village, consisting of 38 acres of beautiful display gardens and natural ponds. Matterhorn showcases quality plants and everything associated with outdoor living.


NEW JERSEY

Skylands/New Jersey Botanical Garden
Morris Road, Ringwood
973-962-7527; 973-962-9534; www.njbg.org
Hours: Open daily 8am-8pm.
Prices: Admission is FREE.
Skylands is a place of beauty in any season. From the delicate shades of tiny wildflower to the vibrant colors of massed annual plantings, you can wander through formal gardens or along paths winding through the woods and see unusual plant species from around the world. Skylands' most spectacular attractions are Crab Apple Allée, the horse-chestnut collection, Swan Pond and the Meadow, a field for moisture-loving plants such as Flag Iris and many varieties of willow. Higher parts of the meadow contain nut trees.


WESTCHESTER

Lasdon Park Arboretum
Route 35, Katonah
914-864-7268 weekdays; 914-864-7267 weekends; www.westchestergov.com/parks/brochures/LasdonParkmain.htm
Hours: Open daily 8am-4pm.
Prices: Admission is FREE.
The 30-acre Arboretum consists of woodlands, open grass meadows, the colorful azalea garden, and formal gardens featuring trees, shrubs, and flowers from around the world, with ponds and waterfalls. Kids will enjoy the dwarf conifers, where they can tower over a full-grown tree. There is also a historic tree trail commemorating famous people and events. The Chinese Friendship Pavilion was a gift from the People's Republic of China to the people of Westchester.
The Hammond Museum and Japanese Stroll Garden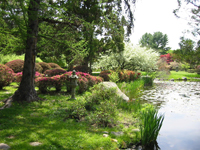 28 Deveau Road, North Salem
914-669-5033; www.hammondmuseum.org
Hours: Wednesday-Saturday 12-4pm
Prices: $5, $4 seniors, FREE under 12. All children's programs are on Saturday 1-3pm, $10 per child.
The Hammond Museum and Japanese Stroll Garden is designed with textures of stone scrolled with patterns of lichen, tree trunks and clusters of foliage, and shades of green and seasonal colors. There are also the songs of native birds, the hum of insects, the chorale of frogs, the occasional splash of carp in the lake, and the crunch of pebbles underfoot. Exhibits include brush painting demonstration, Chinese theater, puppet theater performances, tea ceremonies, and children's origami.


FAIRFIELD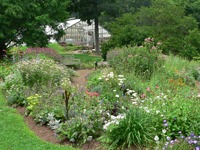 Bartlett Arboretum & Gardens
151 Brookdale Road, Stamford
203-322-6971; www.bartlettarboretum.org
Hours: Bartlett Arboretum & Gardens open daily 8:30am-sunset. Bartlett Visitor Center open Monday-Friday 8:30am-4:30pm. Closed on national holidays.
Prices: $6; FREE ages under 12. FREE on Wednesdays.
The grounds encompass 91-acres of majestic trees, rare plant collections, gardens, and varied natural habitats and landscapes, 15 of which comprise the lawns and formal gardens. The remaining acres include 10 hiking trails, a seven-acre Red Maple wetland with a boardwalk, three-acre wildflower meadow, and a pond. There are year-round educational programs for all ages, an extensive horticultural library, a herbarium with specimens dating back to the 1800s, a summer plant clinic, seasonal events, and family festivals.


BRONX

New York Botanical Garden
Bronx River Parkway at Fordham Road
718-817-8700; www.nybg.org
Hours: Open Tuesday-Sunday 10am-6pm. Closed Monday (except Memorial Day, Labor Day and Columbus Day), Thanksgiving, and Christmas.
Prices: $6; $3 students and seniors; $1 ages 2-12, FREE under age 2. FREE all day Wednesday and Saturday 10am-12pm. Additional fees for exhibits.
The New York Botanical Garden is one of the greatest botanical gardens in the world. It is the largest garden of any in the United States, containing more than one million plants. Kids can explore the world of plants by go on an adventure in the garden and boulder mazes, see larger-than-life flowers and a touch tank containing water-loving plants, and visit the indoor laboratory that introduces young scientists to plant life under a microscope. Additionally, puppet shows, dance and music concerts, and other events throughout the year offer fun for the whole family.

Wave Hill
West 249th Street and Independence Avenue (front gate)
718- 549-3200; www.wavehill.org
Hours: Open Tuesday-Sunday, April 15-October 14, 9am-5:30pm; October 15-April 14, 9am-4:30pm. Closed Mondays (except Memorial Day, Labor Day, Columbus Day and Veterans' Day), New Year's Day, Thanksgiving and Christmas.
Prices: $6; $3 students and seniors 65+; $2 ages 6 and older; FREE under 6. FREE Saturday 9am-12pm; Tuesday all day, January-April, July-August, November-December; Tuesday 9am-12pm, May-June, September-October.
Wave Hill is a 28-acre public garden and cultural center that overlooks the Hudson River and Palisades. Walking paths take visitors past a wide variety of formal and informal gardens and through 10 acres of woodlands. Young children and teenagers experience nature firsthand through Wave Hill's education programs and activities.


BROOKLYN

Brooklyn Botanic Garden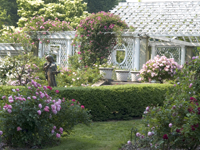 1000 Washington Avenue
718-623-7200; www.bbg.org
Hours: March 8-October 31, open Tuesday-Friday 8am-6pm; weekends and holidays 10am-6pm. November 1-March 7, open Tuesday-Friday 8am-4:30pm, weekends and holidays 10am-4:30pm. Closed Mondays (open holiday Mondays, except Labor Day), Thanksgiving, Christmas and New Year's Day.
Prices: $8; $4 ages 12 and older and seniors 65+; FREE ages 12 and under. Admission is FREE all day Tuesday and 10am-12pm Saturday; FREE for seniors on Friday.
A 52-acre urban oasis featuring over 10,000 different types of plants from around the world. The Discovery Garden lets kids follow birds and butterflies in a meadow, hide under trees, hike a nature trail, and meet a giant spider. General grounds features include a fragrance garden, native flora garden, Japanese hill-and-pond garden, and the world famous Cranford Rose Garden with almost 1,200 varieties of fragrant flowers. Special weekend programs for kids take place throughout the spring and summer.


MANHATTAN

The Cloisters Museum and Gardens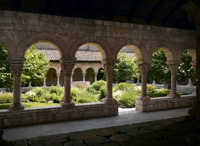 99 Margaret Corbin Drive, Fort Tryon Park
212-923-3700; www.metmuseum.org
Hours: March-October, open 9:30am-5:15pm. November-February, open Tuesday-Sunday 9:30am-4:45 pm. Closed Mondays, Thanksgiving Day, Christmas Day and New Year's Day.
Prices: Recommended admission $20; $15 seniors 65+; $10 students up to age 12; FREE under 12 when accompanied by an adult.
The gardens at Cloisters — a medieval annex of the Metropolitan Museum of Art — were designed based on horticultural information found in medieval treatises and poetry, herbals and garden documents, and works of art. A central garden is set in a courtyard with arcaded walkways, while another garden area contains nearly 300 plant species that were grown during the Middle Ages. A third, smaller garden blooms with flowers through the fall.

Conservatory Garden
Central Park, entrance on Fifth Avenue at 105th Street
212-360-2766; www.centralpark.com/pages/attractions/conservatory-garden.html
Hours: Open daily 8am-dusk. Free tours at the front gate Saturday 11am, April-October.
Prices: Admission is FREE.
This six-acre garden features French, Italian, and English designs. In the French North Garden is the Three Dancing Maidens fountain. Seasonal plants include 20,000 tulips each spring and 2,000 Korean chrysanthemums each fall. An Italian Central Garden features crabapple trees, wisteria, and a lush lawn. The English-style South Garden, planted to be enjoyed year-round, features the Burnett Fountain, depicting a young boy and girl based on characters from The Secret Garden by Frances Hodgson Burnett.


QUEENS

Queens Botanical Garden
43-50 Main Street
718-886-3800; www.queensbotanical.org
Hours: April-October, Tuesday-Friday 8am-6pm, Saturday and Sunday 8am-7pm. November-March, Tuesday-Sunday 8am-4:30pm. Closed Mondays year-round, except legal holidays.
Prices: Admission is FREE. Donations are welcome.
Queens Botanical Garden is a living museum of a collection of gardens for the study, culture, exhibition, and display of plants. Children will enjoy hands-on experiences including the Bee Garden, with live observation hives displaying honeybees at work; the Herb Garden, to learn about plant parts and create a sachet to take home; and the Woodland Garden, to learn about nature's way of recycling. The HSBC Children's Garden is a hands-on program for children that teaches about plants, gardens and nature while kids have fun playing in a beautiful environment.


STATEN ISLAND

Snug Harbor Cultural Center & Botanical Garden
1000 Richmond Terrace
718-448-2500; www.snug-harbor.org
Hours: April-October, open daily 10am-5pm.
Prices: Admission is FREE. New York Chinese Scholar's Garden $5; $4 students and seniors; FREE under 12.
The Snug Harbor Cultural Center & Botanical Garden is a large complex consisting of multiple organizations, including the Staten Island Botanical Garden, Staten Island Museum, and Staten Island Children's Museum. With so much to do and see, it's worth spending an entire day to experience it all, since everything is located conveniently close to each other.


SUFFOLK

Bayard Cutting Arboretum
440 Montauk Highway, Great River
631-581-1002; www.bayardcuttingarboretum.com
Hours: Tuesday-Sunday 10am-4pm.
Prices: Admission is FREE.
Located along the Connetquot River, the Arboretum contains over 690 acres of meadows, centennial oaks, and brightly colored nature walks among rhododendron and swamp cypress. Don't miss the pinetum — it has one of Long Island's largest collections of fir, spruce, pine, and hemlock. The Bayard Cutting Arboretum is also home to many varieties of bird species.

Bridge Gardens Trust
36 Mitchell Lane, Bridgehampton
631-537-7440; www.gardensoflongisland.com
Hours: Open late May-late September, Wednesday and Saturday, 2-5 pm.
Prices: Admission is FREE.
Bridge Gardens Trust is five acres of lush Long Island landscape. Not only are there traditional gardens of seasonal flowers and herbs, but there are also unique garden mazes, a knot garden, and beds of culinary, medicinal, ornamental, textile, and dyeing herbs. Learn how herbs and plants are cultivated and used in kitchens, hospitals, and factories. Walk through the woodland paths, smell the lavender and roses, and view the water garden.

Cold Spring Harbor Laboratory Public Walking Tours
One Bungtown Road, Cold Spring Harbor
(516) 367-6895; www. cshl.edu
Hours: Weekly Saturday tours assemble at 10 a.m. in the Grace Auditorium lobby. Reservations are required at least seven days in advance and a minimum of 10 participants are required for each tour.
Prices: There is a non-refundable tour fee of $5 per person payable in advance or upon
arrival. Payment can only be made by cash or check, and checks should be made payable to Cold
Spring Harbor Laboratory.
Cold Spring Laboratory (CSHL) invites the community to a guided walking tour of its
buildings and botanical landscape. The tour focuses on CSHL's historic
architecture and its Nobel Prize legacy, and provides a peek into the
cutting edge scientific research taking place here. The tour also
covers the indoor and outdoor art works featured on the 117-acre shore-side campus,
recently designated as a botanical garden by the Public Gardens
Association. The tours are primarily outdoors and take place regardless
of weather conditions. They include areas that include stairs and
steep hills and are not recommended for people who have difficulty walking.