WESTCHESTER/CONNECTICUT


Beardsley Zoo
1875 Noble Avenue, Bridgeport, CT
(202) 394-6565; www.beardsleyzoo.org
Hours: Open daily, 9am-4pm. Closed Christmas Day and New Year's Day.
Prices: Adults $9, children 3-11 and seniors $7, children under 3 FREE.
Connecticut's only zoo represents primarily North and South American species, many of which are endangered or threatened. The zoo features a restored carousel housed in a Victorian-style building. Also visit the New England Farm Yard where kids can get hands-on and feed goats and pet bunnies!

The Maritime Aquarium
10 North Water Street, Norwalk, CT
(202) 852-0700; www.maritimeaquarium.org
Hours: Open daily, 10am-5pm. Closed Thanksgiving Day and Christmas Day. July-August, hours extend until 6pm.
Prices: Aquarium only: adults $11, children 2-12 $9, seniors 65+ $10, children under 2 FREE.
The Maritime Aquarium features daily seal feedings, three IMAX movie adventures about aquatic animals and their habitats, and an "Adventure Under the Sea Exhibit". There, you meet some of the real undersea animals (like sponges, crabs, and sea stars) that inspired the SpongeBob cartoon characters; inside is the SpongeBob Squarepants 4-D adventure ride.

Mystic Aquarium & Institute for Exploration
55 Coogan Blvd., Mystic, CT
(860) 572-5955; www.mysticaquarium.org
Hours: Open daily March-November, 9am-6pm. December-February, Monday-Friday 10am-5pm; Saturday, Sunday and holidays 9am-6pm.
Prices: Adults $17.50, children 3-17 $12.50, seniors 65+ $16.50, children 2 and under FREE.
Kids get to come face to face with beluga whales at Mystic Aquarium, New England's only home to these exclusive creatures. Discover marine life from different regions — California's sea lion show, "Lions of the Sea"; Louisiana's Bayou experience, "Swamp Things" featuring baby alligators; and the newest program, "Frogs", with frogs from around the world in all shapes and sizes.

The Wolf Conservation Center
South Salem, NY
(914) 763-2373; www.nywolf.org
Call to arrange a visit; prices and hours vary per program.
The Wolf Conservation Center is a non-profit organization solely dedicated to teaching the public about wolves and their relationship to the environment. Though it is open to the public, you must call ahead to sign up for one of their educational programs about the biology of wolves such as Rocky Mountain wolves, red wolves and the highly endangered Mexican grey wolves.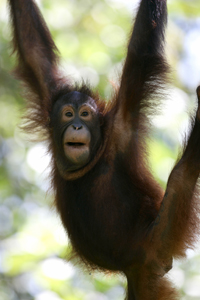 QUEENS


Alley Pond Environmental Center
228-06 Northern Boulevard, Douglaston
(718) 229-4000; www.alleypond.com
Hours: September-June, Monday-Saturday 9am-4:30pm, Sunday 9am-3:30pm. Closed Sundays in July and August and some major holidays.
Prices: FREE
This center is perfect for little ones; it features a small-animal menagerie with rabbits, hamsters, fowl, doves, turtles, and fish. There's also a pre-school nature room and the city's only working windmill.

Queens Zoo
53-51 111th Street, Flushing
(718) 271-1500; www.queenszoo.com
Hours: Open daily 10am-4:30pm.
Prices: Adults $6, children 3-12 $2, seniors 65+ $2.25, children 2 and under FREE.
Although it is one of New York's smaller wildlife centers, the Queens Zoo is the only zoo in New York to feature the spectacled bear, the endangered species native to the Andes Mountains. Also check out the local celebrity, Otis, the coyote who was rescued from Central Park in 1999.
BROOKLYN


Prospect Park Audubon Center at the Boathouse
95 Prospect Park West
(718) 287-3400; www.prospectparkaudubon.org
Hours: April-December, Thursday-Sunday, noon-5pm.
Prices: FREE
From May to November, the whole family can rent a pedal boat and, as you pass the three islands, Duck, Three and West, look out for fish, frogs, and snapping turtles. (Boats seat four and cost $15 with a $10 refundable deposit). Or, if you prefer to relax, take a ride on the electric boat tour, which includes a talk about the park's ecosystem. Bring your own birding backpack to birdwatch, or borrow one from the center.

Prospect Park Zoo
450 Flatbush Avenue
(718) 399-7339; www.prospectparkzoo.com
Hours: Open daily 10am-4:30pm.
Prices: Adults $6, children 3-12 $2, seniors 65+ $2.25, children under 3 FREE.
Brooklyn's "newest" zoo is the perfect playground for toddlers, with three major exhibits designed to engage children: The World of Animals, where little ones can meet prairie dogs and wallabies face to face; Animal Lifestyles, which features hamadryas baboons; and the Animals in Our Lives program, which encourages children to observe and draw the wildlife.

The New York Aquarium
602 Surf Avenue
(718) 265-3474; www.nyaquarium.com
Hours: Open daily 10am-4:30pm.
Prices: Adult $12, children 2-12 and seniors 65+ $8.
At the New York Aquarium, there are over 8,000 animals across 14 acres of both indoor and outdoor naturalistic exhibits. There is much to see, so plan your trip ahead on the website. There are special events coming up all the time. Exhibits feature wave machines, daily feedings, and two rescued sea animals, Ayveq the Walrus, and Willie the Sea Otter.

MANHATTAN


Central Park Zoo
64th Street and Fifth Avenue
(212) 439-6500; www.centralparkzoo.com
Hours: Open daily 10am-4:30pm.
Prices: Adults $8, children 3-12 $3, seniors 65+ $4, children under 3 FREE.
This zoo is best known for its sea lion exhibition; definitely stick around to watch the daily feedings. There is a separate Children's Zoo included in the admission price where kids can feed and pet llamas and bunnies. Also visit the exotic indoor rainforest, home to endangered species such as Tamarin monkeys, Wyoming toads, thick-billed parrots, and red pandas.

BRONX


Bronx Zoo
Bronx River Parkway at Fordham Road
(718) 220-5100; www.bronxzoo.com
Hours: Open 365 days/year. Through March 30 10am–4:30pm.
Prices: Thursday-Tuesday adults $14, children 2-12 $10, seniors 65+ $12, children under 2 FREE. Wednesday admission by donation.
Visit Himalayan Highland, a one-acre exhibit that allows visitors to see endangered snow leopards, red pandas, white-naped cranes and Temminck's tragopan (a kind of pheasant); and Jungle World, a 37,000-square foot recreation of an Asian rainforest that features 780 animals representing 99 species. Has an integrated Children's Zoo, with a separate admission fee, an aerial tram ride and a Bug Carousel.
STATEN ISLAND


Staten Island Zoo
614 Broadway
(718) 442-3100; www.statenislandzoo.org
Hours: Open daily 10am-4:45pm. Closed New Year's Day, Christmas Day and Thanksgiving.
Adults 15 and over $7, seniors 60 and over $5, children 3-14 $4, children 3 and under and members FREE.
Specializes in small mammals, birds and reptiles, and home to a weather predicting groundhog. Eggstravaganza on March 31 explores the world of eggs by animals of different varieties.
LONG ISLAND


The Animal Farm Petting Zoo
296 Wading River Road, Manorville
(631) 878-1785; www.afpz.org
Hours: Weekdays 10am-5pm, weekends 10am-6pm.
Prices: Adults $12, children 2-16 and seniors $10.
Hold and bottle-feed baby cows, goats, pigs, and lambs. Take a ride on the Safari Tour Train, an interactive experience for the whole family.

Long Island Game Farm
638 Chapman Boulevard, Manorville
(631) 878-6644; www.longislandgamefarm.com
Hours: Weekdays 10am-5pm, weekends 10am-6pm.
Prices: Off-season (April 23-May 26, September 6-October 9): Adults $13.95, children 3-11 $11.95, handicapped $9.95, seniors $11.95.
Memorial Day-Labor Day (May 27-September 4): Adults $16.95, children $14.95, handicapped $9.95, seniors $14.95.
"Please Touch" is the motto at Long Island's largest zoo and encounter park. "Pettable" animals here include ducks, rabbits, ponies and turtles. Other activities include carnival-style rides such as Spinning Teacups, the Antique Carousel, and pony rides. Also check out the "Big Cat Encounter", the twice-daily show featuring exotic lions and tigers.


NEW JERSEY


Adventure Aquarium
1 Aquarium Drive, Camden
(856) 335-3153; www.adventureaquarium.com
Hours: Open daily 9:30am-5pm.
Prices: Adults $18.95, children 2-12 $14.95, children under 2 FREE.
Visit the "West African River Experience", a new exhibit featuring almost every major animal found in or near a West African river. Also participate in the Aquarium's most popular program, "Swim With the Sharks", where guests can actually snorkel along the outside perimeter of the 40-foot, 550,000-gallon shark tank, home to sand tiger sharks, nurse sharks, and sandbar sharks.

Six Flags Wild Safari
Route 537, Jackson
(732) 928-1821; www.sixflags.com/parks/wildsafari
Hours: Open daily starting April 2, 9am-4pm.
Prices: Wild Safari $19.99, children 3 and under FREE.
The "World's Largest Drive-Thru Safari Outside of Africa." Drive through the 350-acre wildlife preserve and view free-roaming wild animals from your car window. The Wild Safari is home to 1,200 animals including bison, elephants, rhinos, camels, giraffes, zebras, lions, kangaroos, llamas, baboons, Bengal & Siberian tigers and bears. New this year is the VIP Off Road Adventure Tour; you get your own Land Rover and personal Safari guide. Also there's the Wild Safari Exploration Station for a hands-on adventure.

Space Farms Zoo & Museum
218 Route 519, Sussex
(973) 875-5800; www.spacefarms.com
Hours: Open daily May 1-October 31, 9am-5pm; last entrance 4pm.
Prices: Adults 13-64 $12.45 plus tax, children 3-12 $8 plus tax, seniors 65+ $11.45 plus tax.
Space Farms Zoo & Museum has over 500 live wild animals, including more than 100 species. There are bobcats, tigers, lions, buffalo, hyena, wild ponies, timber wolves, foxes, bears, deer, leopards, monkeys, jaguars, coyotes, llamas, yaks and snakes.

Turtle Back Zoo
560 Northfield Avenue, West Orange
(973) 731-5800; www.turtlebackzoo.com
Hours: Open daily 10am-4pm.
Prices: Adults $5, children 2-12 $2, seniors $2.
Turtle Back Zoo is best known for its Reptile House, the world's only home to the "black dragon", a rare monitor lizard. Turtle Back is also the first zoo in the country to feature Filipino "golden mantled" flying foxes, a rare species of bat.