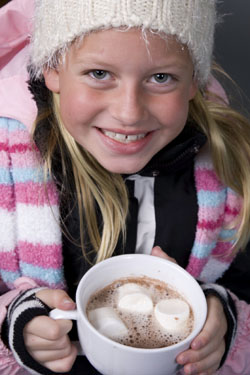 Top off a special family outing with a festive afternoon tea or scrumptious hot chocolate at these spots in Manhattan and Brooklyn:
AFTERNOON TEA SPOTS

Alice's Tea Cup has a daily afternoon tea, with "the Wee tea" for kids that's herbal or fruit tea, a scone, children's sandwich and chocolate mousse ($14). An accompanying adult can have just scones and tea for $9. More substantial afternoon teas include "The Nibble" (scone, sandwich, cookies, $22); the "Mad Hatter" (tea, scones, 2 sandwiches, and dessert, $35); and, for those throwing caution to the wind, "The Jabberwocky" (tea, scones, unlimited sandwiches and 2 desserts, $35). There are three locations: 102 West 73rd Street, 156 East 64th Street and 220 East 81st Street; (212) 734-4TEA or www.alicesteacup.com.

At the Teddy Bear Teas at the Ritz-Carlton, 50 Central Park South, kids get hot cocoa, special sandwiches and sweets. Adults get a traditional afternoon tea with tea sandwiches, tea, scones, pastries. And each kid gets a teddy bear! You'll also get to meet two of the Radio City Rockettes. Saturdays, December 1, 8, 15. There are two seatings each day: 11am-12:30pm and 2-3:30pm. $85 per person; reservations and advance payment required: (212) 521-6122.

The little English tea shop, Tea & Sympathy, in Greenwich Village, does assorted finger sandwiches (vegetarian upon request), scones with clotted cream and strawberry or raspberry jam, a selection of cakes and a pot of tea. This afternoon tea is $30. 108 Greenwich Avenue, between 12th and 13th Streets. (212) 989 9735.

Lady Mendl's Tea Salon at the Inn at Irving Place offers a 5-course High Tea, where you can cozy in by the fire and enjoy sandwiches, scones, cake, and chocolate covered strawberries. Wednesday-Friday, 3 or 5pm seating; Saturdays and Sundays, 1:30 or 4:30pm seating. $35 per person; reservations required: (212) 533-4600. 56 Irving Place, between 18th and 19th Streets.


HOT CHOCOLATE HAVENS

Dare to drink just one of Max Brenner/Chocolate from the Bald Man's Classic Chocolat -- a whipped hot chocolate in dark, milk or white, where a concentrated "shot" of chocolate is mixed with steamed milk. $3.90. Max Brenner is at 841 Broadway, between 13th and 14th Streets, (212) 388-0030; and 141 Second Avenue, at 9th Street. www.maxbrenner.com.

City Bakery has a dense, rich hot chocolate that is pure melted chocolate, with no added milk. The regular hot chocolate is $4.50; it's $5 with a huge homemade marshmallow. Coming soon, their annual hot chocolate festival. City Bakery (which also owns the "green" bakery, Birdbath) encourages those who dine in to use its ceramic mugs; the hot chocolate is served in a bowl, perfect for wrapping cold little hands around. 3 West 18th St between Fifth and Sixth Avenues. (212) 366-1414.
Jacques Torres does steamed milk and deep dark chocolate, for a bargain $3. In warmer weather, ask for the frozen hot chocolate. 350 Hudson Street, (212) 414-2462 and 285 Amsterdam at 73rd Street, (212) 414-2462; also at 66 Water Street, Brooklyn, (718) 875-9772. www.mrchocolate.com.

Payard's incredibly rich hot chocolate is made with whole milk and half-and-half. Payard also has "Le The" for $21 -- sandwiches, scones, madeleines and miniature pastries; a "royal" version ($26) adds caviar and blinis. 1032 Lexington Avenue, between 73rd and 74th Streets. (212) 717-5252. www.payard.com.
At Cocoa Bar, the "artisanal" hot chocolate is a time-consuming process, with Belgian chocolate broken up, and steamed milk added. The result is addictive. $3.75, plus $1 for a pillow-y homemade marshmallow. Cocoa Bar Manhattan is at 21 Clinton Street, between Houston & Stanton, (212) 677-7417; the original Cocoa Bar is at 228 Seventh Avenue, in Park Slope, Brooklyn, (718) 499-4080; www.cocoabarnyc.com.

At Sweet Melissa's in Brooklyn, a pot of tea, finger sandwiches, petit fours, and scone is $19.95; $14.95 for kids under 12. 276 Court St (Douglass); (718) 855-3410; 175 Seventh Ave (1st and 2nd); (718) 502-9153. www.sweetmelissapatisserie.com.

The Chocolate Room has classic hot "cocoa": hot chocolate made with milk chocolate, and hot chocolate made with bittersweet -- both with steamed milk. For parents, there is coffee or espresso with hot chocolate, offering a double rush of caffeine and sugar. Drinks are $4.50 for 8 oz.; homemade marshmallow or fresh "whip" is 75c. At 86 5th Avenue, in Park Slope, Brooklyn, (718) 783-2900; www.thechocolateroombrooklyn.com.


New in tea

Looking to make great tea at home? The Zarafina Team Maker Suite steeps any variety of tea, at the correct temperature, so you can control the strength. The tea goes from an infusing chamber to a ceramic serving pot; included maker are two tea cups and a serving tray, $149.99 at Williams Sonoma and www.zarafina.com.

The Republic of Tea has a new Hot Apple Cider Tea, a caffeine free herbal blend that tastes remarkably like . . . apple cider. $11 for 36 bags (in unbleached paper).