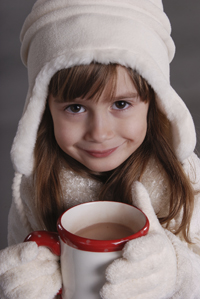 As the weather gets cool, warm up with special fall treats at these cozy hot spots throughout the region.
Westchester
If chocolate is your thing, check out Cocoa in Larchmont, which offers rich hot chocolate made with Belgian chocolate and milk ($1.85-$4.90). But if your sweet tooth craves more, check out their famous chocolate bark and brownies, in dark, milk and white chocolates. 2107A Boston Post Road, Larchmont. 914-834-6464. www.cocoachocolateshop.com.
Dragonfly Café, with its paper lantern-adorned ceiling, offers an assortment of teas, coffees and hot chocolate drinks, plus breakfast and lunch served daily. 7 Wheeler Avenue?, Pleasantville. ?914-747-7477. http://dragonflycafe.lbu.com.
Silver Tips Tea Room and Restaurant has over 150 different flavors of regular, non-caffeinated and decaffeinated varieties, plus a full menu of soups, salads, sandwiches, and desserts. Their famous "Afternoon Tea" ($17) includes a scone, two sandwiches, dessert and, of course, your favorite pot of tea, served any time of the day. A cup starts at $2.75.3 North Broadway, Tarrytown. 914 332 8515. www.silvertipstea.com.
Around the corner, Coffee Labs Roasters in Tarrytown, although known for its coffee, has great hot chocolates all made with Ghiradelli chocolate syrups ($2.19-$2.83) and a variety of teas ($1.70-$2.19). 7 Main Street, Tarrytown. 914-332-1479. www.coffeelabs.com.
The Peekskill Coffee House'sspecialty is Peppermint Hot Chocolate, which tastes like a Peppermint Patty; there are also a variety of syrups that can be added to their basic hot chocolate ($1.75-$4.25, syrups are additional). Their most popular tea is chai, which is fair trade and organic and comes in regular, honey-vanilla and decaf. ($3.25-$4.25). They also carry Numi Organic teas in 12 flavors ($1.50). 101 South Division Street, Peekskill. 914-739-1287. www.peekskillcoffee.com.
Tazza Café offers rich, decadent Belgian Sipping Chocolate, in addition to hot chocolate, Harney and Sons teas, chai teas, and apple cider ($1.50-$3.95). They have a full lunch menu and baked goods that are all made on premises. 230 Saw Mill River Road, Millwood. 914-488-5227.
Slave To The Grind in Bronxville is a village mainstay and a relaxed place to drop by after school or a day of shopping. Their hot chocolate can be made with whole, skim or soy milk, or half-and-half. You can also spice up your hot chocolate with flavored syrups like mint, vanilla, and almond and, of course, lots of whip cream. They have three sizes: $2.25, 12 ounces; $2.75, 16 ounces; and $3.25, 20 ounces. 58 Pondfield Road, Bronxville. 914-961-7777.
Fairfield
Chocopologie is a unique café and retail store where kids can enjoy their hot chocolate while taking a tour of the facility to learn how chocolate is made. Their regular hot chocolate is made from 70 percent cocoa and their spicy hot chocolate is made with cocoa, chipotle, cinnamon, ginger and cloves ($4.50). Add to your tasty drink a Bonfire S'more or a banana split. 12 South Main Street, Norwalk. 203-854-4754. www.knipschildt.com.
Chat and Chew offers more than 40 premium teas, including whole leaf teas from Mighty Leaf and Numi Organic, free trade teas, as well as Tazo and Bigelow teas. Healthy varieties include rooibos, white, green, black, and a large selection of herbal teas. Or try the chai tea lattes and green tea lattes ($2-$3). They have a complete breakfast menu, including transfat-free muffins, seasonal baked goods, and desserts. 17 Post Road, Fairfield. 203-254-6560. www.chatnchew.com.
Garelick and Herbs, a large catering facility, also has three store locations serving up hot chocolate and tea ($2-$3). Chocolate syrup or cocoa powder can be added to their hot chocolate made with steamed, frothy milk. 1799 Post Road East, Westport; 97 Main Street, New Canaan; 48 West Putnam Avenue, Greenwich. 203-972-4497. www.garelickandherbscatering.com.
Doc's Café has more than 20 varieties of specialty teas, flavored green teas ($1.75-$2.50), and chai latte ($3-$4.25). Their hot chocolate is another fall favorite made with steamed milk and syrup ($2-$3). 570 Riverside Avenue, Westport. 203-226-9444.


Rockland
The Art Café of Nyack offers a wide selection of hot beverages and a full menu of international fare. There are organic, herbal, and black teas as well as specialty teas like Moroccan Mint ($2.50), Peaches and Ginger, or Floral Pouchong, with fresh jasmine flowers ($2.25). They also have chai latte, hot chocolate and "Chocolatte," a rich chocolate drink. 65 S. Broadway, Nyack. 845-353-4230. www.artcafeofnyack.com.
Lulu's Café is a retro-inspired family spot with a full menu of teas, hot chocolate, and meals. They have tea in seasonal varieties and fun flavors like Crème Caramel, Vanilla Nut, Licorice, and Apple Cinnamon ($1.75) as well as chai latte ($3.75) and hot chocolate ($2.95). 726 West Nyack Road, West Nyack. 845-358-5822. www.luluscafeny.com.
Temptations Café is a rustic and cozy spot, and stroller-friendly as well. They have several varieties of tea including, Earl Grey, English Breakfast, Jasmine, Lemon Ginger, and Chai Spice ($1.75). Their hot chocolate has whipped cream and chocolate syrup on top ($2.95). They also have a full menu of soups, sandwiches, and sundaes. 80 1/2 Main Street, Nyack. 845-353-3355. www.temptationscafe.com.