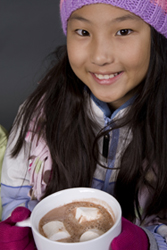 With festive lights and decorations adorning storefronts and downtown streets, snowflakes swirling against scarves and overcoats, and a feeling of goodwill in the air, there's no denying the magic of the holiday season. But this time of year also brings the gift giving season, and with it the stresses of holiday shopping. Take a break from the hustle and bustle to sit down with a cup of hot chocolate or tea. There's just something about wrapping your hands around a steaming mug of cocoa that helps you regain perspective, recharge your spirit, and reconnect with the people that matter to you.
Whether you're looking for a cozy spot for afternoon tea or a quick and creamy treat for your little one, our guide will point you in the right direction.
ROCKLAND COUNTY
Lulu's Café is a retro-style family spot with a full menu of teas, hot chocolate, and meals. It carries both traditional teas and seasonal flavors like apple and pumpkin ($1.75-$1.95), as well as chai latte ($3.50) and hot chocolate ($2.95). 726 West Nyack Road, West Nyack. 845-358-5822. www.luluscafeny.com.
Temptations Café is a rustic and cozy spot, and is also stroller-friendly. They serve about 25 varieties of tea, including Earl Grey, English breakfast, jasmine, lemon ginger, chamomile, peppermint, and licorice ($1.25-$2.25). Their hot chocolate is topped with whipped cream, chocolate syrup, and chocolate chips ($2.95-$3.75). They also have a full menu of soups, sandwiches, and sundaes. 80 1/2 Main Street, Nyack. 845-353-3355. www.temptationscafe.com.
The Art Café of Nyack offers a wide selection of hot beverages. There are organic, herbal, and black teas, as well as specialty teas ($2-$2.50). They also have a chai latte ($3-$3.50), and traditional hot chocolate ($3.15-$3.65). Try their steamer - a hot drink that comes in flavors like caramel and vanilla ($3.15-$3.65). 65 South Broadway, Nyack. 845-353-4230.
WESTCHESTER COUNTY
If chocolate is your thing, check out Cocoa in Larchmont, which offers rich hot chocolate made with Belgian chocolate and milk ($1.85-$4.90). But if your sweet tooth craves more, try their famous chocolate bark and brownies, in dark, milk, and white chocolates. 2107A Boston Post Road, Larchmont. 914-834-6464. www.cocoachocolateshop.com.
Dragonfly Café, with its paper lantern adorned ceiling, offers an assortment of teas, coffees, and hot chocolate drinks, ranging in price from $2-$5. Hot and cold apple cider offered in season. Breakfast and lunch served daily; menu includes baked goods, wraps, salads, and soups. 7 Wheeler Avenue, Pleasantville. 914-747-7477.
Coffee Labs Roasters in Tarrytown, although known for its coffee, has a selection of hot chocolates made with Ghirardelli chocolate syrups as well as a "sipping" chocolate made with melted chocolate chips ($2.04-$2.64). They also serve a variety of teas ($1.70-$2.19). Open Monday-Tuesday 6:30am-6:30pm, Wednesday-Thursday 6:30am-8pm, Friday 6:30am-10:30pm, Saturday 8am-10:30pm, Sunday 8am-7pm. 7 Main Street, Tarrytown. 914-332-1479. www.coffeelabs.com.
Lola's Tea House offers a wide variety of teas in two-cup pot ($4.50) and four-cup pot ($6) servings (add $1 for premium teas). Their English Afternoon Tea ($25; $40 for two) features your choice of tea, plus a scone with preserves and clotted cream, your choice of tea sandwich, and two bite-sized desserts. Their Children's Tea ($15) offers a choice of beverage - tea, hot chocolate, lemonade, milk, or juice - plus a mini scone with preserves, choice of tea sandwich, and two bite-sized desserts. 130 5th Avenue, Pelham. 914-738-2100. www.lolasteahouse.com.
Tazza Café offers rich, decadent Belgian Sipping Chocolate in addition to hot chocolate, Harney and Sons teas, chai teas, and apple cider ($2-$4). They have a full lunch menu and baked goods all made on the premises. 230 Saw Mill River Road, Millwood; 382 Main Street, Armonk; 6 Heritage 202 Center, Somers. 914-488-5227. www.tazzacafeny.com.
The Kneaded Bread makes their hot chocolate from scratch by melting down a bar of semisweet chocolate and frothing it to order. The result is a thick and delicious brew with a hint of cinnamon and cream ($2.75-$3.75). They also offer an array of teas, from Earl Grey to chamomile ($1.50), as well as freshly brewed iced tea with mint ($2.25-$2.75). 181 North Main Street, Port Chester. 914-937-9489. www.kneadedbread.com.
The Peekskill Coffee House's specialty is Peppermint Hot Chocolate, which tastes like a Peppermint Patty; there are also a variety of syrups that can be added to their basic hot chocolate ($2-$4, syrups are an additional $.75). Their most popular tea is chai, which is both fair trade and organic, and comes in regular, honey vanilla, and decaf (hot $4-$5; iced $4.50-$5.50). They also carry Numi Organic teas in 13 flavors ($1.75). Open Monday-Thursday 6am-9pm, Friday-Saturday 6am-11pm, Sunday 8am-6pm. 101 South Division Street, Peekskill. 914-739-1287. www.peekskillcoffee.com.
FAIRFIELD COUNTY, CT

Arogya Tea's menu includes hundreds of teas and herbs, including children's blends and decaffeinated options. Their apple and berry blends are especially popular with kids. A cup of tea costs $3; an organic tea latte is $3.50. They also offer a selection of locally roasted organic coffee. Arogya regularly hosts tea parties, tea ceremonies, and tea workshops on location. Check www.arogya.net for dates and registration. Open Monday-Saturday 9:30am-5:30pm, Sunday 10am- 4pm. 131 Post Road East, Westport. 203-226-2682. www.arogyatea.com; www.arogya.net.
Chocopologie is a unique café and retail store where kids can enjoy their hot chocolate and watch how chocolate is made. They offer four hot chocolate choices, all made from 73 percent cocoa: regular Hot Chocolate; Spicy Hot Chocolate made with chipotle, cinnamon, ginger, and cloves; Mild Hot Chocolate made with warm milk and topped with homemade marshmallows (a kid favorite); and Fritz's Hot Chocolate which is topped with a passion fruit/ginger foam ($5.25-$6). Special tours are available on request. Open Monday-Tuesday 11am-5pm, Wednesday 11am-10pm, Thursday 11am-11pm, Friday 11am-midnight, Saturday 10:30am-midnight. 12 South Main Street, Norwalk. 203-854-4754. www.knipschildt.com.
Cocoa Michelle, known for its artisan chocolates, is a full Euro Café serving fair trade coffees, cappuccinos, espressos, and lattes along with a wide selection of teas ($1.75-$2) and Euro-cocoa - a thick and delicious chocolate treat ($3.25-$4). Its living room offers customers a cozy place to sit and indulge. 54 Railroad Place, Westport; 190 Main Street, Westport. 203-221-0020; 203-221-0002. www.cocoamichelle.com.
Doc's Café has 25 varieties of specialty teas ($1.75-$2.50), as well as a chai latte ($3-$4.25). The hot chocolate is another fall favorite made with steamed milk (regular, soy, or almond milk) and flavored syrup ($3). 570 Riverside Avenue, Westport. 203-226-9444.
Garelick and Herbs, a large catering facility, also has three store locations serving up hot chocolate and tea ($1.50-$2.50). Chocolate syrup or cocoa powder can be added to their hot chocolate made with steamed, frothy milk. 1799 Post Road East, Westport; 97 Main Street, New Canaan; 48 West Putnam Avenue, Greenwich. 203-972-4497. www.garelickandherbs.com.
M-bellish Café & Tea Room's Traditional Tea ($24.95) includes a two-cup pot of tea along with an assortment of tea sandwiches, scones with preserves and clotted cream, and mini desserts. Have a bit more with the Queen's Tea ($30) or a bit less with the Light Tea ($21.95). The On to Mature Tea ($14.95), for children 12 and under, includes a pot of children's tea or juice, assorted tea sandwiches, fruit, and a miniature dessert. Reservations required. 116 Bridgeport Avenue, Milford. 203-283-5472. www.mbellishtearoom.com.
Sono Caffeine lives up to its name with a wide variety of specialty coffee and tea drinks, iced or hot. If you're not looking for a pick-me-up, try their Hot Dark Chocolate ($3.70; carry out is $3.20-$4.20) or Hot Blanca White Chocolate (carry out is $3.45-$4.45), both mixed with creamy steamed milk. Add whipped cream for $.50. They also have more than 18 varieties of organic and loose teas ($4.50 per pot; carry out is $3.50-$5.50). Sono Caffeine is also known for its extensive gourmet dessert menu, gourmet cheeses, and truffles. 133 Washington Street, Norwalk. 203-857-4224. www.sonocaffeine.com.
MANHATTAN AND BROOKLYN
Alice's Tea Cup has a daily afternoon tea, with the Wee Tea for kids, including herbal or fruit tea, scones, children's sandwich, chocolate mousse and mini cookies ($15). An accompanying adult can have just scones and tea for $10. More substantial afternoon teas include the Nibble (scone, sandwich, and cookies for $23); Mad Hatter (tea, scones, two sandwiches, and a dessert for $30; $37 for two); and, for those throwing caution to the wind, the Jabberwocky (tea, scones, unlimited sandwiches, and two desserts for $38; additional $20 to share). 102 West 73rd Street, 156 East 64th Street, and 220 East 81st Street, Manhattan. 212-734-4TEA. www.alicesteacup.com.
The Celtic Rose Irish Tea Room will begin serving Afternoon Tea starting at the end of November. It includes choice of tea, tea sandwiches, cookies, cakes, crumpets, and freshly baked scones with clotted cream and jelly (call for pricing). All items are either baked on the premises or imported from the UK and Ireland. 89-05 3rd Avenue, Bayridge, Brooklyn. 718-238-3355. www.celticrosetearoom.com.
City Bakery's hot chocolate is made from its own secret recipe ($4). In February, they'll host their Eighteenth Annual Hot Chocolate Festival, which features a different flavor of hot chocolate each day of the month. 3 West 18th Street, Manhattan. 212-366-1414. www.thecitybakery.com.
At Cocoa Bar, hot chocolate is made by melting chunks of chocolate, and the result is addictive. The delicacy comes in white, dark, mint, cinnamon, spicy, and funky monkey (with banana syrup) flavors ($4-4.75). Choco-lattes, made with espresso, are $4.25-$5. 21 Clinton Street (between Houston and Stanton), Manhattan, 212-677-7417; and 228 Seventh Avenue, Brooklyn, 718-499-4080. www.cocoabarnyc.com.
Jacques Torres makes its own hot chocolate powder from scratch with real chocolate. They offer a classic blend as well as six flavored versions made with homemade sauces, including peanut butter, orange, banana, chai, caramel, and their signature "wicked" blend, made with ancho and chipotle peppers ($3.25-$4.25). The same flavors are available for frozen hot chocolate ($4.25). 350 Hudson Street, Manhattan; 285 Amsterdam Avenue, Manhattan; 425 West 15th Street (in Chelsea Market), Manhattan; 66 Water Street, Brooklyn. 212-414-2462. www.mrchocolate.com.
Lady Mendl's Tea Salon at the Inn at Irving Place offers a five-course High Tea in its Victorian-style dining room. Cozy up by the fire and enjoy finger sandwiches, scones with preserves and clotted cream, assorted cookies, and chocolate covered strawberries along with your choice of tea. $35 per person; reservations required. 56 Irving Place (between 18th and 19th Streets), Manhattan, 212-533-4466. www.innatirving.com.
Max Brenner/Chocolate from the Bald Man's Chocolat is made with 100 percent chocolate. It comes in dark, milk, white, or Swiss Whipped Cream varieties ($4.95), and is served in a Hug Mug. Add a flavor shot for an additional $1. Classic chocolate beverages like Italian Thick Hot Chocolate (with vanilla cream) and Mexican Spicy Hot Chocolate (with red chili, nutmeg, cinnamon, and pepper) are also on the menu. 141 Second Avenue (at 9th Street), Manhattan; 841 Broadway (between 13th and 14th Streets), Manhattan. 212-388-0030. www.maxbrenner.com.
If you can resist the desserts menu at Serendipity 3, sample one of their delectable beverages. Their hot chocolate is $5.50, but for an extra $.50 try their Serendipitous Hot Chocolate, topped with whipped cream, grated orange, cinnamon, and shaved French chocolate. If you're feeling adventurous, dive into the Frrrozen Hot Chocolate ($8.95) or the Peanut Butter Frrrozen Hot Chocolate ($9.50). They also have a selection of teas ($3.50 per pot) and a full lunch and dinner menu. 225 East 60th Street, Manhattan. 212-838-3531. www.serendipity3.com.
At Sweet Melissa Patisserie in Brooklyn, the Afternoon Tea includes a pot of tea, finger sandwiches, petit fours, and a scone with jam and double cream ($24.95). They also serve a Queen's Tea ($29.95) and a Kids' Tea ($15.95) for kids under 12. Their hot chocolate, made with gourmet white or dark chocolate chips, your choice of milk, and topped with homemade marshmallows, comes in the following flavors: peppermint, chocolate, vanilla and cinnamon-sugar. 276 Court Street and 175 Seventh Avenue, Brooklyn. 718-855-3410, 718-788-2700. www.sweetmelissapatisserie.com.

Tea & Sympathy, an English tea shop and restaurant in Greenwich Village, offers an afternoon tea including nine finger sandwiches, two scones with clotted cream and jam, two cakes, and a pot of tea ($35; $55 for two). 108 Greenwich Avenue (between 12th and 13th Streets), Manhattan. 212-989 9735. www.teaandsympathynewyork.com.

The Chocolate Room offers a classic hot cocoa made with milk chocolate, a 61 percent dark bittersweet hot chocolate, and a dark bittersweet spiced hot chocolate, made with ancho chiles, cloves, cinnamon, and chipotle ($4.50). Add a homemade marshmallow or homemade whipped cream for an extra $.75 each. 86 Fifth Avenue, Brooklyn, 718-783-2900; 269 Court Street, Brooklyn, 718-246-2600. www.thechocolateroombrooklyn.com.
SUFFOLK COUNTY, LONG ISLAND

Boulangerie La Vie, a full-service bakery in Bayshore, is a great place to grab a hot drink and a light bite. Its café area offers self-service coffee, tea, and hot chocolate ($1.35-$1.60), and they offer a variety of soups in the fall and winter seasons. 184 West Main Street, Bayshore. 631-666-0800.
Caffé Portofino serves breakfast, lunch, and a full espresso bar in a kid- and stroller-friendly environment. Their rich hot chocolate is made with Guittard chocolate sauces ($2.50-$3) and comes in a variety of flavors. Their specialty hot chocolate, called Campfire Cocoa, is made with milk chocolate and toasted marshmallow syrup and topped with marshmallow cream and graham cracker crumbs. They carry full-bodied Mighty Leaf teas in 10 varieties ($1.90-$2.40) and offer an organic chai tea latte ($4-$5). Their specialty is the Dirty Hippie, a chai latte with espresso ($4-$5). 249 Main Street, Northport. 631-262-7656. www.caffeportofino11768.com.
Georgio's Coffee Roasters in Huntington sells coffee and teas from all over the world. They offer about 15 varieties of exclusive and exotic teas, including white, black, and green teas ($2.25-$2.50). Their rich and creamy hot chocolate is a blend of dark chocolate, sweetened cocoa, and steamed milk ($2.25-2.50). Georgio's products are eco-friendly and fair trade certified. 146 West Jericho Turnpike, Huntington. 516-238-2999. www.georgioscoffee.com.
Tea Time Cottage in Jamesport has a casual environment where country music plays in the background and kids can go outside to feed the goats. They feature 42 different types of tea, from white to green to black ($3.95 for one, $7.50 tea for two, $12.50 tea for four), along with a daily flavor of iced tea and hot chocolate ($2.95). The lunch menu offers soups and sandwiches along with scones and a small variety of baked goods. 5913 Sound Avenue, Jamesport. 631-722-5329.
The Greenport Tea Company's High Tea for two includes assorted tea sandwiches, scones with jam and cream, mini pastries, fruit tart, and hot or iced tea for two ($25.75; $53 Double High Tea serves three to five). A pot of tea ranges from $2.25-$4.50 per person. They also have a full lunch menu with daily specials. 119A Main Street, Greenport. 631-477-8744. www.greenportteacompany.com.
Urban Coffee is a family-owned shop in Greenlawn serving a wide selection of hot beverages. Their hot chocolate can be made with white, dark, or milk chocolate syrup and regular or soy milk ($2.49 and up). All are made from scratch and steamed in their espresso machine. Add a flavor shot, like raspberry, mocha, peppermint, or peanut butter (a popular choice), to make it special. If you prefer vanilla to chocolate, try their Vanilla Crème, served hot in the colder seasons. They carry about 25 varieties of tea ($2 and up), the most popular of which is their homebrewed chai, made with all natural ingredients. If you're looking for a pick-me-up, try the Teaspresso - a strong black tea brewed through their espresso machine ($3.29 and up). They also carry a variety of baked goods, including gluten-free and sugar-free selections. Free wireless internet, board games, and occasional live music create a sit down and stay awhile atmosphere. 101 Broadway, Greenlawn. 631-261-7979. www.urbancoffeegreenlawnny.com.
NASSAU COUNTY, LONG ISLAND

The Garden City Hotel's Polo Room serves a traditional afternoon tea, which includes tea sandwiches, scones, pastries, and your choice of tea, for $29. Their menu also includes an A La Carte section. The Polo Room is available for birthday tea parties, baby shower tea parties, and other special events. Reservations suggested. 45 Seventh Street, Garden City. 516-877-9353. www.gardencityhotel.com.
The Witches Brew is a funky, family-friendly spot that carries 85 organic, loose-leaf tea varieties, all of which are fair trade certified. The teas are served in a cast iron pot ($2.75-$4.75). They also carry several varieties of homemade hot chocolate ($2.75-$5), including a standard brew made with milk chocolate, coffee and hot chocolate combos, soy hot chocolate, and a vegan version made with dark chocolate and topped with vegan marshmallows. One of their unique offerings is the Hot Chocolate Float, made with ice cream and topped with whipped cream. Stop by for a late night treat - they're open till 1am every day (closed Monday). 311 Hempstead Turnpike, West Hempstead. 516-489-9482.
Victorian Tea Room offers a High Tea that includes finger sandwiches, homemade scones, fresh fruit in season, desserts, and your choice of tea from a wide selection of organic, loose-leaf blends ($13.95). A lighter option includes your choice of tea and a scone ($5). They also have a full lunch menu including children's meals, a dessert menu, chocolate fondue, and cheese fondue. 222 Main Street, Farmingdale. 516-249-1972. www.victoriantearoom.org.
QUEENS
Aubergine Café serves a steamed hot chocolate that comes in traditional, mint, or caramel ($1.75-$3.25). They also serve a selection of blended, herbal, and spiced teas ($1-$1.75) along with a chai spiced latte ($3-$4). The café offers a full menu, including sandwiches, salads, and panninis, along with baked goods. 49-22 Skillman Avenue, Woodside. 718-899 1735. www.auberginecafe.com.
Cannelle Patisserie's hot chocolate is a homemade blend of milk and dark chocolate, milk, vanilla, and secret ingredients ($2.25-$2.50). They also serve a variety of Harney & Sons teas ($1-$1.50). 75-59 31st Avenue, Jackson Heights. 718-565-6200. www.cannellepatisserie.com.
Martha's Country Bakery carries a selection of herbal and chai teas ($1.15-$3.85) as well as hot chocolate ($1.50-$2.50). Try one with a freshly baked dessert. 70-30 Austin Street, Forest Hills, 718-544-0088; 36-21 Ditmars Boulevard, Astoria, 718-545-9737; 41-06 Bell Boulevard, Bayside, 718-225-5200. www.marthascountrybakery.com.
Sugar & Joe serves Valrhona hot chocolate, a premium French brand, in three flavors: regular, malted, or spicy Mexican ($2.50). They also carry a variety of loose-leaf teas served by the pot ($3.75) or by the cup ($2.25; bagged teas $1.75). 42-20 Greenpoint Avenue, Sunnyside. 718-472-1070. www.sugarandjoe.com.