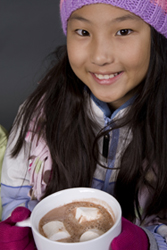 With festive lights and decorations adorning storefronts and downtown streets, snowflakes swirling against scarves and overcoats, and a feeling of goodwill in the air, there's no denying the magic of the holiday season. But this time of year also brings the gift giving season, and with it the stresses of holiday shopping. Take a break from the hustle and bustle to sit down with a cup of hot chocolate or tea. There's just something about wrapping your hands around a steaming mug of cocoa that helps you regain perspective, recharge your spirit, and reconnect with the people that matter to you.
Whether you're looking for a cozy spot for afternoon tea or a quick and creamy treat for your little one, our guide will point you in the right direction.
Check out our other area guides: Fairfield County, CT; Nassau County, Long Island; Queens; Rockland County; Suffolk County, Long Island; Westchester County
MANHATTAN AND BROOKLYN
Alice's Tea Cup has a daily afternoon tea, with the Wee Tea for kids, including herbal or fruit tea, scones, children's sandwich, chocolate mousse and mini cookies ($15). An accompanying adult can have just scones and tea for $10. More substantial afternoon teas include the Nibble (scone, sandwich, and cookies for $23); Mad Hatter (tea, scones, two sandwiches, and a dessert for $30; $37 for two); and, for those throwing caution to the wind, the Jabberwocky (tea, scones, unlimited sandwiches, and two desserts for $38; additional $20 to share). 102 West 73rd Street, 156 East 64th Street, and 220 East 81st Street, Manhattan. 212-734-4TEA. www.alicesteacup.com.
The Celtic Rose Irish Tea Room will begin serving Afternoon Tea starting at the end of November. It includes choice of tea, tea sandwiches, cookies, cakes, crumpets, and freshly baked scones with clotted cream and jelly (call for pricing). All items are either baked on the premises or imported from the UK and Ireland. 89-05 3rd Avenue, Bayridge, Brooklyn. 718-238-3355. www.celticrosetearoom.com.
City Bakery's hot chocolate is made from its own secret recipe ($4). In February, they'll host their Eighteenth Annual Hot Chocolate Festival, which features a different flavor of hot chocolate each day of the month. 3 West 18th Street, Manhattan. 212-366-1414. www.thecitybakery.com.
At Cocoa Bar, hot chocolate is made by melting chunks of chocolate, and the result is addictive. The delicacy comes in white, dark, mint, cinnamon, spicy, and funky monkey (with banana syrup) flavors ($4-4.75). Choco-lattes, made with espresso, are $4.25-$5. 21 Clinton Street (between Houston and Stanton), Manhattan, 212-677-7417; and 228 Seventh Avenue, Brooklyn, 718-499-4080. www.cocoabarnyc.com.
Jacques Torres makes its own hot chocolate powder from scratch with real chocolate. They offer a classic blend as well as six flavored versions made with homemade sauces, including peanut butter, orange, banana, chai, caramel, and their signature "wicked" blend, made with ancho and chipotle peppers ($3.25-$4.25). The same flavors are available for frozen hot chocolate ($4.25). 350 Hudson Street, Manhattan; 285 Amsterdam Avenue, Manhattan; 425 West 15th Street (in Chelsea Market), Manhattan; 66 Water Street, Brooklyn. 212-414-2462. www.mrchocolate.com.
Lady Mendl's Tea Salon at the Inn at Irving Place offers a five-course High Tea in its Victorian-style dining room. Cozy up by the fire and enjoy finger sandwiches, scones with preserves and clotted cream, assorted cookies, and chocolate covered strawberries along with your choice of tea. $35 per person; reservations required. 56 Irving Place (between 18th and 19th Streets), Manhattan, 212-533-4466. www.innatirving.com.
Max Brenner/Chocolate from the Bald Man's Chocolat is made with 100 percent chocolate. It comes in dark, milk, white, or Swiss Whipped Cream varieties ($4.95), and is served in a Hug Mug. Add a flavor shot for an additional $1. Classic chocolate beverages like Italian Thick Hot Chocolate (with vanilla cream) and Mexican Spicy Hot Chocolate (with red chili, nutmeg, cinnamon, and pepper) are also on the menu. 141 Second Avenue (at 9th Street), Manhattan; 841 Broadway (between 13th and 14th Streets), Manhattan. 212-388-0030. www.maxbrenner.com.
If you can resist the desserts menu at Serendipity 3, sample one of their delectable beverages. Their hot chocolate is $5.50, but for an extra $.50 try their Serendipitous Hot Chocolate, topped with whipped cream, grated orange, cinnamon, and shaved French chocolate. If you're feeling adventurous, dive into the Frrrozen Hot Chocolate ($8.95) or the Peanut Butter Frrrozen Hot Chocolate ($9.50). They also have a selection of teas ($3.50 per pot) and a full lunch and dinner menu. 225 East 60th Street, Manhattan. 212-838-3531. www.serendipity3.com.
At Sweet Melissa Patisserie in Brooklyn, the Afternoon Tea includes a pot of tea, finger sandwiches, petit fours, and a scone with jam and double cream ($24.95). They also serve a Queen's Tea ($29.95) and a Kids' Tea ($15.95) for kids under 12. Their hot chocolate, made with gourmet white or dark chocolate chips, your choice of milk, and topped with homemade marshmallows, comes in the following flavors: peppermint, chocolate, vanilla and cinnamon-sugar. 276 Court Street and 175 Seventh Avenue, Brooklyn. 718-855-3410, 718-788-2700. www.sweetmelissapatisserie.com.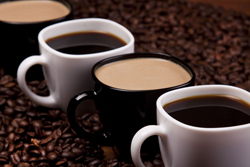 Tea & Sympathy, an English tea shop and restaurant in Greenwich Village, offers an afternoon tea including nine finger sandwiches, two scones with clotted cream and jam, two cakes, and a pot of tea ($35; $55 for two). 108 Greenwich Avenue (between 12th and 13th Streets), Manhattan. 212-989 9735. www.teaandsympathynewyork.com.

The Chocolate Room offers a classic hot cocoa made with milk chocolate, a 61 percent dark bittersweet hot chocolate, and a dark bittersweet spiced hot chocolate, made with ancho chiles, cloves, cinnamon, and chipotle ($4.50). Add a homemade marshmallow or homemade whipped cream for an extra $.75 each. 86 Fifth Avenue, Brooklyn, 718-783-2900; 269 Court Street, Brooklyn, 718-246-2600. www.thechocolateroombrooklyn.com.