SEE OUR UPDATED GUIDES TO SKIING AND SKATING WITH KIDS IN THE NYC AREA
---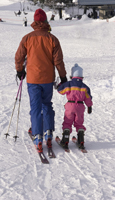 Skiing
We're surrounded by ski slopes, so grab your family and all your gear, and head for the hills! Here are some of the many choices of where to go.
NEW YORK
If you wake up one morning and think, "This is a perfect day to ski," you can hop a bus to Belleayre. On weekdays, you can get a roundtrip ride to Belleayre from the Port Authority for just $81, which includes a lift ticket and beginner ski or snowboard lesson for those 8 years old and over. Highmount. www.belleayre.com.

Or, on a Saturday or Sunday, take the MetroNorth ski train to Thunder Ridge — $49.75; children over 12, $37.75; ages 6-11, $19.50; age 5, $6.50; under 5, $5. This train ticket includes all-day/all-night lift ticket (night skiing not available on Sundays), shuttle between the train station and the ski area, and $5 discount on rental equipment. Patterson. www.thunderridgeski.com.

Catamount is generating all its electrical needs with wind power. The mountain has a quad lift, night skiing, a terrain park, and a junior park for beginning boarders. Fourth and fifth graders ski free on weekends and holidays with a paying adult, but you must pre-register and pay a $15 processing fee. Hillsdale. www.catamountski.com.

Hunter Mountain has PlayCare for 6 months–6 years, and Explorers (ski) and Mountaineers (boarding) for ages 4-12. There's tubing for those 42 inches and up. Hunter. www.huntermtn.com.

Mount Peter's Free Beginner Ski and Snowboard School offers free beginner lessons in skiing and snowboarding on weekends and holidays at 10am, noon, and 2pm, with the purchase of a lift ticket. For ages 5 and up, and for adults, too. There's also a Tiny Tots program for children who are potty-trained to 4 years old, introducing them to ski equipment, balance and gliding. 10am or 1pm, Saturdays, Sundays and holidays. Program includes a lesson, equipment, lift ticket, rental and hot chocolate. Warwick. www.mtpeter.com.

Rocking Horse Ranch includes downhill skiing in its long list of activities. Best for the ski 'dabbler,' there are two lifts, snowmaking, and free rentals. There is also tubing. Highland. www.rockinghorseranch.com.

Tuxedo Ridge has eight trails, a terrain park, tubing and night skiing. There is a DevelopmentalProgram for children ages 10 and under to learn basic ski skills. Tuxedo. www.skituxedoridge.com.

At Windham, you can continue to have fun after skiing at their Mountaintop Adventure Park, with ice skating, tubing, a rock climbing wall and bungee trampoline. There are ski and riding programs for kids 4-12, and babysitting for ages 2-7. Winwood. www.windhammountain.com.

Plattekill Mountain has 35 trails and two terrain parks. There is childcare on weekends for 6 months and up, and one and a half-hourgroup ski lessons, Snowkidding, for kids as young as 4. Tubing runs 5-9pm; children must be at least three feet tall. Roxbury. www.plattekill.com.
CONNECTICUT
At Mount Southington, in Plantsville, Ski Threes is for parents and 3-year-olds, where parents learn how to use tip connectors and harnesses to keep their preschooler literally connected to both a parent and the sport. www.mountsouthington.com.

At Mohawk Mountain, in Cornwall, a Parent & Tots program teaches parents how to ski safely with their 4-year-old children, while the children themselves learn to ski. Lessons are an hour and a half. Available Wednesday mornings or on weekends and holidays. www.mohawkmtn.com.

And Ski Sundown has 15 trails, two terrain parks, and night skiing. Group ski lessons for ages 4 and up; snowboarding for 7 and up. New Hartford. www.skisundown.com.

NEW JERSEY

Mountain Creek has a large terrain park, nine beginner trails, 26 intermediate trails, nine advanced trails and one expert trail. There are private lessons available on weekends and holiday, and one-hour or two-hour sessions for up to three people at time. There is also night skiing and tubing (you must be at least 42 inches tall and at least 5 years old). Vernon Valley. www.mountaincreek.com.
Hidden Valley has Ski Wee learn-to-ski for 4- to 12-year-olds, and Mini Riders for snowboarders ages 7-12. There is also night skiing. Vernon. www.hiddenvalleynj.com.
Campgaw Mountain is a small ski area in Bergen County, with two lifts, eight trails, night skiing and tubing. There are group ski lessons for ages 4 and up, and snowboarding for 7 and up. Mahwah. www.skicampgaw.com.

BERKSHIRES, MASSACHUSETTS

Bousquet Ski Area & Family Fun Center has one-hour skiing or snowboarding lessons for ages 5 and up. There is also night skiing and tubing. Pittsfield. www.bousquets.com.

Ski Butternut has full-day SKIwee ski programs for ages 4-12 and miniRIDERS snowboarding programs for ages 7-12. Tubing is also available. Cross-country is closed this season. Great Barrington. www.skibutternut.com.

Jiminy Peak has 44 trails, three terrain parks and night skiing. There is daycare, and lessons for kids as young as 3. There is also a year-round mountain rollercoaster open weekends and holidays. Hancock. www.jiminypeak.com.

Otis Ridge has group ski lessons for kids as young as 4, and snowboarding lessons for ages 8 and up. There is night skiing. Otis. www.otisridge.com.

Berkshire East Ski Resort has varied terrain, a tubing park, and a daycare program for ages 2 1/2-6. There are full- and half-day children's programs for ages 4-14, and private ski lessons for kids as young as 3. Charlemont. www.berkshireeast.com.

POCONOS, PENNSYLVANIA

Alpine Mountain Ski & Ride Center has tubing for those over 42 inches, as well as PenguinPlay Park for under 42 inches, with little slides and an igloo. Analomink. www.alpinemountain.com.

Blue Mountain Ski Area has a six-seat lift, three terrain parks, 33 trails, tubing, and night skiing. Their Explorer program offers ski lessons for ages 4-12 and snowboarding for ages 7-12. Palmerton. www.skibluemt.com.

Camelback: You can drive here Friday afternoon and still get in a few hours of skiing, if the kids rest in the car; lifts are open till 10pm and all 33 trails, terrain parks, and pipes are lit. A new progression park for learning and small children is open this season. Weekends and holidays, three-hour tubing sessions, with discounts for those who are also skiing. Family tubes for kids as small as 33 inches (accompanied by an adult). Tannersville. www.skicamelback.com.

The sister resorts, Jack Frost in Blakeslee and Big Boulder in Lake Harmony, have ski programs for ages 3-10. Both offer terrain parks and tubing; only Big Boulder has night skiing. www.jfbb.com.

Shawnee Mountain Ski Area has a learning center and beginner area, as well as tandem tubes for parents and children under 42 inches. Shawnee also has tubing parks, night skiing, 23 slopes and trails, and two terrain parks. www.shawneemt.com.

Ski Big Bear at Masthope Mountain is installing an additional Magic Carpet lift on the beginner hill this season. There are 18 trails, with ski and snowboarding lessons for all children, and tubing for those over 42 inches. Kids 5 and under with a paying adult get a free lift ticket. Lackawaxen. www.ski-bigbear.com.

Snö Mountain Ski Resort has one-hour lessons for 3- to 5-year-olds, and a nursery for 2- to 5-year-olds. There is a terrain park, two Magic Carpet lifts and tubing for 44 inches and taller. Scranton. www.snomtn.com.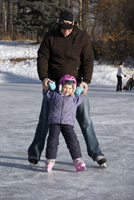 Ice Skating
Lace up your skates, put on your hats and gloves, and hit the ice! Here are some nearby rinks where you can skate your days (and nights) away.
ROCKLAND
Bear Mountain State Park, Palisades Parkway/Route 9W North, Bear Mountain. Open until March 8. Monday, Tuesday, Wednesday 10-11:30am, 12-1:30pm; Friday 8-9:30pm; Saturday-Sunday 10-11:30am, 12-1:30pm, 2-2:30pm, 4-5:30pm, 6-7:30pm; Saturday night 8-9:30pm. $4; $3 child; non-skater $2; skate rental $4. 845-786-2701; www.palisadesparksconservancy.org/parks/5/.
Palisades Center Ice Rink, 4900 Palisades Center Drive, West Nyack. Monday 11:30am-2:30pm; Tuesday 11:30am-1pm; Wednesday 10am-2:30pm, 2:45-4:45pm; Friday 11:30am-2:30pm, 7:45-9pm; Saturday 2:20-3:40pm, 5-6:20pm; Sunday 1:10-2:40pm, 4-5:20pm. $7; $5 under age 10; skate rental $3. Ten-visit punch cards and season passes available. 845-353-4855; www.palice.com.
Sport-o-Rama, 18 College Road, Monsey. Wednesdays (until February 25) 4pm-5pm; Saturdays (until February 28) 3-4:45pm, 9-11pm; Sundays (until March 1) 2:55-4:40pm. $8; skate rental $3. 845-356-3919; www.sportorama.com.

Ice-skating is available at the following parks, on the ponds, when they have frozen. At the ponds, a green flag will be posted if it is safe to skate. A red flag will be posted when it is not safe to skate. For more information on skating at the parks, call ahead.
• Children's Park, 11 Grotke Road, Chestnut Ridge. 845-357-6100.
• Eugene Levy Memorial Park, Rte. 45 and Joys Road, Pomona. 845-357-6100.
• Kings Park, Parkside Drive, Congers. 845-639-6200.
• Rockland Lake State Park, Rte. 9W, Congers. 845-268-3020.
• Sparkill Skating Rink, Corner of Ferdond and Valentine Roads, Sparkill. 845-359-5100.
• Veteran's Memorial Park, Hunt's Lane, Orangeburg. 845-359-6503.
WESTCHESTER

Ebersole Ice Rink, 53 Lake Street, White Plains. Wednesday 10am-2pm; Thursday 10am-2pm, 3-5pm; Friday 10am-2pm, 3-5pm, 8-10pm; Saturday 12-3pm; Sunday, adults only 10:20-11:45am; general public 1-3pm. 914-422-1348.

E J Murray Memorial Skating Ice and Roller Skating Rink, 348 Tuckahoe Road, Yonkers. Wednesday 10am-12pm; Thursday 10am-2pm; Friday 10am-2pm, 3-5pm, 8-10pm; Saturday 11am-1pm, 2-4pm, 8-10pm; Sunday 11am-1pm, 2-4pm, 5:30-7:30pm. Extended hours during holiday periods. $6.75; child $5.50; skate rental $3.50. 914-377-6469.

Hommocks Park Ice Rink, 140 Hommocks Road, Larchmont. Open until June 14. Monday 12:30-2:30pm; Tuesday and Thursday 1-5:15pm; Friday 1-5:15pm, 7:15-9:15pm; Saturday 1-5:15 pm; Sunday 11am-5:15pm. Hours are reduced during holiday periods. $7 ages 12 and up; $6 under 12; skate rental $3.50. Discount cards (for 12 sessions) and season passes can be purchased. 914-834-1069;www.hommocksparkicerink.org.
Ice Hutch Ice Skating Rink, 655 Garden Avenue, Mount Vernon. Open seven days a week, 6am-1am. $8; skate rental $4. 914-699-6787.
Playland Ice Casino, Playland Parkway, Rye. Wednesday, Thursday, Friday 1:30-5pm; Friday 'Party Night' 8:30-11pm; Saturday 1:30-5pm; Saturday 'Family Skating Night' 7:30-10pm; Sunday 1-5pm. Expanded hours during holiday periods. Open until May 3. $8; $6 12 and under; skate rental $4. Discount books (good for 10 admissions) available. 914-813-7059; www.ryeplayland.org.

Westchester Skating Academy, 91 Fairview Park Drive, Elmsford. Sunday, Monday 1:30-3:40pm; Tuesday 9:30-11:30am, 1:30-3:40pm; Wednesday 9:30-11:30am, 1:30-5pm; Thursday 9:30-11:30am; Friday 9:30-11:30am, 1:30-4:30pm, 7:30-10pm; Saturday 1:30-4pm, 7:30-9pm. Expanded hours during holiday periods. $10.25; $9.50 under age 10; skate rental $4. 914-347-8232; www.skatewsa.com.
FAIRFIELD
Danbury Ice Arena, 1 Independence Way, Danbury. Monday 11am-2pm; Tuesday 10am-3pm; Wednesday 11am-2pm; Thursday 11am-2pm; Friday 11am-2pm, 8:30-10:30pm; Saturday 1:30-3:30pm, 7:30-9:30pm; Sunday 2:30-4:30pm. $7; $6 ages 12 and under; skate rental $4; helmet rental $3. 203- 794-1704; www.danburyice.com.
Dorothy Hamill Skating Rink, off Sherman Avenue, Greenwich. Monday 12-1:30pm; Tuesday 12-1:30pm, 6:30-7:45pm, 7:45pm adults only; Wednesday 12-1:30pm, 3:30-5pm; Thursday 10:15-11:45am; Friday 12-1:30pm, 3:30-5pm, 7:30-9pm; Saturday 2-4pm; Sunday 2-4pm. Proof of Greenwich residency is required for admission, unless a Greenwich resident accompanies a non-resident guest. Admission prices: Ages 0-4 FREE when accompanied by a paying escort; ages 5-15 resident $3, $5 guest; ages 16-64 resident $5, $7 guest; ages 65 and older using senior resident pass FREE, $7 guest. Skate rental $3. 203-531-8560; www.greenwichct.org/parksandrec/prskating.asp.

Stamford Twin Rinks, 1063 Hope Street, Stamford. Monday 9am-2pm; Tuesday 10:30am-2pm; Wednesday 9am-1:40pm; Thursday 9-11:40am; Friday 9am-1:50pm, 7:45-10pm; Saturday 12:20-2:20pm; Sunday 1-3pm. $8; $6 under age 6; Friday Night Skating $9. Preferred Customer Discount Cards available. Skate rental $4. 203-968-9000; www.stamfordtwinrinks.com.

Terry Conners Ice Rink, Cove Island Park, Cove Road and Weed Avenue, Stamford. Monday 9am-2pm; Tuesday 11:30am-2pm; Wednesday 9am-2pm; Thursday 11:30am-2pm; Friday 9am-12:50pm; Saturday-Sunday,1:50-3:30pm. Stamford resident (adult) $6, non-resident (adult) $10; resident child under 18 $4, non-resident child under 18 $7; skate rental $4. 203-977-4513; www.tcrink.com.

Winter Garden Arena, 111 Prospect Ridge Road, Ridgefield. Monday-Friday 10am-2pm; Sunday 12:50-2:10pm. $8; $5 child, FREE under age 3. Skate rental $4; helmet rental $5. 203-438-4423; www.wintergardenarena.com.
Skating in the City…..
MANHATTAN
New Yorkers know they can find holiday cheer at Bryant Park, no matter how gloomy the economy is. The Pond at Bryant Park is NYC's only FREE admission skating rink. It is a temporary rink, up until January 25.You'll find it in the middle of the park, among festive holiday market stalls, right behind the library, between 40th and 42nd Streets. Open daily: Sunday-Thursday, 8am-10pm; Friday and Saturday 8am-midnight. 1-866-221-5157; www.thepondatbryantpark.com.
The Rink at Rockefeller Center is one of the most famous ice skating rinks in the world! It's small but oh-so-atmospheric!Fifth Avenue between 49th and 50th Streets. Open daily 8:30am-midnight, with occasional half-hour cleaning sessions throughout the day. $19.50 until January 9; $12:50 under age 11, until January 9. Visit their website for updated price and schedule. 212-332-7654; www.therinkatrockcenter.com.

Sky Rink at Chelsea Piers is a great indoor alternative. Sky Rink is located within the massive sports complex, Chelsea Piers. Current hours and prices: Monday, Friday, 1:30-5:20pm; Tuesday-Thursday 1:30-4:50pm; Wednesday, 1:30-3:50pm; Saturday-Sunday, 1-3:50pm. $12.50; $10 kids. Skate rental, $7; helmet rental, $3.75. Prices and hours are subject to change. 212-336- 6100; www.chelseapiers.com/srGenSkate.htm.

Wollman Rink is an outdoor skating right in Central Park. The best way to access Wollman is to enter from Central Park South (59th Street) and Sixth Avenue, and then it's just a two-minute walk. The rink opens daily at 10am, closes at the following times: Monday-Tuesday, 2:30pm; Wednesday-Thursday, 10pm; Friday-Saturday, 11pm; Sunday, 9pm. $10, $5.25 for kids Monday-Thursday; $14, $5.50 for kids Friday-Sunday. Skate rentals are $6 daily. No credit cards. 212-439-6900; www.wollmanskatingrink.com.

Lasker Skating Rink is a smaller rink at the north end of Central Park, near 110th Street and Lenox Avenue. Open Monday 10am-3:45pm, Tuesday 10am-3:30pm and 8-10pm, Wednesday 10am-3:45pm, Thursday 10am-3:45pm, Friday 10am-3:45pm and 7-11pm, Saturday 1-11pm, Sunday 12:30-4:30pm., $6; $3.50 kids. Skate rental $5.25. 917-492-3857; www.wollmanskatingrink.com/main_lasker.htm.
For the first time in its 140-year history, the American Museum of Natural History will have an outdoor ice skating rink, Polar Rink, made from synthetic ice. The rink is located on the Arthur Ross Terrace, at Columbus Avenue and 79th Street, adjacent to Theodore Roosevelt Park, and will be open until February 28. Monday-Thursday 12-8pm; Friday 12-11pm; Saturday 11am-11pm; Sunday 11am-8pm; holidays 11am-11pm. $10; $9 students; $8 ages 3-12; good for a 45-minute skating session and include skate rental. Children under 10 must be accompanied by someone 16 or older. 212-769-5200; www.amnh.org/museum/polarrink/?src=h_h.
City Ice Pavilion, 32nd Place between 47th and 48th Avenues, Long Island City. Open through May. Monday, Thursday 2-3:50pm; Tuesday, Wednesday, Friday 2-5:20pm; Saturday-Sunday 12-2:50pm. $6 weekdays; $8 weekends. Skate rental $6. 718-706-6667; www.cityice.pucksystems.com.
Seaport Ice, South Street Seaport, Pier 17, Fulton and South Streets. Open until February 28, seven days a week 10am-10pm. $5; skate rental $7. Free lockers available, with locks for sale; bag check services for a fee. 212-661-6640; www.theneweaport.com/icerink.
Riverbank State Park, 679 Riverside Drive. Open until March (weather permitting). Monday, Thursday 11:30am-2pm; Friday 6-9pm; Saturday-Sunday 1-4pm, 5-8pm; holidays 11am-2pm, 3-6pm. $5; $3 ages 11 and under; skate rental $5. 212-694-3642; www.nysparks.state.ny.us/parks/info.asp?parkID=75.
QUEENS
Queens World's Fair Ice Skating Rink, in the New York City Building, Flushing Meadows-Corona Park, has skating indoors, with a view of the Unisphere. The rink is open through mid-April. Take the #7 train to Shea Stadium; the rink is through the park, a 10-minute walk. By car: Take the Grand Central Parkway to Flushing Meadows Park. Skate rentals and coin lockers are available. Snack and soda vending machines. Note: All skaters must sign a waiver; under-18s must have a parent sign as well. For current hours of operation and prices for admission and skate rentals, call (718) 271-1996.
BROOKLYN
Abe Stark Rink is located along the Coney Island Boardwalk at Broadway and West 19th Street. Open Saturday-Sunday, 1-4pm. $8; skate rental $5. All skaters must sign a Risk of Ice Skating/Hockey Activity Agreement. Those under 18 must have a written consent form signed by parent or guardian. Agreement forms are available at the rink. A parent must sign the agreement form in the presence of a rink employee or parent's signature must be notarized. (718) 946-6536.
Kate Wollman Rink is open daily until March 15. Monday 8:30am-2pm; Tuesday 8:30am-5pm; Wednesday 8:30am-3pm; Thursday 8:30am-6pm; Friday 8:30am-10pm; Saturday 10am-1pm, 2-6pm, 7-10pm; Sunday 10am-1pm, 2-6pm. Hours are reduced during holiday periods. $5; $3 ages 14 and under; skate rental $6.50. Cash only. Prospect Park, East Drive near Parkside and Ocean Avenue entrance, or Lincoln Road/Ocean Avenue entrance. (718) 287-6431; www.prospectpark.org/visit/places/wollman_rink.