Click for a list of ski resort links

After kids reach a certain age, they often lose interest in traveling with their families. So it is important to establish family activities early. The family that skis together often stays together, and ski resorts near and far offer a variety of ways that 'hook' the entire family.

UP NORTH
The industry leader is probably Smugglers' Notch in Vermont, which "guarantees family fun". The resort works extra hard to make everyone happy, from having its mascots ski the bunny slopes and encourage the youngest skiers, to teen centers where the cool kids can hang out without their parents or younger siblings.
Stowe Mountain Resort
, just over the mountain in Stowe, VT, has added an easy transfer between its two peaks, Mt. Mansfield and Spruce Peak. Spruce is where the children's ski programs are found; the connection allows families with skiers of different abilities to stay better connected.
Okemo
appeals to the environmentalist, with its electrical needs covered by renewable energy certificates. Okemo, in southern Vermont, has new indoor pools, including one with a slide, and The Ice House, with ice skating, for après ski.
Stratton
, also in Vermont, has added the 'We-Xplore' environmental program to its Ski and Snowboard School.
Bretton Woods
is making it easier for families to take advantage of its children's programs with an expanded Family Center. The center includes the Hobbit Ski and Snowboard School, and Babes in the Woods Nursery, so you can drop off a younger child, and rent skis for your younger one, all in the same place.
CLOSER TO HOME
But you can also stay close to home and still get into skiing.
Windham
, in Winwood, NY, has a new high-speed quad lift that whisks you to the top of the mountain in four minutes. There are three new ski trails, a new ice skating rink, and a restaurant with an outdoor fire pit. Two Connecticut resorts have ways of getting parents and kids on the slopes together. At
Mount Southington
, in Plantsville, CT, Ski Threes is for parents and 3-year-olds. Parents learn how to use tip connectors and harnesses to keep their preschooler literally connected to both a parent and the sport. And at
Mohawk Mountain
, in Cornwall, CT, a Parent & Tots program teaches parents how to ski safely with their 4-year-old child while the child learns to ski.
If skiing isn't thrilling enough,
Jiminy Peak
, in Hancock, MA has a Mountain Coaster that takes you up 1,000 feet and lets you control your speed going down.
Jack Frost & Big Boulder
(JFBB), in the Pocono Mountains, is making tubing even easier, with the installation of a 600-foot conveyor carpet to transport tubers back up the hill. There will also be 400 new single tubes at JFBB tubing parks.
OUT WEST
Skiing is undoubtedly an expensive pastime, but special promotions can make it more reasonable.
Jackson Hole Mountain Resort
, in Wyoming, offers a free flight, lift ticket and accommodations for a child 12 and under traveling with a parent. Skiing out west has the advantage of lots of powdery snow, which is easier to ski and softer for landing.
As an incentive for learning how to ski well,
Beaver Creek
, in Colorado, has Thursday Night Lights, where skiers get glow sticks and ski down the mountain to music; they are rewarded at the end with fireworks.
At
The Canyons,
Park City, Utah, kids 13 and up can ski "first tracks" on Wednesdays and Saturdays; intermediate skiers or snowboarders can be first on the lifts, and first down the mountain. This requires teens to get up early in the morning; you get a true measure of a teen's dedication to the sport when she gets up at the crack of dawn for that early car ride or first run down the mountain. (The Canyons has also teamed with Nickelodeon for Family Winter fests with magic shows, Nick games, and performances by the Dirty Sock Funtime Band).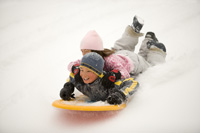 Resources
Beaver Creek, Vail Valley, CO: beavercreek.snow.com
Big Boulder, Poconos, PA: www.jfbb.com
Bretton Woods Mountain Resort, Bretton Woods, NH: www.brettonwoods.com
Jackson Hole Mountain Resort, WY: www.jacksonholewy.com
Jiminy Peak, Hancock, MA: www.jiminypeak.com
Mohawk Mountain, Cornwall, CT: www.mohawkmtn.com
Mount Southington, Plantsville, CT: www.mountsouthington.com
Okemo Mountain Resort, Ludow, VT: www.okemo.com
Smugglers' Notch, Smugglers' Notch, VT: www.smuggs.com
Stowe Mountain Resort, Stowe, VT; www.stowe.com
The Canyons, Park City, UT: www.thecanyons.com
Windham: www.windhammountain.com
KID'S EYE-VIEW: Mt. Snow, Vermont
A first hand account from Nora Brown, age 9

Do you want a nice place to go skiing, tubing, snowboarding, snowshoeing, swimming, and somewhere to play in the snow? And take a sleigh ride? Then Mount Snow is for you. It's located in West Dover, Vermont.
In downhill skiing, there's a class for everyone. From beginner to expert, your child will find his/her level. If you don't own skis, there's a nice rental shop. According to the group, your child may or may not need poles. There are 106 trails and nine lifts.
In cross country, there are 20 trails. You must put in a lot of effort. For this you need poles. You don't need a helmet. Bring your kids, and double the fun! There are some small hills so you can fall.
If you decide to go snowshoeing, you will do it next to the cross country skiing. There is a slight chance of falling, but not much. Although there are trails, you can go into the deep snow. It feels like hiking.
Snowboarding is done in the same place as skiing. It is very different, so if you are a skier, be prepared. If you love skateboarding and surfing, try snowboarding. You should be prepared to fall a lot . Younger kids should wear a helmet. It takes a lot of practice, so take about four lessons before going to the top of the mountain.

For more information, go to www.mountsnow.com



New ski gear

—Keeping your kids warm while they ski is paramount. Kombi has new Gondola Gloves, with extra long cuffs and a built-in pocket where you can add a heat pack. The waterproof lining makes this a great sledding glove, too. Available in seven colors and four sizes. $16; www.kombisports.com.


—Kids are safer when they ski with a helmet, but most ski resorts charge extra to rent. And if you buy a helmet, you may need to replace it every season. Marker has the Tracer Plus Ski Helmet that grows with your child. At $69.50, this pays for itself in just a week of skiing. www.markerusa.com.