SEE OUR MOST RECENT GUIDE TO ZOOS, NATURE CENTERS, AND BOTANICAL GARDENS IN THE NEW YORK METRO AREA
---
Take a step back from the hectic pace of life and experience the natural world at these zoos and nature centers. See wildlife and plants in their ecological habitats, and enjoy some peace and quiet/

ROCKLAND

Trailside Museums & Wildlife Center
Bear Mountain State Park, Palisades Parkway and Route 9W
845-786-2701 x265; www.bearmountainzoo.org
Hours: Open daily, 10am-4:30pm.
Prices: $1; $.50 ages 6-12; FREE under 5.
Overlooking the Hudson River, there is a two-mile paved interpretive nature trail and four museum buildings that house exhibits that interpret the geology and natural history of the area. Visit native, non-releasable wildlife, such as coyotes, North American black bears, and Red-tailed hawks.

WESTCHESTER

Beczak Environmental Education Center
35 Alexander Street, Yonkers
914-377-1900; www.beczak.org
Hours: Interpretive Center open daily 9am-5pm, Saturday 9am-3pm.
Prices: FREE (donations appreciated).
Beczak Environmental Education Center is a nonprofit organization dedicated to educating individuals about the ecology, culture, and history of the Hudson River. There are educational programs for children, adults and groups about local beaches, marshes, fish, birds, and the weather.

Rye Nature Center
873 Boston Post Rd., Rye
914-967-5150; www.ryenaturecenter.org
Hours: Grounds and trails open 365 days per year, dawn to dusk; Butterfly House open May-October, dawn to dusk.
Prices: FREE.
The Center is located on 47 acres of wildlife preserve, with over two miles of hiking trails, a 14-station self-guided trail, butterfly house, museums and classrooms. Grab a bird or wildflower checklist to keep track of sightings. There is also a full range of environmental education programs and activities for children, adults, and groups.

Greenburgh Nature Center
99 Dromore Rd., Scarsdale
914-723-3470; www.greenburghnaturecenter.org
Hours: Indoor exhibits open weekdays (except Fridays) 9:30am-4:30pm, weekends 10am-4:30pm.
Prices: $7; $6 seniors/students; $5 ages 2-12; FREE under 2.
A 33-acre woodland preserve with trails, a pond, gardens, and a variety of habitats. There are over 40 varieties of plants, flowers, and trees including hickories, maples, oaks, tulip poplars and ferns, as well as 17 mammals, over 100 species of birds and 14 species of reptiles and amphibians. There is also a "hands-on" discovery room, greenhouse, and changing nature-arts exhibits.

Sheldrake Environmental Center
685 Weaver St., Larchmont
914-834-1443; www.sheldrakecenter.org
Hours: Monday-Friday 9:30am-5pm.
Prices: Vary according to program.
Located at the 60-acre Larchmont Reservoir - James G. Johnson, Jr. Conservancy, Sheldrake offers a variety of environmental programs for families and schools to foster a better understanding of ecology habitats and natural exploration. Programs available for children include Mommy & Me nature classes, Pre-K nature classes, and an After-School nature club.

The Wolf Conservation Center
South Salem
914-763-2373; www.nywolf.org
Call or register online to arrange a visit; prices and hours vary per program.
The Wolf Conservation Center is dedicated to teaching the public about wolves and their relationship to the environment and to protecting their future in the wild. The Center is home to an ambassador pack of four gray wolves that visitors can observe in spacious natural enclosures. Workshops, including Wolves for Kids, Wolves of North America, and Evening Howl, are designed to introduce families to its work on behalf of wolves. There are also special evening programs for families with children under 6.

Trailside Nature Museum at Ward Pound Ridge Reservation
Route 35 and 121 South, Cross River
914-864-7322; www.trailsidemuseum.org
Hours: Trails are open daily, dawn to dusk. Museum open Tuesday, Wednesday, Thursday, Saturday, and Sunday, 9am-4pm.
Prices: FREE (donations appreciated; $2 suggested).
The Trailside Nature Museum has exhibits that focus on aspects of the natural world and the human history of Ward Pound Ridge Reservation and the surrounding area. Specimens of birds, mammals, plants, insects, and minerals are on display.

Croton Point Nature Center
Croton Point Park, Croton-on-Hudson
914-862-5297; www.westchestergov.com
Hours: Open Tuesday-Saturday, 9am-4pm. Trails open every day, dawn to dusk.
Prices: FREE.
Located at the 504-acre northwest tip of Croton Point Park, the Center displays exhibits on local flora and fauna (including Hudson River specimens), and local and Native American history. There are hands-on activities and interpretive programs and presentations intended to help visitors better understand the natural world, as well as to enhance their knowledge of the local area and its history.

Edith G. Read Natural Park and Wildlife Sanctuary
Exit 19, off I-95, adjacent to Playland Park, Rye
914-967-8720; www.westchestergov.com
Hours: Tuesday-Saturday, 9am-4pm. Trails open daily, dawn to dusk.
Prices: FREE.
Take a walk through the 179-acre park and discover diverse habitats and the wonders of nature. Stop and explore the specifics of the seasons. From bare rock to forest, track the progression of a habitat as it evolves and see how it came to be what it is today.

Teatown Lake Reservation
1600 Spring Valley Road, Ossining
914-762-2912 ext. 110; www.teatown.org
Hours: Tuesday-Sunday, 9am-5pm. Trails are open dawn to dusk, 365 days a year.
Prices: FREE.
Teatown Lake Reservation's 834-acre nature preserve, located in the northwest section of Westchester, spans Yorktown, Cortland, and New Castle. Its Nature Center contains a variety of wildlife, amphibians, birds of prey, mammals, and reptiles. Wildflower Island, a two-acre island sanctuary located within Teatown Lake, is home to over 230 native and endangered species of wildflowers. Teatown offers a variety of activities, programs, and events for families and children.

Weinberg Nature Center
455 Mamaroneck Road, Scarsdale
914-722-1289; www.scarsdale.com
Hours: Wednesday-Sunday, 9am-5pm; summer Monday-Friday. Trails open daily, dawn to dusk.
Prices: FREE (donations appreciated). Fee charged for some programs.
This 10-acre sanctuary, owned by the Village of Scarsdale, is a haven for a wide variety of animals and birds, with a meadow, fruit orchard, woodlots, swamp, and an apiary for bees. There are numerous nature-related exhibits in addition to children's and family programs.


CONNECTICUT

Stamford Museum and Nature Center
39 Scofieldtown Rd., Stamford
203-322-0408; www.stamfordmuseum.org
Hours: Bendal Mansion & Galleries open Monday-Saturday 9am-5pm, Sunday 11am-5pm; Heckscher Farm & Nature's Playground open daily 9am-5pm; Animal Embassy open Tuesday-Sunday 10am-2pm; Observatory open Friday nights 8-10pm.
Prices: $8; $6 seniors and students 18 and older with a valid ID; $4 ages 4-17, FREE under 3 and those holding bus passes or bus transfer tickets. Stamford residents are FREE on Wednesdays. Planetarium: $3; $2 children. Observatory: $3; $2 children.
The Stamford Museum and Nature Center offers year-round classes in art and nature, science and agriculture, for toddlers through adults. The 118-acre site also has the Heckscher Farm, an early New England farm with a barn and pastures where oxen, sheep, goats, pigs, and cows roam; six nature trails that wind through rocky hillsides, past ponds and stream; and the Overbrook Natural Science Center, with a live pond exhibit featuring frogs, turtles, fish and snakes in their simulated habitats.

The Maritime Aquarium
10 North Water Street, Norwalk
202-852-0700; www.maritimeaquarium.org
Hours: Open daily, 10am-5pm; July-August open until 6pm. Closed Thanksgiving Day and Christmas Day.
Prices: Aquarium only: $11.75; $10.75 seniors 65+; $9.75 ages 2-12; FREE ages 2 and under. Additional fee for IMAX movie and ride film.
Watch sharks, jellies, sea turtles, and more than 1,000 other marine animals. The Maritime Aquarium features daily feedings of the seals, and the ability to get close to crabs, starfish and more at the touch tank. See one of three IMAX movie adventures about aquatic animals and their habitats, as well as an Adventure Under the Sea exhibit. African Penguins, the newest exhibit, features a small colony in an outdoor display on the Aquarium's riverfront courtyard, with plenty of viewing windows above and below the water line.

Mystic Aquarium & Institute for Exploration
55 Coogan Blvd, Mystic
860-572-5955; www.mysticaquarium.org
Hours: Open daily: March 1-October 31, 9am-5pm; November 1-November 30, 9am-4pm; December 1-February 28, 10am-4pm; December 26-January 4, 9am-5pm; February 14-22, 9am-5pm.
Prices: $24, $21 seniors 60+, $18 ages 3-17, FREE under 2.
Mystic Aquarium is New England's only home to some of the world's exclusive creatures, including Beluga whales, African penguins, blue-tongued skinks and more. Exhibits, demonstrations, and educational programs emphasize hands-on, interactive, live animal contact experiences for all ages.

New Canaan Nature Center
144 Oenoke Ridge, New Canaan
203-966-9577; www.NewCanaanNature.org
Hours: Trails and grounds are open dawn to dusk. Greenhouse open Monday-Saturday, 9am-4pm.
Prices: FREE.
The New Canaan Nature Center features diverse habitats, including wet and dry meadows, woodlands, two ponds, dense thickets, an old orchard, and a cattail marsh. Two miles of trails crisscross the site. Visitors can also enjoy gardens including the Sally Waters Herb Garden, James L. Crider Memorial Bird and Butterfly Garden, the Swallen Wildflower Garden, and Susan B. Hanson Memorial Naturalists' Garden.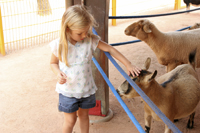 The Beardsley Zoo
1875 Noble Avenue, Bridgeport
203-394-6565; www.beardsleyzoo.org
Hours: Open daily, 9am-4pm except Thanksgiving, Christmas, and New Year's Day.
Prices: $11; $9 ages 3-11 and seniors (62+); FREE under 3.
Connecticut's only zoo features hundreds of animals, representing over 120 species, the majority of which are native to North and South American. Learn about the many endangered and threatened species, including the Amur (Siberian) tiger, Andean condor, Red wolf, and Andean (spectacled) bear. See the South American tropical rainforest with free-flight aviary, New England farmyard, picnic grove, and Victorian greenhouse. Throughout the year, the Zoo holds many special family events and offers a variety of public education programs.

Woodcock Nature Center
56 Deer Run Road, Wilton
203-762-7280; www.woodcocknaturecenter.org
Hours: Woodland trails open daily, dawn to dusk.
Prices: FREE.
Located on 149 acres of state-protected land is the Woodcock Preserve, which includes a pond, wetlands, and three miles of publicly accessible woodland trails. Along the trails, you will find historic stone walls and old maple, beech, oak, and hickory trees. The Nature Center is home to a variety of local and exotic creatures including snakes, frogs, and lizards. There is also a house of injured birds of prey.

Earthplace
10 Woodside Lane, Westport
203-227-7253; www.earthplace.org
Hours: Building open Monday-Saturday, 9am- 5pm, Sunday 1-4pm; grounds open daily, 7am-dusk.
Prices: Admission to grounds is FREE. Admission to building $7 over age 12; $5 ages 1-12 and seniors.
Earthplace is a 62-acre wildlife sanctuary with trails, an interactive natural history museum, and live wildlife for public viewing. Educational programs include a state-licensed preschool, after-school programs, summer camp and wildlife rehabilitation program.


QUEENS

Alley Pond Environmental Center
228-06 Northern Boulevard, Douglaston
718-229-4000; www.alleypond.com
Hours: Open September-June, Monday-Saturday, 9am-4:30pm, Sunday 9am-3:30pm; July-August, Monday-Saturday, 9am-4:30pm; closed Sundays and some major holidays.
Prices: FREE.
The Center has animal, science, and nature programs for children, adults, and families. Children's programs include Wee Sprouts, an introduction to nature through petting animals, environmental toys, and a mini-nature walk; as well as For the Birds of Prey, with live demonstrations featuring a kestrel, Red-tailed hawk, and barn owl. Many other programs, some seasonal, some multi-session, are offered throughout the year. The city's only working windmill is onsite.

Queens Zoo
53-51 111th Street, Flushing
718-271-1500; www.queenszoo.com
Hours: Open daily, 10am-4:30pm.
Prices: $6; $2 ages 3-12; $2.25 seniors 65+; FREE under 3.
Although it is one of the city's smaller wildlife centers, the Queens Zoo is the only zoo in New York to feature the spectacled bear, endangered species native to the Andes Mountains; Otis, the coyote rescued from Central Park in 1999; and Josephine, a pudu (the world's smallest deer). Other uncommon animals onsite include Flemish giant rabbits, hairy Highland cows, and cashmere goats.


BROOKLYN

Prospect Park Audubon Center at the Boathouse
95 Prospect Park West
718-287-3400; www.prospectparkaudubon.org
Hours: Through March 29, open weekends and school holidays 12-4pm; April 4-May 24, open weekends and school holidays 12-4pm; May 28-November 22, open Thursday-Sunday and holidays, 12-5pm. Boat rentals available first Saturday in April until last Sunday in October; 25-minute tour, departs every half hour.
Prices: FREE. Electric boat tours $6 ages 13 and up; $3 ages 3-12; FREE under 2.
The whole family can rent a pedal boat and look for fish, frogs, and snapping turtles as you pass the three islands, Duck, Three and West. If you prefer to relax, take a ride on the electric boat tour, which includes a talk about the park's ecosystem. Bring your own birding backpack to bird watch, or borrow one from the Center.

Prospect Park Zoo
450 Flatbush Avenue
718- 399-7339; www.prospectparkzoo.com
Hours: Open daily, 10am-4:30pm.
Prices: $6; $2 ages 3-12; $2.25 seniors 65+; FREE under 3.
The perfect playground for toddlers, with three major exhibits designed to engage children: The World of Animals lets children meet prairie dogs and wallabies face to face; Animal Lifestyles features hamadryads baboons; and the Animals in Our Lives program encourages children to observe and draw wildlife. Don't miss one of the three daily feeding demonstrations for the sea lion pool, one of the most popular attractions.

The New York Aquarium
602 Surf Avenue
718-265-3474; www.nyaquarium.com
Hours: Open April 4-May 23, Monday–Friday 10am–5pm, weekends and holidays,10am-5:30pm; May 24-September 8, Monday-Friday 10am-6pm, weekends and holidays 10am-7pm; September 8-November 1, Monday-Friday 10am-5pm, weekends and holidays 10am-5:30pm.
Prices: $13; $9 ages 3-12; $10 seniors 65+; FREE under 2.
At the city's only aquarium, there are over 8,000 animals across 14 acres of indoor and outdoor exhibits. There is a variety of programs for children and families, covering almost every topic related to marine environments and animals, including the Toddler Marine Science program and after-school workshops featuring the new CSI: Marine Unit.


MANHATTAN

Central Park Zoo
830 Fifth Avenue and 64th Street
212-439-6500; www.centralparkzoo.com
Hours: Open daily, 10am-4:30pm.
Prices: $8; $3 ages 3-12; $4 seniors 65+; FREE under 3.
This zoo is best known for the daily feedings of the sea lions. There is a separate Children's Zoo included in the admission price where kids can feed and pet llamas and bunnies. The exotic indoor rainforest is home to endangered species such as Tamarin monkeys, Wyoming toads, thick-billed parrots, and red pandas.


BRONX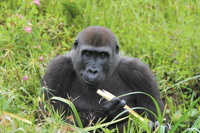 The Bronx Zoo
2300 Southern Blvd
718-367-1010; www.bronxzoo.com
Hours: Winter hours in effect through April 3: open daily 10am-4:30pm; spring/summer hours in effect April 4-November 1, open Monday-Friday 10am-5pm, weekends and holidays 10am-5:30pm.
Prices: $15; $11 ages 3-12; $13 senior 65+; FREE under 2. Wednesday admission is a pay-what-you-wish donation. Separate exhibit fees apply.
The Bronx Zoo is the largest urban zoo in the United States, housing over 4,000 animals, many of which are endangered or threatened species, on its 265 acres of parklands and naturalistic habitats. Specialty attractions include Jungle World, an indoor rainforest where Asian gibbons, hornbills, tapirs, and many other rare species live among equally rare and beautiful plants and trees; Himalayan Highland Habitat, home of the red panda, snow leopard and white-naped crane; and the Congo Gorilla Forest, with two families of lowland primates.


STATEN ISLAND

Staten Island Zoo
614 Broadway
718-442-3100; www.statenislandzoo.org
Hours: Open daily, 10am-4:45pm. Closed New Year's Day, Christmas Day, and Thanksgiving.
Prices: $7; $5 seniors 60+; $4 ages 3-14; FREE under 3. FREE Wednesdays 2-4:45pm.
Specializes in small mammals, birds, and reptiles. The Zoo also has a tropical forest, aquarium, and Children's Center with farm animals and a duck pond. There are many educational programs, workshops, and events for families throughout the year.


SUFFOLK

The Animal Farm Petting Zoo
296 Wading River Road, Manorville
631-878-1785; www.afpz.org
Hours: Open weekdays, 10am-5pm; weekends, 10am-6pm.
Prices: $13.50; $11.50 ages 2-16 and seniors; FREE under 2.
See a large selection of rare and unusual birds, monkeys, llamas, reptiles, and other exotic animals. Hold and bottle-feed baby cows, goats, pigs, and lambs. There are also pony rides, turtle train rides, a Super Cow musical puppet show, and Safari Tour Train.

Long Island Game Farm
638 Chapman Boulevard, Manorville
631-878-6644; www.longislandgamefarm.com
Hours: Open weekdays, 10am-5pm; weekends, 10am-6pm.
Prices: Off-season (before May 24 and after September 1): $15.95; $13.95 ages 3-11; $9.95 handicapped; $13.95 seniors; FREE under 3. Memorial Day-Labor Day (May 27-September 4): $17.45; $15.45 ages 3-11; $9.95 handicapped; $15.95 seniors; FREE under 3.
"Please touch" is the motto at Long Island's largest zoo and encounter park. There are hundreds of animals, including an 18-foot giraffe, red kangaroos, kinkajous, cougars, peacocks, and the only lemurs born and bred on Long Island. Pet-able animals include ducks, rabbits, ponies, and turtles. Pony rides are also available.

Cold Spring Harbor Fish Hatchery & Aquarium
Route 25A, Cold Spring Harbor
516-692-6768; www.cshfha.org
Hours: Open daily, 10am-5pm; June-August open Monday-Friday 10am-5pm, Saturday and Sunday 10am-6pm. Closed Thanksgiving Day, Christmas Day and Easter Sunday.
Prices: $6; $4 ages 3-12 and over 65; FREE under 2.
A nonprofit center dedicated to educating visitors about the freshwater ecosystems of New York. They have the largest living collection of New York State freshwater reptiles, fish and amphibians. Tour two aquarium buildings and eight outdoor ponds, feed the hungry trout, or try the Catch & Keep Fishing.

Uplands Farm Nature Sanctuary
The Nature Conservancy, Long Island Chapter
250 Lawrence Hill Road, Cold Spring Harbor
631-367-3225; www.nature.org
Hours: Grounds open daily, dawn to dusk.
Prices: FREE (donations appreciated).
Walking trails through 97 acres of fields. Red maple, black cherry, red cedar, and hickory trees are in the eastern woodlands, while tulip trees, black birch, and maple-leaf viburnum are in the western woodland. The fields and hedgerows provide habitats for a wide variety of animals, including birds, small mammals, and 40 species of butterflies.

Caleb Smith State Park Preserve
Jericho Turnpike, Smithtown
631-265-1054; www.nysparks.gov
Hours: Trails open daily, 9am-5pm.
Prices: FREE.
Most of Caleb Smith State Park Preserve's 543 acres are undeveloped, allowing views of its many different habitats including freshwater wetlands, ponds, streams, fields, and woods. The Preserve is a refuge for wildlife and its diverse habitats support a variety of trees, shrubs, wildflowers, and ferns. The park also operates a nature museum with wildlife displays and nature programs for children and adults.

Sweetbriar Nature Center
62 Eckernkamp Drive
631-979 6344; www.sweetbriarnc.org
Hours: Preserve open daily, 8:30am-4:30pm; butterfly and moth vivarium open daily (in season), 10am-4pm.
Prices: FREE (donations accepted). Butterfly and moth vivarium: $3; $2 ages 12 and under and seniors.
The Center is located on 54 acres, with nature trails going through diverse areas that include wetlands, fields, and forests along the Nissequogue River. It is home to a large rehabilitation aviary, public gardens, working farm, and butterfly and moth vivarium that contain over 20 species of native North American butterflies and moths.


NASSAU

Tackapausha Museum and Preserve
Washington Avenue between Merrick Road and Sunrise Highway, Seaford
516-571-7443; www.nassaucountyny.gov
Hours: Wednesday-Saturday, 10am-4pm; Sunday, 1-4 pm.
Prices: $3; $2 ages 5-12; FREE under 5 when accompanied by a parent.
The Tackapausha Preserve is an 84-acre wildlife sanctuary consisting of oak forests, ponds and streams, a variety of small mammals, and over 170 species of birds. There is a 3000-square foot museum located on the Preserve that showcases the ecology of Long Island, including the plants and wildlife of different seasons, in addition to animal exhibits and interactive activities for families and children.

Garvies Point Museum & Preserve
50 Barry Drive, Glen Cove
516-571-8010; www.garviespointmuseum.com
Hours: Tuesday-Saturday, 10am-4pm. Closed holidays.
Prices: $3; $2 ages 5-12; FREE under 5.
A 62-acre site set along Hempstead Harbor, Garvies Point has permanent exhibits and educational programs about Long Island and New York State geology, and Long Island Native American culture and archaeology. Changing exhibits cover a variety of natural history subjects, including the glacial exhibit, which illustrates and explains the formation of contemporary land features.


NEW JERSEY

ABMA's Farm
700 Lawlins Road, Wyckoff
201-891-0278; www.abmasfarm.com
Hours: Monday-Friday, 8am-6pm; Saturday, 8am-5:30pm; closed Sunday. Pony rides available Saturdays, May-October (weather permitting).
Prices: FREE.
In ABMA's Farm petting zoo, kids (as well as parents) can pet sheep and cows, feed carrot greens to the rabbits, see birds, goats, ponies, donkeys, and llamas, and watch a chick hatch. See the plants at the greenhouse, and check out the market, where everything, including poultry and eggs fresh from the chicken coops, home-baked pies, muffins, and more, is raised, picked and prepared daily.