Almost any collection of children's books includes a few by William Wegman. His retellings of Cinderella and Little Red Riding Hood, and his ABC and 1 2 3 books, and Sesame Street shorts, all featuring his photogenic Weimaraners, have been entertaining children for years. Now, at the Brooklyn Museum, kids (and adults) can explore Wegman's dog photographs, as well as paintings, drawings, collages and videos. The exhibit, Funney/Strange, uses the misspelling of a common word to show how the artist employs humor in his work. There is even a description of the difference between 'funny strange' and 'funny ha ha'.
There is only one photograph from a Wegman children's book in the exhibit —one of the 'evil stepmother' — but the recognizable Weimaraners crop up throughout. What's great, though, is that kids who already like Wegman's 'dog' art will be more inclined to examine his other works. In Reading Two Books, Wegman photographed himself reading two books; each eye goes a different way. Be sure to also find the palindrome, 'Madam I'm Adam', working in two parts.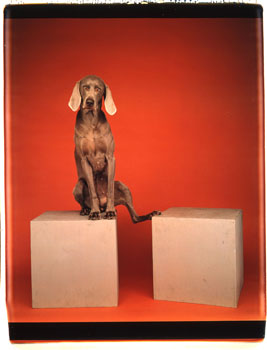 There is a room that plays a loop of short Wegman videos, and a couple of other monitors where you can see (though barely hear) videos. Many of these star Wegman's canine muses, but again, kids who see one dog video are often open to seeing a few other works. Videos are as short as 15 seconds, and as long as seven minutes, with most clocking in at about a minute — perfect for short attention spans.
Special events in conjunction with the exhibit include short films and videos by Wegman on Saturday, April 22, from noon–6pm, and an artist talk that same day, at 3pm.
William Wegman: Funney/Strange runs through May 28.
Info:
Where: 200 Eastern Parkway
When: Wednesday–Friday, 10am–5pm; Saturday and Sunday, 11am–6pm; first Saturday of each month, till 11pm
How much: Suggested admission, $8 adults, $4 students and seniors; free, children under 12.
For more info: (718) 638-5000; www.brooklynmuseum.org