You there, with the failing Filofax, the dated Day Planner, the powerless Palm Pilot!  Here's your salvation: Two NYC moms have combined their talents to revolutionize the paper planner, with the Whomi Organized Agenda, a horizontal, color-coded organizer designed for busy women.  The creators, Nina Korelitz-Matza and Gail Auster, each had thriving careers, but both had trouble keeping complicated schedules straight, and keeping track of children, and personal and professional obligations.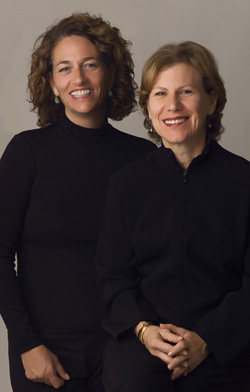 Korelitz-Matza, who says she prefers writing down appointments, felt that traditional paper calendars were not up to the job of organizing a family's schedule; she has 7-year-old twins.  She says she found them "visually very unsettling, confusing, and time consuming," adding that trying to decipher whose appointment was whose "was giving me a headache." 

   Her husband, a graphic designer, put together a prototype of an organizer with the schedules laid out horizontally.  The top half is for the main user; the bottom three sections, each a different color, can each be assigned to a child. If you have fewer than three children, you can designate one square for family appointments. 

   Once Korelitz-Matza started using her newly designed calendar, she recalls, "All my friends pounced on it." She conducted research to see if the heavily scheduled family was a New York phenomenon, or typical of most urban areas, and concluded that it's not only New York children who lead busy lives.  The answers she received were universal; this was a scheduler that modern moms needed.

    Korelitz-Matza, a born and bred Manhattanite, had worked in corporate branding for years, during which time she met Auster, a lawyer. She said the birth of Whomi was "a classic case of necessity being the mother of invention."

   Auster, the widowed mother of three, was keeping sole track of her kids; though the oldest is 26 and living away from home, she still monitors the schedules of her 15- and 22-year-olds. Auster juggles her job as a practicing attorney with her Whomi partnership — making her the perfect example of the type of mom who needs such an organizer. And she's keeping it in the family; her oldest daughter Megan, is part of the team developing and marketing their products.

   Korelitz-Matza says there is a "profound message" in the way the scheduler, named Clarity, separates a mom's life from her child's: "They're right there next to each other, but separate."  Then she adds, "I'm not a spiritual person, but the planner gives me a sense of calm."

   In its first year, Whomi just had calendar items, but, reports Korelitz-Matza, "We are evolving into a company that is all about helping women get organized."  One of its new products this year is a tri-divided "To Do" pad, with color-coded "Shop", "Do", and "Call" sections.  Other new items will move the company beyond dated products.

   The agendas are $28-$34; the Whomi on the Wall Family Calendar, $15,99, has the same corresponding colored sections, so you can easily keep track in two locations.  There is also a Hidden Agenda ($45) — a champagne metallic agenda holder with smart pink zipper and pink patent lining; a percent of the profits from each of these sold is donated to charities helping women and mothers in need.

   To see the products, or to find a retailer, go to www.myWhomi.com.