Somewhere around 9:15 a.m. on any given Saturday morning, while other theaters remain in slumber mode, an eclectic group of visitors begins to gather at the entrance to the Gershwin Theatre. By 9:30 when the doors open, an avid collection of kids, grown-ups, students and the chronically curious head upstairs for an unprecedented look at the nuts, bolts, froo-froo and pyrotechnics that go in to mounting a major Broadway musical.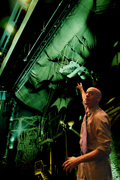 Welcome to Behind the Emerald Curtain (BEC), brainchild of veteran
Wicked
actors Sean McCourt and Anthony Galde,* two musical-theater pros/dads whose weekly behind-the-scenes tour-de-
Wicked
offers the ultimate peek at what makes a Broadway blockbuster tick.
     "Our message is about collaboration, how Broadway shows work and how many different people it takes to make these shows happen," says McCourt. "BEC is a show and we have a script. Granted, it's a loose script that keeps evolving, but we try to always cover the same ground and then leave it open for questions."
     According to Galde, the spark that was to become BEC was ignited roughly four years ago in a
Wicked
dressing room. "We were sitting next to each other and we just started throwing around these ideas," he recalls, adding that the two had already begun to do Q&A sessions with tour groups that would come into town.
     "We did them in rehearsal studios off-site, but because we're both so passionate about the show and its message, it was frustrating not to be able to really explain and show all the elements," he continues, "and that's where the idea for this tangible kind of experience really came from.
     "We went through different themes and concepts and scripted the whole thing out and did market research – we put our whole package together and then went to our producer."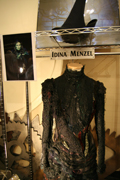 In the beginning, there was a quasi-wariness that the show's more "enthusiastic" devotees would dominate the tour. (As it happened, the first person in the door for the premiere tour darted in, dropped to her knees in front of Elphaba's costume and started wailing.)
      "But while people become very attached to the show – it is something of an entity unto itself – our demographic at this point is very broad," explains Galde, who describes a typical guest as educated and interested vs. outwardly demonstrative and emotional. "I don't know that another show could sustain this. We do sometimes upwards of 400 people on a Saturday morning, and that's three and a half years in…. so it's very, very unusual," he says.
     One of the most critical aspects of McCourt and Galde's vision was the creation of a museum to feature things like costumes and props, as well as scenic and design info and memorabilia.
     Located in one of the Gershwin's two rotundas, the museum is where early arrivals are ushered and invited to spend the half hour prior to the tour exploring and photographing the mind-blowing array of assembled treasures. The biggest attractions are the original costumes worn by Idina Menzel (Elphaba) and Kristin Chenoweth (Glinda): snapshots galore!
     "We're still working on the museum," observes Galde, who remembers when getting things – costumes in particular – was a major challenge. "Now everyone knows about it," he says. McCourt chimes in, "Yeah, we've become a bit of a repository." So much so, the two are considering spreading the wealth.
     "We're working on a touring museum for Wicked's road companies," discloses McCourt.
     Once the performance begins – and it is a performance in every sense of the word, with McCourt and Galde meshing their finite
Wicked
knowledge and insight with enough brisk, show-biz-y humor to impress their already mesmerized audience – the flow of info is non-stop.
     In the museum alone, the variety of tidbits shared is dazzling. Here is a (very) brief "bet you didn't know" trivia sampler:
—
Wicked
boasts $2.5 million worth of costumes on stage with another $2 million offstage awaiting swings and standbys. Final tally: 400 costumes; 2,000 costume pieces.
—All chorus costumes are asymmetrical; all the principals' costumes are symmetrical, except Elphaba's.
—While most mics are hidden in wigs, Doctor Dillamond's is hidden in an eyebrow.
—All wigs used in Broadway shows are made of real human hair.
—Every mask is custom-made and requires painstaking facial molds.
—Vodka spray is used to keep non-dry cleanable costumes fresh.
—
Wicked
's multiple Tony-winning set designer Eugene Lee, is the production designer for
Saturday Night Live
.
     The tour moves from the museum to the theater to a film – made in collaboration with Universal Pictures – that presents interviews with the creative forces behind the show, giving visual insight into the more technical aspects of the show from music, direction, lighting and sound design to a fascinating stop-motion look at a loading in of the road show. It's during this portion of the program we learn, too, that not only was Wicked a pioneer in the use of projections, but also that the Broadway production requires no less than four stage managers to coordinate all the elements leading up to the first moments of the show.
     "A lot of our guests have not seen the show yet and so we do build it so that we don't give anything [plot-wise] away," says McCourt.  "But we do hope we can give you some things to look for."  
*Eventually aided and abetted by the show's company manager, Susan Sampliner.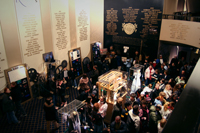 All You Need To Know and a Little More!!
When: 10 am Saturday mornings.
Where:  The Gershwin Theater, 222 West 51st St. (bet. Broadway & 8th Avenue)
Cost:   $30 per person. 
Age Range: Recommended for ages 10 and up – although somewhat younger children are welcome. (Parts of the tour get a fairly technical.)
Tickets: Available from the website,
www.emeraldcurtain.com
, from Ticket Master (212-307-4100), and at the door 30 minutes prior to the event on a first come, first served basis.
Tour Guides: BEC co-creators: Sean McCourt (member of the original cast; now a member of Disney's
Mary Poppins
cast); and Anthony Galde, a
Wicked
cast member, serving as a "swing" covering all male roles except the Munchkin Boq.
Wicked
cast and creative team members fill in if Sean or Tony have other commitments.
Tour Time: 90 minutes, followed by a generous (and leisurely!) post-tour one-on-one autograph/photo op session with Sean and Tony. 
OzDust Boutique: At the end of the tour/film/Q&A, one of the theater's gift kiosks is opened for business.  FYI:
Wicked
is one of Broadway's most prolific and creative sources for logo gifts and interesting reading materials.
Other Behind the Emerald Curtain programs are described on the website,
www.emeraldcurtain.com
, and include exclusively scheduled Wednesday morning BEC tours for large groups; a mid-town studio version for smaller groups; and an "Emerald Audition Workshop" for aspiring musical theater performers. For additional information contact Sean McCourt at
[email protected]
.           
    About Wicked
     The hit musical
Wicked
is based on the novel by Gregory Maguire, tracing the Wicked Witch of the West – and Good Witch Glinda's – youthful friendship prior to the events covered in Frank L. Baum's kid-lit classic,
The Wizard of Oz
. 
     Maguire's book is a fun and fascinating read but by no means a children's book. The stage musical, however, is appropriate for children 9 and up and is particularly popular with young teenage girls.
    Aside from being a knock-out of a production,
Wicked
also carries an important message about feeling left out.  And because everyone, regardless of social status, race or wealth, has at one time or another felt they were being judged unfairly, the show hits a chord with almost everyone who sees the show.
     For tickets and further information about Wicked at Broadway's Gershwin Theatre, visit
www.wickedthemusical.com
or call 212-307-4100. 
    Currently starring in the role of Madame Morrible: Tony-winner Rondi Reed (
August: Osage County
).