More than 50 young chefs from across the U.S., including two kids from the NYC area, tackled the First Lady's Healthy Lunchtime Challenge and won a chance to dine at the first Kids' State Dinner held at the White House with First Lady Michelle Obama and a surprise guest, President Obama.
On Aug. 20, 54 kids ages 8-12 got the chance to dine with First Lady Michelle Obama in the White House at the first-ever Kids' State Dinner. Hailing from across the country, these kids were the winners of The Healthy Lunchtime Challenge, issued by Epicurious and the First Lady's Let's Move! initiative. One winner from each U.S. state and territory was chosen from more than 1,200 entries of creative, nutritious lunch recipes.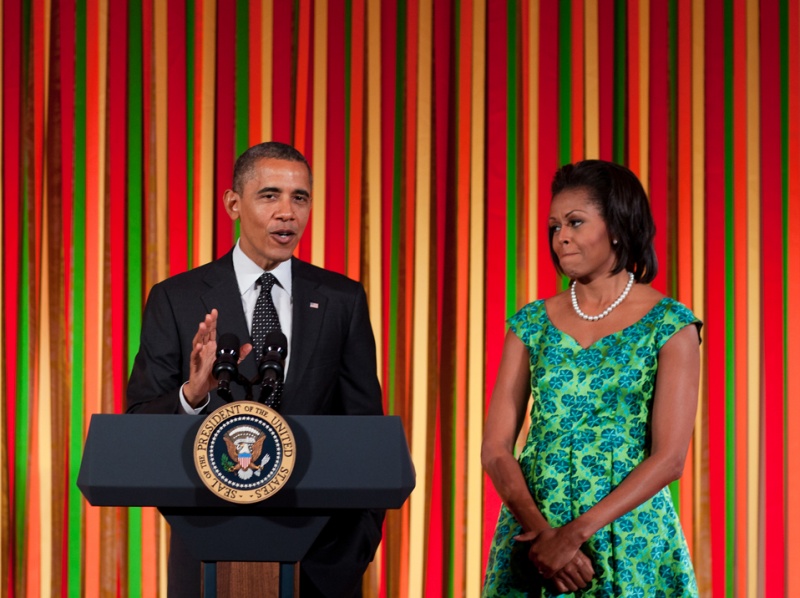 Among the winners were 9-year-old Samuel Wohabe of Manhattan and 10-year-old Betsy DaSilva from Cos Cob, CT. Samuel won for his recipe for Fish-Fueled Pepper Rocket with Kale Chips and Quinoa while Betsy concocted a champion Heavenly Lunch Wrap.
The winners, each accompanied by a parent or guardian, joined the First Lady for a healthy lunch featuring a selection of the winning recipes, followed by a performance by Big Time Rush and a tour of the White House kitchen garden.
During her introductory speech, the First Lady quoted Betsy's motivation for her Heavenly Lunch Wrap: "Whenever I eat this food, I know that I've been blessed with the energy to focus more at school." Obama praised her, saying, "More than anything else, that's what this challenge is all about."
A special guest at the lunch was Marshall Reid, a 12-year-old from North Carolina who co-authored Portion Size Me, a book about his family's journey to a healthier lifestyle, and served as one of the judges of The Healthy Lunchtime Challenge. "I was amazed at the quality of the entries," Marshall said, citing the exotic foods like quinoa that the winners used. "I didn't even know what quinoa was," he said. "I can't even spell quinoa!"
The President stopped by briefly during the lunch to congratulate the winners and warn them not to drop any scraps on the floor because Bo (the Obama family's dog) "is on a diet."
The Healthy Lunchtime Challenge invited a parent or guardian to work with their child to create an original recipe for a healthy, affordable, and tasty lunch. In support of Let's Move!, launched by the First Lady to help solve the problem of childhood obesity, entrants were encouraged to reference the nutritional guidelines of the USDA site, ChooseMyPlate.gov, to ensure recipes met the primary criterion of being healthier. Entries had to represent each of the food groups, either in one dish or as parts of a lunch meal, including fruit, vegetables, whole grains, protein, and low-fat dairy foods.
The winners were chosen by a panel of judges that included Epicurious editor-in-chief Tanya Steel, assistant White House chef and senior policy advisor for Healthy Food Initiatives Sam Kass, celebrity chef Jose Andres, and representatives from the USDA and U.S. Department of Education.
"Our tasting panel was absolutely amazed at the variety of sophisticated, healthy recipes we received that included not only chicken breast, whole-wheat pasta, and fresh fruit, but more surprising ingredients like quinoa and salmon," Steel said. "What was especially wonderful were the heartfelt stories about why it was important to eat healthy. These kids understand that you are what you eat and that they need to strengthen their bodies and their minds with the most wholesome food possible."
The Winning Recipes
Heavenly Lunch Wrap

Betsy DaSilva, age 10
"Every day…I eat this because it's good for my health," Betsy says. "This recipe has one very important and new ingredient, which is quinoa. My mom grew up eating this amazing Incan food. Whenever I eat this food, I know that I've been blessed with the energy to focus more at school." Betsy has this with a slice of watermelon, a hard-boiled egg, some cucumber slices, and low-fat milk.
Makes 1 serving
Ingredients
1 (10-inch) whole-grain wrap
1 teaspoon mayonnaise
1 tablespoon cooked quinoa
6 fresh baby spinach leaves
4 slices tomato
3 slices turkey breast
Preparation
Place the wrap on a plate and evenly spread the mayonnaise over the entire surface. Spoon the quinoa in the middle of the wrap, then top with spinach, tomato, and turkey.

Tightly roll the wrap around the filling, from bottom to top, overlapping one end, burrito style.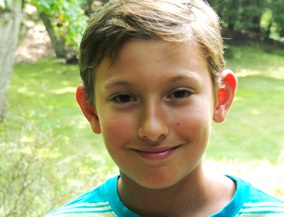 Fish-Fueled Pepper Rocket with Kale Chips and Quinoa
Samuel Wohabe, age 9
"I came up with the recipe for Fish-Fueled Pepper Rockets when I was trying to find an interesting way to use a pretty orange bell pepper I saw in the grocery store," Samuel says. "I wanted to make fish that night too, so I decided it would be fun to stuff the pepper with the fish and mix the flavors. When it was done, it looked like a rocket ship. And I've always loved kale chips, and can eat the entire head of kale this way!"
Makes 3 servings
Ingredients
1 tablespoon olive oil
½ pound halibut fillet
salt and pepper
3 orange bell peppers, stemmed and seeds removed
1 cup shredded Manchego cheese
Kale chips (see below)
1 cup cooked quinoa
For Kale Chips
1 bunch kale, stems removed and leaves torn into bite-size pieces
2 tablespoons olive oil
¼ teaspoon salt
Preparation
Preheat the oven to 350°F.
In a sauté pan over moderate heat, warm the olive oil. Add the halibut and sear, flipping once, until cooked through, about 4 minutes. Season to taste with salt and pepper. Cut the halibut into bite-size pieces.
Stuff each pepper with ½ of the cooked halibut and ? of the shredded Manchego cheese. Place the peppers on a nonstick baking pan, open side up, and bake until soft, about 30 minutes. Serve with kale chips and quinoa.
For Kale Chips: Preheat the oven to 400°F. On a large nonstick baking pan, drizzle the kale with olive oil, season with salt, and toss until evenly coated. Bake until crispy, about 15 minutes.
A free downloadable and printable e-cookbook of the winning recipes, including nutritional analyses, photos, and drawings, is available at recipechallenge.epicurious.com, letsmove.gov, usda.gov, and ed.gov.