---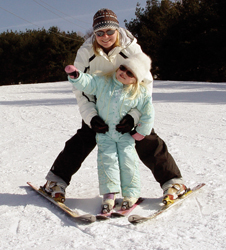 Instead of hibernating this winter, celebrate the snowy season by hitting the slopes with the family. A day or weekend of skiing or snowboarding is a fun way to get some exercise and is sure to put a rosy glow into your little one's cheeks. Never skied/boarded before? No problem-these family-friendly locations have beginner programs for all ages, and most offer day care for the tot who's not quite ready to strap on skis. Whether you're looking for a conveniently close bunny hill or a well-worth-it trip out to real snow country, have a look at our guide to find the best fit for you and your crew.
SOUTHEAST NEW YORK

Belleayre Mountain
181 Galli Curci Road, Highmount
845-254-5600 or 845-254-5601, www.belleayre.com
39 trails, five glades, and a terrain park. Offers ski and snowboard lessons, including a Learning Circle for first-timers (ages 8 to adult). Roundtrip service available from New York City via the Adirondack Trailways Ski Bus (departs from the Port Authority Bus Terminal); $81, includes lift ticket, free beginner lesson, and luggage lockup.
Catamount
State Route 23 East, Hillsdale
518-325-3200, www.catamountski.com
The mountain has 32 trails, a quad lift, night skiing, a terrain park, and a junior park for beginning boarders. Fourth and fifth graders ski free on weekends and holidays with a paying adult; preregistration and $15 processing fee required.


Holiday Mountain Ski and Fun Park
99 Holiday Mountain Road, Monticello
845-796-3161, www.holidaymtn.com
Seven trails, four lifts, night skiing. Snow tubing and ice skating. Beginner lessons available. Thursday and Saturday nights from 5-8pm are Family Nights, with reduced lift ticket and rental pricing; Friday night is Family Tubing Night.

Hunter Mountain
Off Route 23A, Hunter
800-486-8376, www.huntermtn.com
Day care available for children ages 6 months to 6 years, and Explorers (ski) and Mountaineers (boarding) programs for ages 4-12. Snow tubing for those 42 inches and taller. Several bus services offer roundtrip transportation from New York metro area locations to Hunter; see Web site for details.

Mount Peter Ski & Ride
51 Old Mt. Peter Road, Warwick
845-986-4940, www.mtpeter.com
Offers free beginner lessons on weekends and holidays with the purchase of a lift ticket; for ages 5 and up. There's also a Tiny Tots program for children who are potty trained up to 4 years old; program includes a lesson, equipment, lift ticket, and hot chocolate.

Plattekill Mountain
469 Plattekill Mountain Road, Roxbury
607-326-3500, www.plattekill.com
35 trails and two terrain parks. Child care on weekends for children ages 6 months and up, group ski lessons for kids as young as 4. Snow tubing on weekends and holidays; children must be at least three feet tall. Roundtrip service available from New York metro area locations via Adirondack Trailways; www.trailwaysny.com.
Rocking Horse Ranch
600 Route 44/55, Highland
800-647-2624, www.rockinghorseranch.com
A family resort that includes downhill skiing in its long list of activities. Best for the ski "dabbler," there are beginner classes, free equipment rentals with stay, snow tubing, and horse drawn sleigh rides. Free pickup service available from Poughkeepsie Train Station or Stewart Airport.
Sawkill Family Ski Center
167 Hill Road, Kingston
845-336-6977, www.sawkillski.com
Ski and snowboard instruction for all ages. Snow tubing; children must be at least 3.5 feet tall and parents must sign a release of liability form.
Thunder Ridge Ski Area
137 Birch Hill Road, Patterson
845-878-4100, www.thunderridgeski.com
On weekends and holidays through March 14, you can take the MetroNorth ski train to Thunder Ridge ($51.50, $35 seniors, $39.50 children 12 and up, $19.50 children ages 6-11, $6.50 children age 5, $5 children under 5). Ticket includes all day/all night lift ticket (night skiing not available on Sundays), shuttle between the train station and ski area, and a $5 discount on rental equipment.
Tuxedo Ridge
581 Route 17A West, Tuxedo
845-351-1122, www.skituxedoridge.com
Seven trails and a bunny slope, a terrain park, snow tubing, and night skiing. Specializes in beginner and family lessons. Pick up and drop off service available on weekends to Tuxedo, NY train station.
Windham Mountain
33 Clarence D. Lane Road, Windham
800-754-9463, www.windhammountain.com
Mountaintop Adventure Park with ice skating, snow tubing, and a rock climbing wall. Ski and riding programs for kids ages 4-12. Child care is available. Bus service available from NYC via Urban Sherpa; www.urbansherpatravel.com.
WORTH THE TRAVEL...
Bristol Mountain Resort
5662 Route 64, Canandaigua, NY
585-374-6000, www.bristolmountain.com
33 trails, mostly intermediate, and two terrain parks. Ski lessons for children as young as 4, snowboard lessons for children as young as 6. Child care program for children as young as 18 months.
Gore Mountain
793 Peaceful Valley Road, North Creek, NY
518-251-2411 or 800-342-1234, www.goremountain.com
90 trails, including eight snowshoeing/cross-country trails. Daily ski and snowboard lessons for children as young as 4. Day care available for children ages 6 months to 6 years.
Whiteface, The Olympic Mountain
Route 86, Wilmington, NY
518-523-1655, www.whiteface.com
85 trails, 11 lifts, and several terrain parks at this U.S. Olympic training site. There are expert trails as well as a Kids Kampus for kids and families just learning to ski or board. Lessons for ages 4 and up, and all skill levels. Nursery available for ages 1 and up.
Also see our complete 2010 Where to Ski/Snowboard Guide for NY, NJ, CT, MA, PA, and VT