Most hot chocolate is a misnomer: It's usually cocoa.  But these restaurants make this winter treat with the real thing: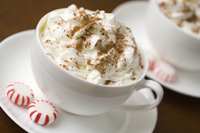 Max Brenner/Chocolate from the Bald Man
may have the strangest name, but this newcomer is tops in the city for chocolate in any form.  The café is gorgeous, with lots of gold and mirrors, and vats of chocolate being mixed.  Sitting down is very elegant, but you can also get food to go.  There is Chocolat, a whipped hot chocolate in dark, milk, white or orange versions; Mexican Spicy with chili, nutmeg, cinnamon and pepper; or Choco-pops, with crunchy bits.  But the Italian thick hot chocolate, in dark, milk or white, is the way to go.  It is perfection in a cup ($4.90 for 8 oz.), a delicious blend of ground chocolate and milk.  Max Brenner is at 841 Broadway, between 13th and 14th Streets, (212) 388-0030, and at 141 Second Avenue (9th Street).    
City Bakery
has a hot chocolate that, according to the waitress, is simply melted chocolate, no milk added.  Wisely, you are given an extra cup to share.  The molten brew is rich and chocolate-y, with no distracting flavors; if you like to experiment, look for their annual hot chocolate festival.  The regular hot chocolate is only $3 for 10 oz., but the giant homemade marshmallow sets you back another $1.50. 3 West 18th St between Fifth and Sixth Aves. (212) 366-1414.  
Payard
has incredibly rich hot chocolate, which is made with whole milk and half-and-half.  It is rich, intense, artery-hardening, and utterly delicious. 1032 Lexington Ave, between 73rd and 74th Streets,
www.payard.com
(212) 717-5252.
   At
Cocoa Bar
, in Park Slope, Belgian chocolate bars are broken into the bottom of the cup, steamed milk is added, and homemade marshmallows complete this hand-crafted drink.  But be prepared to wait; each cup takes at least five minutes to produce. Cocoa Bar, at 228 Seventh Avenue, in Park Slope, has board games to entertain kids while they wait.  You can have mint, cinnamon or funky monkey (with a splash of banana syrup) but for my money ($3.75 per 8 oz. serving) the only way to go is dark chocolate.  (718) 499-4080;
www.cocoabarnyc.com.
   At
Jacques Torres
, in DUMBO, chocolate bars and milk are also used, but you get your drink instantaneously.  This rich, creamy elixir also can immediately induce a diabetic coma; it is almost impossible to have more than a couple of sips.  Maybe four.  Five, tops.  There is classic, wicked (with hot chili, not for the kids), and mocha, each only $2.50 for 8 oz.  But you have to share.  Pick up some goodies for another day:  chocolate bars, truffles, or chocolate covered Cheerios.  66
Water Street.  Also in Manhattan at 350 Hudson St.); (718) 875-9772;
www.mrchocolate.com.

The Chocolate Room
, 86 5th Avenue, in Park Slope, has classic hot cocoa, which is actually hot chocolate, and hot chocolate, both of which use milk and melted chocolate.  But on one occasion, the milk was heated to scorching, way too hot for a child, and tasting slightly burned even after it cooled.  This is the only place to offer 'whip' cream, the real stuff, for an extra 50 cents (drinks are $4.50 per 8 oz.).  If you need to cool off, The Chocolate Room has "Not Hot", a frozen version of its hot cocoa.  (718) 783-2900;
www.thechocolateroombrooklyn.com.
Mmmm…
   For more on hot chocolate, check out Fred Thompson's new book,
Hot Chocolate:  50 Heavenly Cups of Comfort
(Harvard Common Press, $12.95) which has recipes for peanut butter, caramel and Mexican hot chocolate, as well as recipes for making your own.