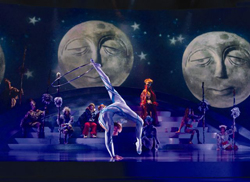 During the holidays, the impulse to give in to fantasy can become overpowering...so why not just surrender to Cirque du Soleil's seasonal celebration Wintuk, the troupe's family-friendly, non-denominational holiday thrill ride.
Back for a return visit to the 100-foot-wide stage of Madison Square Garden's WaMu Theater, the Wintuk cast is made up of 50 incredible athletes and performers from around the world. This is also the first Cirque show to feature the extreme spinning and soaring talents of skateboarders, inline skaters, and bikers - both male and female. Fittingly, as these sports are a big and growing part of America's athletic culture, these wheel-savvy artists are mostly from the U.S.A.
Wintuk is the simple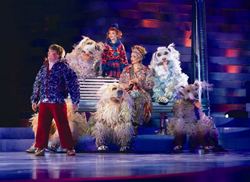 yet riveting tale of a boy's quest for snow - and considering the meager snowfall Manhattan has had these past few winters, it's no surprise that the opening snowless scene is vaguely reminiscent of Central Park. But like all good adventure stories, it's the journey (okay, and the grand finale!) that counts, and this trek is beautifully scored (yes, there are songs) and filled with a continuous parade of enticing characters, physical feats, and truly awesome special effects.
The mythical, magical, and madcap beings the young hero, Jamie, and his companions - Wimpy, a cowardly sad sack, and a magical Shaman (who travels with a coterie of loyal dog puppets) - encounter on their fairy tale excursion include a life-size rag doll, a group of highly animated street lights, several ominous ice giants, a couple of b-b-b-b-bouncing clowns, a gorgeous High Priestess (adept at some very stunning contortionist "hoop-la"), as well as precision tumblers, spontaneous spinners, jaunty jugglers, and inner-tubers (don't ask, just watch).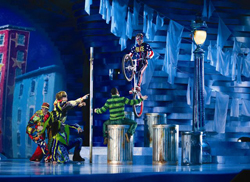 And, of course, the aforementioned wheeled wonders that tear across the stage, up and down ramps, over and under everything in sight with heart-stopping derring-do.
That's all I'm willing to share - the rest is up to you and whatever super powers you need to conjure in order to get your tickets ($40 to $220) before they fly off the shelves (and with this show, they literally might).
For tickets and information call 212-307-1000, visit www.wamuatmsg.com, or go to www.cirquedusoleil.com/en/shows/wintuk/show/acts.aspx, where you can also see some video previews.
Presented at The WaMu Theater at Madison Square Garden (Seventh Avenue between 31st and 33rd Streets). Playing now through January 3, 2010.
Fun Facts about Wintuk's Bikers & Skaters
Keigoh Arizono
...has been doing Bike Trial (MTB) for 15 years; first place eight years in a row (1995- 2002), Japan National Bike Trial Championship.
Jean-Francois Faber
...10 years of international circus experiences. Multi-skills include: Extreme Trial Act 'Yamakasi Style' of Acrobatic Skills and Trampolin Wall; 5' Cube Act; Fire Stick Manipulation; Jugglin Diabolo; high level in Acrobatic Swing Dance, capoeira and break dance.
Katie Ketchum
...holds several international in-line titles: currently ranked number one in the world in the Women's Inline Park Event; first female to land a 900; finished seventh overall in Men's Inline Park-May 2005 Asian X-Games, Seoul, Korea; and eighth overall in Men's Inline Park-May 2006 Asian X-Games, Kuala Lumpur, Malaysia.
Casey Rigney
...true skateboarder (street specialist). 17 years skating, including seven years professionally. First place winner in Best Trick in 2002 at the Slam City JamV, one of the largest skateboard competitions worldwide.
Terry Sinnott
...a true freestyle artist with a flare for the eclectic. Favorite tricks? "I like them all, but I guess I have a tendency to do more rolling tricks, handstands, and flip/shove-it/pivot combinations."
Cirque du Soleil: A Quarter Century Of Magic
Cirque du Soleil celebrates its 25th anniversary this year. From a group of 20 street performers at its beginnings in 1984, the Quebec-based Cirque is now a major organization providing high-quality artistic entertainment. The company has more than 4,000 employees from over 40 different countries, including 1,000 performing artists. Cirque du Soleil has brought wonder and delight to almost 90 million spectators in more than 200 cities on five continents. In 2009, Cirque du Soleil presented 20 shows simultaneously throughout the world.