Enter Alice's reimagined fantasy world via an NYC elevator and you'll soon realize this isn't your everyday rabbit hole! Broadway's latest from veteran composer Frank Wildhorn is so worth the trip.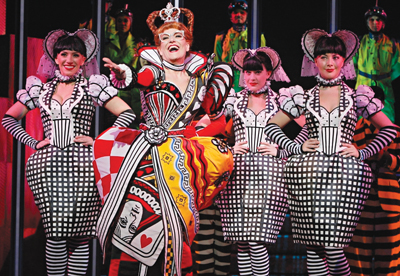 It may start out in New York (Queens - where else?) but Wonderland, the ginormous, imagination-fueled new Broadway musical, transports audiences to a chameleonic underworld where the welcoming committee is a chorus line of pinafore-wearing Alices (size and gender not an issue); the Caterpillar is one smooth crooning dude (think Marvin Gaye or Luther Vandross with a back-up bevy of singing/dancing "Legs"); the Cheshire Cat goes by the street name El Gato and "meows" to a hip-hop beat; and Alice is a 21st-century mom with considerably more at stake than tracking down a frantic bunny with tardiness issues.
Did I mention La Femme Mad Hatter? I mean really, who but composer Frank Wildhorn would have thought to replace the familiar little man with the oversized hat and undersized trousers with a stylish, statuesque vamp whose every powerhouse number rocks the house big time.
But that's Wildhorn for you. Ever optimistic with a passion for thinking outside the traditional music box, the veteran composer (who's Broadway resumé boasts Jekyll & Hyde, The Scarlet Pimpernel, and The Civil War) has lavished Wonderland with a heartfelt pop-music score and multi-generational appeal.
"The whole thing is about imagination in general," Wildhorn says. He brought in a couple of his favorite collaborators, Jack Murphy (book and lyrics) and Gregory Boyd (director and book), to flesh out his unique take on Victorian author Lewis Carroll's iconic heroine. The end result is an Alice, played by the appealing Janet Dacal, unlike any you've seen before.
For one thing, Dacal's hair is a lush tumble of auburn curls - a far cry from John Tenniel's illustrations in the original Alice's Adventures in Wonderland and Through the Looking-Glass and Disney's classic 1951 animated Alice, where long-blonde hair (no bangs, please!) was the Alice standard. Also, the show's pre- and post-phantasmagorical scenes are set in the contemporary world - a world in which Alice's restless preteen daughter (Carly Rose Sonenclar), demanding job, literary rejection slips, and a crumbled marriage have turned Carroll's "dream child" into a "struggling single mom." No dozing off by a riverbank for this Alice - and no rabbit hole escape hatch, either. In Widhorn's vibrant reconfiguration of the Victorian classic, Alice arrives in Wonderland by elevator - an elevator, as it happens, inspired by an actual Manhattan lift.
Back in the late 90s/early 2000s, Wildhorn and his then-wife Linda Eder were living in a building on Riverside Drive with serious elevator issues. "Because it would break down all the time, Linda and I would make up stories about taking the elevator 1,000 floors down, and when we got off we'd be in Wonderland," he recalls. And so a new entrance to Wonderland was born, along with the realization that the Carroll books had a serious global fan base.
"I thought, the elevator could be anywhere...in New York or Tokyo or London or Prague," says Wildhorn, who during the same time period was reading the Carroll books to his 7-year-old son, Jake (now 11).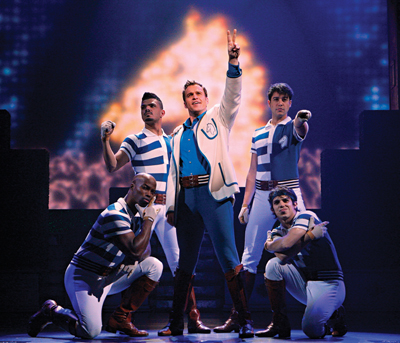 "Most of the shows I'd written were too violent, too sexy for kids, and I wanted him to feel he was part of the process," says Wildhorn, whose paternal instinct and passion for pop music (a self-described "music guy," he spent a good chunk of his career at Atlantic Records where he created and ran the company's Atlantic Theatre division) were driving factors in his conceptualization of Wonderland.
And so the native New Yorker became sold on creating an Alice musical that would merge contemporary issues (nicely laced with humor/puns) with Carroll's character-driven worlds of playing cards, chess pieces, and tea party-ers (speaking of puns). Enter a sharp-tongued Queen of Hearts (Karen Mason), heroic knight (Darren Ritchie), villainous Hatter (Kate Shindle), and her March Hare cohort, Morris (Danny Stiles).
"What is so much fun and so freeing about it is that when your backdrop is Wonderland, there are no rules. And you have the freedom to create your own musical language of the times," observes Wildhorn.
But don't think you need to hire an interpreter or tutor for Wildhorn's eclectic score: It absolutely mirrors the music kids and their parents carry around on their iPods. Think the cast album is going to be a big deal downloaded for everyone from Boomers to grade-schoolers? Bet on it.
And just in case you were curious, one of the hottest numbers in the show is the Act I boy-band number "One Knight," sung by Jack the White Knight and his posse of "fellow knights."
To say it's fun and right on the money is a disservice to its pop-kitsch gestalt. The crowd, literally, goes wild.
All the Details
Wonderland is now playing at the Marquis Theatre (at the Marriott Marquis Hotel, 2nd Floor, 1535 Broadway)
- Age Range: 7 and up
(Can dip down a notch for an ultra-savvy youngster with a mature attention span and off-the-chart love of fantasy.)
In the event that the scary aspects of the show are of concern, rest assured that unless your child is ultra-sensitive, the storyline and special effects are totally in keeping with kids' innate fascination with the dark side of fantasy. And, according to Wildhorn, when compared to other family shows, the "frightening" aspects of Wonderland, "aren't nearly as scary as Ursula in The Little Mermaid...or the death of Simba's father in The Lion King."
- Playing Schedule: Tuesday at 7pm; Wednesday-Saturday at 8pm; Wednesday and Saturday at 2pm; Sunday at 3pm
- Tickets: $56.75 - $139.75
- Cast: Edwina/Queen of Hearts: Karen Mason
Chloe: Carly Rose Sonenclar
Alice: Janet Dacal
The White Rabbit: Edward Staudenmayer
Caterpillar: E.Clayton Cornelios
El Gato: Jose Llana
Jack the White Knight: Darren Ritchie
Morris the March Hare: Danny Stiles
The Mad Hatter: Kate Shindle
The Wonders of "Wonderland"
In addition to the score, direction, and delicious performances overall, Wonderland also clocks in as a visual masterpiece. The reason for this is simple: The designers for the production have created a mind-blowing universe of sights, sounds, sets, and costumes. We're talking a proscenium arch enclosed in a massive Victorian mirror frame; psychedelic and other killer projection/video effects; and the most amazing costumes to hit Broadway since Wicked (not a stretch, since Susan Hilferty is responsible for both shows).
Sets by Neil Patel (Oleanna, Ring of Fire, Side Man, 'night Mother)
Costumes by two-time Tony-winner Susan Hilferty (Wicked; Into the Woods)
Sound by Peter Hylenski (Shrek, Rock of Ages, Elf)
Video & Projection designs by Sven Ortel (The Little Mermaid; The Woman in White; Jumpers)
Lighting by Paul Gallo (more than 50 Broadway shows, including Pal Joey, The Rocky Horror Show, and Wildhorn's The Civil War)
Travel Tips to Wonderland
Passport: Not required
Visa: Just for merchandise and snacks
Packing Suggestions: For kids: wide eyes, giggles, and the ability to bounce up and down in your seat; for adults: inner child; for all: suspension of disbelief (it is a fairy tale, after all!)