If your kids catch "extreme sports" fever after watching the X Games, don't worry. Skateboarding and BMX racing can be fun, safe sports for children that teach valuable life skills.
Debbie Schwartz wasn't thrilled when her son Joshua, now 11, wanted to try skateboarding. The Fairfield County, Connecticut, mother didn't know anything about the sport and pictured her son sustaining major injuries like concussions, broken bones, and sprains. Also, because most of those who spent time at the local skate park were teens, she worried about how they'd react to her younger son.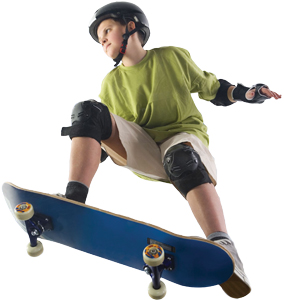 Still, if your children catch "extreme sports" fever after watching this summer's X Games (held July 28-31 in Los Angeles), don't worry. Skateboarding and BMX can be fun, safe sports for children. Those who engage in them at a young age can improve their balance, coordination, and self-confidence.
Fear, Fun, and (Safely) Falling
Without any knowledge of skateboarding, Schwartz enrolled Joshua in skateboarding lessons. There he learned simple skills as well as the proper way to fall to avoid injuries.
"It's all muscle memory," says John Mazaran, a long-time skateboarder who lives in Manhattan and owns Paradoxx, which sponsors several professional skateboarders. "If you're on a skateboard and you're falling, most people would put their hands out to catch themselves -- but then you're putting all of your weight on your wrists. If you land on your forearms, your entire arm absorbs the fall. The younger you are when you learn that, the better off you'll be because your body will react naturally."
The American Academy of Pediatrics (AAP) recommends that children wear a helmet, wrist guards, and elbow pads. They should also avoid riding near traffic.
For children who want to try BMX racing, parents should purchase a bike that fits properly. Although it may seem tempting to buy a bike that a child could "grow into," having a bike that's too large can be dangerous. Helmets should be worn, too.
In both cases, the AAP warns that helmets must sit level on the child's head. The strap should be securely fastened, and parents should not be able to move the helmet. If it's too loose, pads can be added to help the helmet's fit.
Although Joshua follows all of the safety guidelines, he has had a concussion as well as various bumps and bruises.
According to Dr. Jeffrey Schor, an emergency pediatric medicine expert from Long Island, almost 7 percent of BMX riders suffer severe injury. Skateboarding accounts for about 50,000 emergency room visits per year. Wrist, ankle, face, and head injuries are the most common.
"I was completely freaked out when Joshua got a concussion," Schwartz recalls. "The day he got hurt my husband took him to the park. It was totally irrational, but I thought that if I took him and watched he wouldn't have been injured."
Although Joshua's injuries did require medical attention, Schor says children can avoid emergency room trips. Parents should call their pediatrician if children suffer anything other than a minor head injury. Cuts that don't stop bleeding should also be treated immediately. Parents who are unsure of the extent of an injury should take their children to the hospital as well.
Schwartz's other fears, especially those about discrimination or negative influences, have proven unfounded. During open skates, her son sticks to the beginner slopes. One of his parents usually accompanies him to the park, and they were impressed to find that the skaters follow their own self-imposed rules, taking turns and helping younger children learn new tricks or master difficult skills.
"In Little League or soccer, Joshua would be in a group with kids his own age, but when he started skateboarding, he was 9," Schwartz recalls. "After school, he'd get to the park, and there would only be high school students there. At first, I was worried, but I didn't need to worry about it. They've taken him under their wings as if he were their mascot."
Joshua's experience is not unique to Fairfield County, Mazaran says. "As far as the industry goes, that acceptance is very real," Mazaran says. "If you're dealing with a professional, they're very friendly. Everyone is passionate about what they do, and they want to help you get better."
Sticking With It
The longer children participate in skateboarding, the more their skills develop. In addition to learning new tricks, children improve their hand-eye coordination and reaction time. Most will also learn discipline and the consequences of their actions.
"With skateboarding, you can skate around pretty easily, but if you don't persevere, you can't get off the ground," Mazaran says. "You also learn to deal with failure because you have to try a trick so many times before you land it."
Joshua has learned all of these skills. Skateboarding has also helped him create a unique identity among his peers. While others excel at various sports or school subjects, he has found that he stands out at the skate park.
"It's really become a passion for Joshua," Schwartz says. "He took to it like a fish to water."
Web Action
Surfing, longboarding, snowboarding, and more (even wrestling for girls, which is apparently growing in popularity now that women's wrestling is an Olympic sport) -- you'll get the deets on all of that and more on Kidzworld.com's sports section. Or, to be more accurate, your tweens will get them. The site is a safe community aimed at the 9- to 14-year-old set-all interactions are monitored, and the rich content is empowering, fun, and engaging, with just the right amount of sass for your kids. Bookmark it on your family computer, especially if your child is into action sports and trivia (including a cool post called "Great Moments in Skateboarding History").
Also see: The Rise of Youth Lacrosse

Strength Training: Is It Safe for Kids?