Abrakadoodle, which offers art classes, camps, and parties for children in Hillsdale, recently began offering Art Club. The club offers children and parents the opportunity to work in different art media together. The 90-minute parent and child art session is offered eight times a week for children age 20 months to 5 years.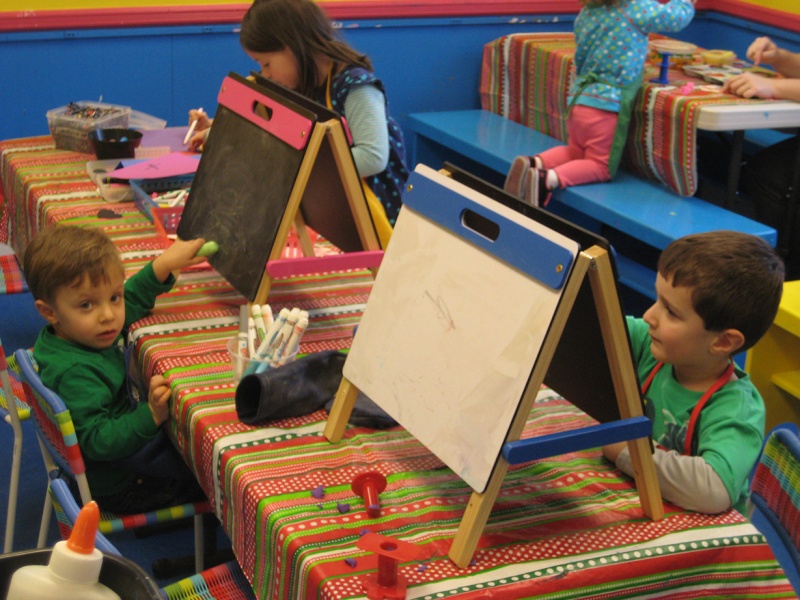 Abrakdoodle offers children the opportunity to enjoy the process of creating art rather than focusing on the end result.
Abrakadoodle Art Studio for Kids, an art franchise providing artistic classes, camps, and parties for children, rang in the New Year with a new program: Art Club.
The new club offers participating children an opportunity to work with their parents for a 90-minute period working in different art media. Three to four stations are set up each session, rotating between play dough, clay, easel painting, and chalk activities each week, among other art skills.
"It's not a class," director Krista Roberts explains. "This is just a chance for parent and child to bond and explore different art materials. A lot of parents don't have art supplies at home because they don't want the mess. This is a way for them to get out of the house and experience art."
Parents are required to attend Abrakadoodle's Art Club with their children, ages 20 months to 5 years. Six to eight children can participate each session, once a week for a month. Time slots available are Monday, Tuesday, and Wednesday from 10:30am-12pm, or 1-2:30pm; or Thursday from 9:30-11am or 12-1:30pm. Signups are available on Abrakadoodle's website.